Each semester, the College of Nursing Office of Research highlights ongoing or recently completed research studies. For this semester's study, please see the information below.
UMSL Tritons United: Against Gender-based Violence
---
UMSL Tritons United: Against Gender-based Violence has been funded since September 2019 by the Department of Justice: Office for Violence Against Women (OVW) Campus Programming Grant under the direction of Dr. Kimberly Werner, Associate Professor and Associate Dean of Research and Project Director Ms. Maggie Gross.  The grant just received a second round of funding to continue this initiatives through September of 2025. The overall goal of Tritons United is to reduce gender-based violence & promote victim safety by increasing trainings & education on college campus & to complete campus campaign events promoting victim services & effective responses & safety protocols following a gender-based event on UMSL campus.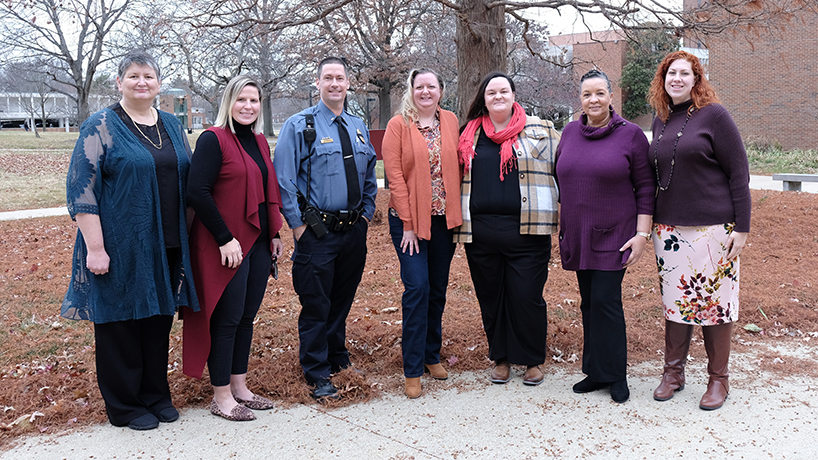 The grant actions are led by a Coordinated Community Response Team (CCRT) that includes key members both within & outside the UMSL campus & in the surrounding community from professionals in areas of victim services, prevention & education, law enforcement/safety, & student conduct. The Coordinated Community Response Team (CCRT) consists of 20+ members – UMSL students, faculty and staff or professionals in the field of gender-based violence from the St. Louis community – as well as a seven-person core CCRT. That smaller group includes Gross, Title IX Coordinator and Chief Equity Officer Dana Beteet Daniels, UMSL Police Department Lt. David Woods, Teaching Professor of English Lynn Staley, Associate Director of Student Conduct and Academic Integrity Andrea Guimaraes, Safe Connections Director of Crisis and Prevention Brigid Welsh, and Crime Victim Services Managing Attorney Katie Wessling.
The grant's overall focus is to enhance our campus interventions within prevention, education, reporting, and response efforts to sexual assault, domestic violence, dating violence, and stalking (SADDVS) with the primary goal to reduce gender-based violence (GBV) & promote victim safety. To reach this goal, the Tritons United team works to establish a comprehensive prevention, education, & awareness program; develop & strengthen campus policies & procedures through effective security & investigative strategies on campus as well as Victim services & advocacy. All SADDVS activities & interventions utilized are evidence-based & tailored around diversity & culturally-relevant concepts. Tritons United follows OVWs lead to  stress the importance of survivor-centered approaches and allowing survivors to have access to multiple options with partners both on & off campus.
For additional information on Tritons United and how to get involved:
For more coverage on the Tritons United programming through UMSL Daily: