Earn Your Nursing Degree Quickly through the Accelerated BSN Program
Do you have a bachelor's degree in a non-nursing field but want to make a career change? The accelerated BSN program offered through UMSL's College of Nursing can help you become a nurse in as little as 12 months! The program offers streamlined curriculum which is taught by highly experienced faculty members dedicated to student success. Additionally, UMSL nursing students have access to the latest in healthcare technology, ensuring they are well prepared to enter the field upon graduation. If you're ready to embark on a new path and start making a significant difference in the lives of others as a nurse, this is the program for you. Get started today!
This program is designed for those who hold a bachelor's degree in a field other than nursing. Students who have successfully completed all required general education and prerequisite coursework are also eligible to apply.
Want more information?
Join the College of Nursing for a one-hour information session. We will explore and discuss the undergraduate Nursing program in detail, answer questions you have and show you why you should choose UMSL.
Register for an Information Session
Take the next step
Request more information below:
Loading...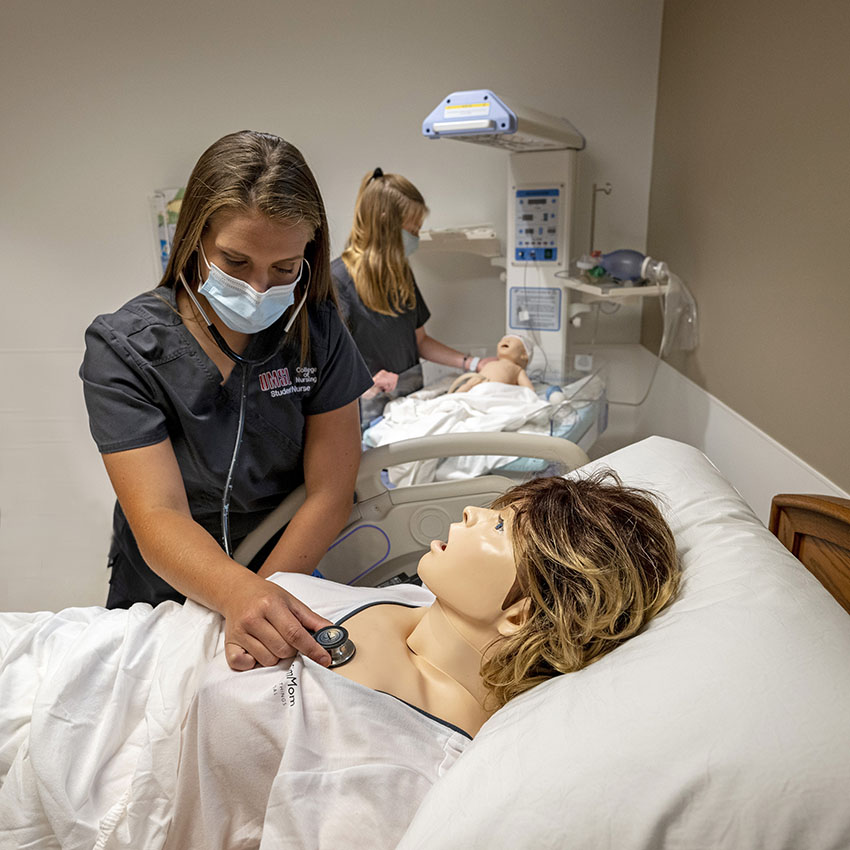 Overview
Accelerated Bachelor of Nursing

The UMSL College of Nursing is proud to enjoy more than 100 clinical partnerships with leading regional healthcare providers in Acute Care, Primary Care, and Community Care settings. Our graduate and undergraduate students have multiple opportunities for clinical experiences including conventional placements at regional healthcare facilities as well as active learning in our state-of-the-art simulation lab. Our nursing students receive the highest quality instruction from dedicated, award winning, and experienced faculty. Students may even choose to work alongside faculty on cutting edge research, not only advancing their skills but also the nursing profession. Nurses with an earned BSN degree are in high demand, command competitive salaries, and enjoy flexible work schedules.
UMSL College of Nursing is fully accredited and the curriculum is designed to provide our students with an extensive and comprehensive nursing education.
Outcomes and Career Outlook
Upon completion of the program, graduates will be well-prepared to take the Professional Registered Nurse licensure examination (NCLEX). Nursing courses include theory and clinical experiences. Practice in the nursing arts laboratory, experience in long-term care, rehabilitation, acute care and community nursing prepares students for success in diverse practice settings.
Employment of Nurses is projected to grow up to 7% to 2029, with a median annual salary of $77,600, according to wage and employment data from the Nurse.org and U.S. Bureau of Labor Statistics.
Employment growth by 2029
Career Opportunities
Insurance Company Nurse
Legal Consultancy Nurse
Nurse Case Manager
Physician's Office Nurse
Psychiatric Mental Health Nurse
Research Nurse
School Nurse
Plan of study
Review Full Degree Requirements
Non-Missouri Residents: Prospective students are responsible for reviewing the  NC-SARA state authorizations page to see if this program is offered in their state throughout their program and to review the licensure or certification requirements for the state in which they reside.
Student organizations
Make new friends and learn new skills by joining one of our Recognized Student Organizations. Here are several opportunities you may be interested in as a nursing major:
Minority Student Nurses Association
Student Nurses Association
Triton Health Educators
Students of the University of Missouri
Clinical experience
The College of Nursing is proud to prepare nurses as clinicians, scientists and educators and facilitate professional advancement through our innovative programs. Students gain hands-on experience in a variety of clinical settings throughout the region, including BJC, Mercy, SSM and St. Luke's, as well as Delmar Gardens and Shriner's Hospital for Children, giving students access to leading specialists, cutting-edge technology, and best-practices in acute care, primary care and community care.

Prior to these clinical experiences, students train at UMSL's Nursing Learning Resource and Simulation Center, which replicates actual healthcare settings and includes computerized-human models, fully operational hospital beds, suction, oxygen, ventilators, a baby warmer and more.
Honors College
The UMSL Honors College is a certificate program that can be paired with any major without adding extra classes or extending time to graduate. Classes in the Honors College are seminar-style, meaning that they are based in reading, writing, discussion, and critical thinking. This unique class format fosters an intellectual climate centered around democracy, diversity, civility and academic excellence.
Undergraduate research
We encourage and support students as they engage in exciting activities in and outside of the classroom that enrich their academic and professional understanding of their chosen area of study. All majors are encouraged to participate in Undergraduate Research and Scholarship to produce discipline-specific intellectual or creative innovations to their field.