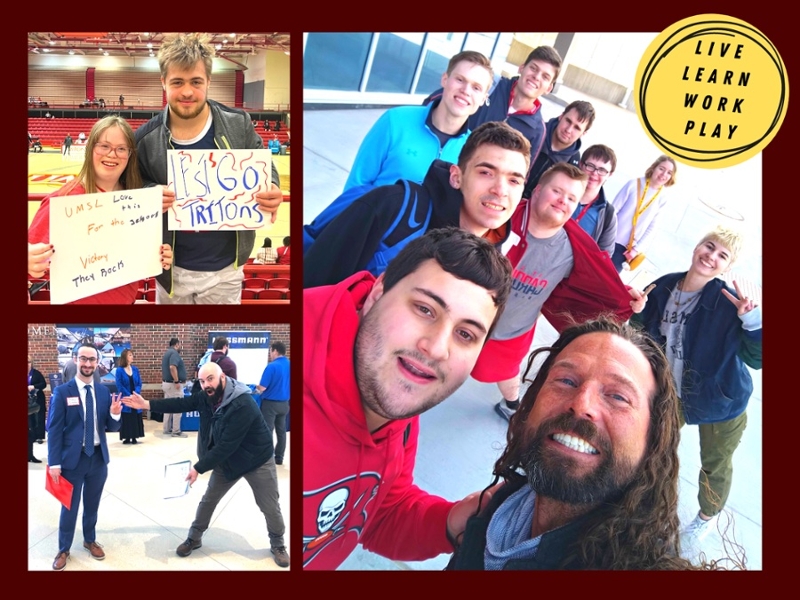 The UMSL Succeed Program is designed to encourage and facilitate students to gain independence through academics, vocational experiences, and college residential/student life.
Person-Centered Planning (PDF 95KB) toward individual development and independence goals
Comprehensive communication with and support from UMSL Succeed staff
Partnership with families and significant caregivers
Program Pillars
UMSL Succeed established four Program Pillars to facilitate student growth in accountability, independence, and maturity. These pillars are Live, Learn, Work, and Play.
Learn
Academics are designed to support students explore new subjects, expand  existing knowledge, and critical thinking skills. The Learn Pillar likewise promotes social and networking skills.
Minimum of 12 academic hours a semester (four classes), three of which are Succeed Electives (PDF 180KB) and one of which is an UMSL Catalog Class
Consistent and regular meetings with Student Support Specialist and Coordinator of Instruction to develop student schedule each semester
Access to numerous accommodations and modifications offered by UMSL Succeed staff and volunteers (e.g., 1:1 tutoring, study hall, course accommodations); Disability Access Services, peer mentoring lab
Work
During three of the four semesters that a student is in the UMSL Succeed Program, our Vocational (a.k.a. Work) Pillar experiences assist them in opening doors toward volunteering, interning, and paid employment.
Coordinator of Vocational Experiences hosts a VocExpo (a.k.a. Vocational Expo) each semester. Here, students are able to share their resumes and connect with our partners on campus and in the community
Through collaboration with our Coordinator of Vocational Experiences, students learn how to:
Live and Play 
Students who live on campus reside in Oak Hall among approximately 400 degree-seeking students. A private suite is shared with three other students who may or may not also be in the UMSL Succeed Program. Suitemates share a single bathroom, as well as responsibility for bathroom upkeep. Like all other students, our students receive support from a Residential Advisor assigned to each floor. They may also reach out to a hall mentor for advice. 
Those who commute receive the same campus support provided to other UMSL students. Our program fosters independent living growth through classroom seminars and our independent living lab apartment on campus.
Moreover, our students have access to all UMSL Activities, Clubs and Organizations. Our Student Support Specialist collaborates with UMSL Succeed students to find and access events and organizations of interest.