Whether you are a curious high school student imagining a possible future, a seasoned educator seeking more professional learning and qualifications, or a community member seeking to change or advance your career, the College of Education has much to offer you, including a warm welcome and a supportive, collaborative environment in which to explore and grow.
The College of Education at the University of Missouri St. Louis, is one of the state of Missouri's larger preparers of educators providing bachelor's, master's and doctoral degrees as well as over 50 different state certifications and national licensures for educators. We proudly offer a breadth of choice, online and face to face classes, and the outstanding quality programming only possible from a public, research institution. We are proud that our nationally accredited programming is designed and run by award winning research and teaching faculty and highly qualified staff: 
The Department of Educator Preparation and Leadership provides P-12 teacher certification, administrator preparation, and professional learning, including bachelor's, master's, and doctoral level degrees.
The Department of Education Sciences and Professional Programs offers school and mental health counseling, school psychology, higher education, and a bachelor's degree in educational studies.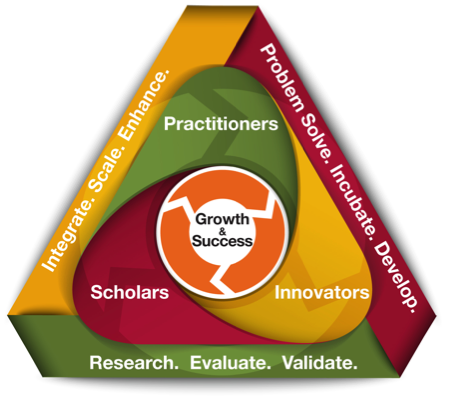 You will study alongside students from all over the region and nation, who embody the best of US higher education in their dedication, vision, and commitment to make the world a better, more inclusive place for all. It is this exciting mix of people, programming, and perspectives that attracts so many students to the College of Education and to UMSL.
We think of the College as an Education as an innovation hub bringing the best learning into one exciting space. Here innovative ideas create synergistic relationships between practitioners, researchers, and education innovators. Practitioners include educators in formal and informal educational settings who support and influence children and youth. Scholars, while typically faculty, include others committed to a research-based approach to transforming youth learning outcomes. Education innovators are national and local practitioners, faculty, or others who take risks, try new things, invent or reinvent approaches that impact youth and educational systems in positive ways.
The college wholeheartedly engages all three constituent groups, embracing innovation, solving problems of practice, and seeking ways to take the best work forward in service of our mission to advance knowledge and practice. We partner with those who share our commitment to an equitable and excellent education for all, working closely with over 50 schools, 20 districts, seven sponsored charter schools, independent schools, parks, museums and youth serving organizations across our region and nation.
As Dean, I work alongside the faculty and staff to extend this trajectory, working to bring the vision of a unified community, with equitable opportunity, and unlimited potential within the reach of you and all our students. Come and join us in this exciting collaborative approach to education.
Sincerely,