Log on to
MyLearn
with your SSO. Please make sure you are using a PC as the course is not available via mobile devices.
Select the FERPA for Higher Education tile at the top of the page.
Select Launch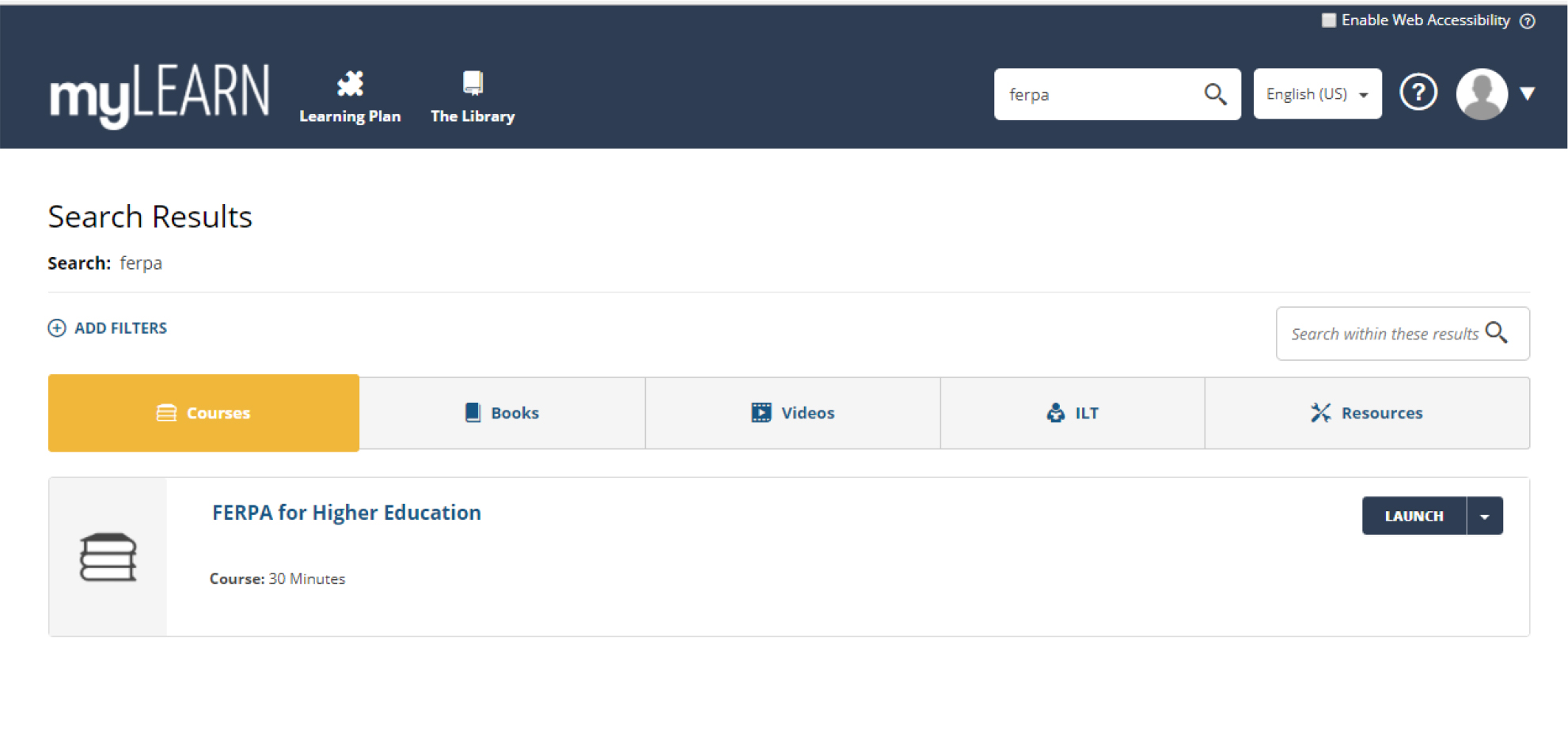 After completing each module, select the Take Test link.  There is a minimum score you must achieve before access to MyView will be granted. 
For Faculty: After successful completion of the final exam, your MyView access will be automatically established within 24 hours.  For issues, please contact Kathy Miguel at miguelk@umsl.edu, or Danielle Faucett at faucettd@umsl.edu.
For Non-Faculty: If your position requires you to access student records via MyView, you will need to submit a request for security to Mary Tackett at tackettm@umsl.edu. Please include the following information when submitting your request:
Full Name
SSO ID
Employee ID Number
Academic Org or Department
Type of access needed (i.e. view student name, address, rosters, etc.) Please be specific.  If there is another team member whose access yours should mimic, please identify.
You will need the department director's approval.  Please have them email Mary Tackett.
If you need access to one of the following, please contact the individuals below for that access

Admissions - Jaime Lincoln
Financial Aid - Samantha Matchefts
Student Financials (Cashiers) - Mitch Hess
 For Student Interns or Assistants: If you have a student intern or student assistant in your department that does not have an active HR appointment, but is still working with student records, please make sure they complete a FERPA tutorial. Please have the supervisor contact Danielle Faucett, faucettd@umsl.edu, or Mary Tackett, tackettm@umsl.edu, to request the link/access to the tutorial for the student. A score of 80% or higher is considered passing.