About OneDrive
OneDrive is easily accessible via the Microsoft 365 portal at https://portal.office.com/.
OneDrive Sync is available as a mobile and desktop application. VPN is not required.
Users have 5 TB of storage.
OneDrive can help recover from accidental deletions.
Please see these additional resources from Microsoft:
Migrating from Steamboat to OneDrive
With OneDrive, your files are available to you anytime, anywhere -- without needing VPN or remote access to your workstation.
ITS encourages faculty/staff to start using OneDrive as soon as possible. Please install the OneDrive client on your campus workstation, and start moving your files from your K: drive (steamboat) to OneDrive.
Frequently Asked Questions
Remote into your on-campus computer system using the Remote Desktop. We recommend initiating the migration steps defined below with your on-campus computer for performance purposes and proper transfers. Linked are Instructions for Remote Desktop and for VPN usage. 
Go to https://umsl.edu/go/OneDrive4Steamboat to download and install the OneDrive application client. Do NOT open OneDrive for Business.
Click "Save File", view in downloads folder.
Then, click "Run File" and follow the setup screen prompts.
Log in using ssoid@umsystem.edu and password, then authenticate your account using your usersname@umsystem.edu.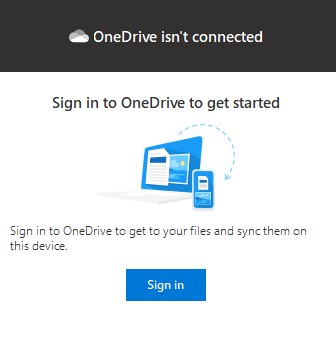 6. Follow the screen prompts to completion. Once complete, you will get the "OneDrive is Ready for You" dialogue box then click "Open my OneDrive folder" to begin your migration.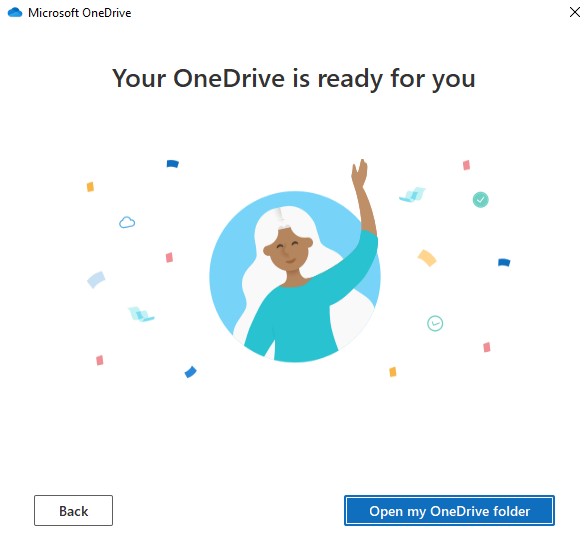 You are ready to migrate and have installed OneDrive, follow the below:
After you have installed, select the "Open my OneDrive folder" will open the OneDrive window in File Explorer. You may also go to the taskbar located at the bottom of your computer screen and click on the file folder icon

 

.
Open another File Explorer window. Open the K: Drive folder on the left side of the File Explorer window. 
Collect files in your K: Drive then drag and drop them into OneDrive manually. Or copy and paste them into OneDrive.
Periodically compare your files from your K: Drive to your OneDrive status view to make sure all files moved.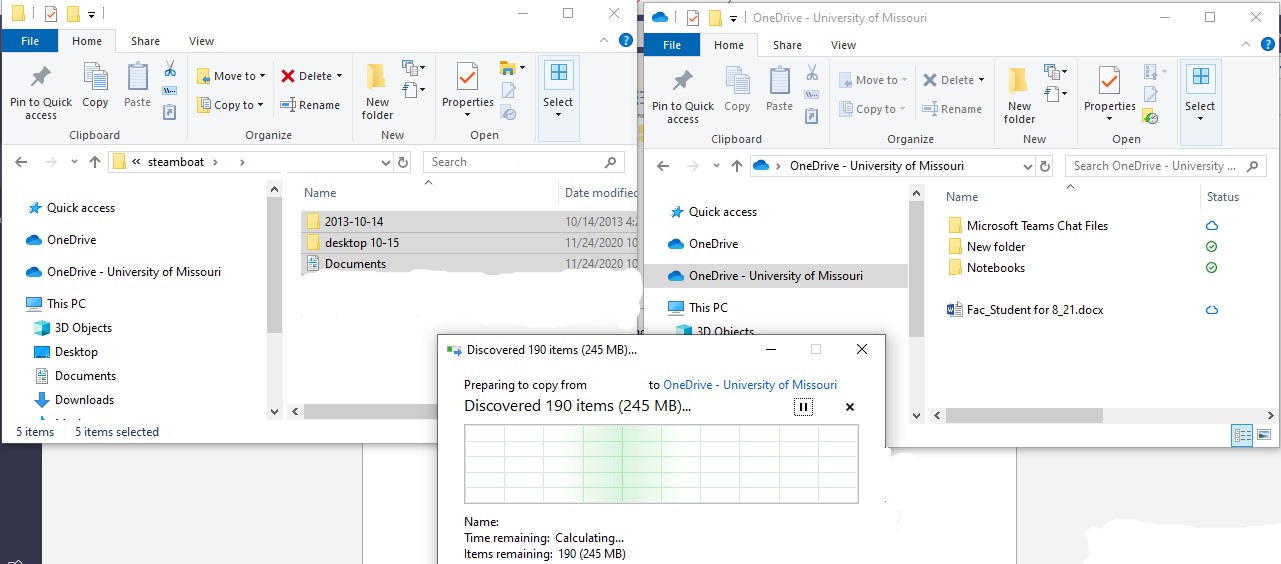 Please take the time to review the files in your OneDrive to delete those that you do not wish to move to the cloud or that are no longer needed.
T
he OneDrive client

 
has a

 
b
backup option

 
to sync

 
these folders
 

with your
OneDrive
 

cloud storage
, which makes these files available anywhere you have access to OneDrive
. Please

 
complete

 
i
instructions at
 

the

 
OneDrive Backup Support Page
.
To confirm your K: drive synced, check the file counts and folder counts for both K: drives and OneDrives. Cross-reference the file count and size totals in both your K: Drives to OneDrive to endure that they match. 
Another way is to double click on the OneDrive Cloud icon on the bottom right corner. If you see a sign in prompt, sign in with sso@umsystem.edu credentials and select the "open folder" option. 
Your files will also have the below file status symbols in File Explorer: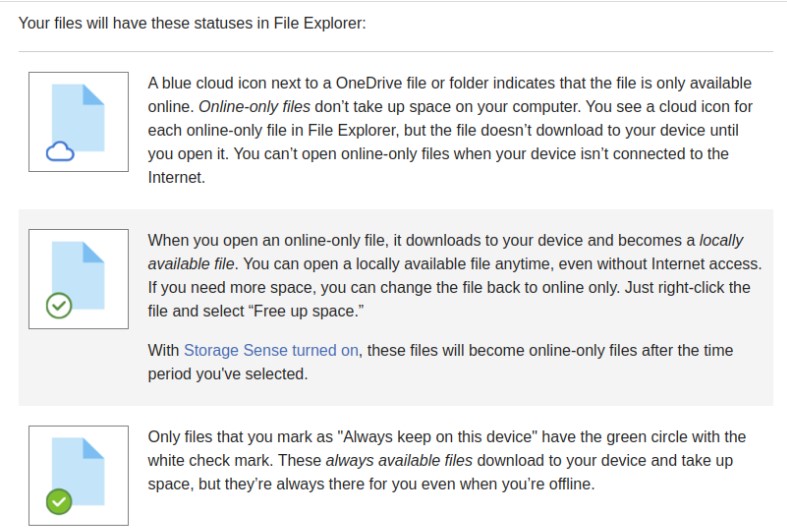 If you do not see your K: drives mapped, contact the Technology Support Center at (314)516-6034 or 
help.umsl.edu
.
With OneDrive, you have up to 30 days to retrieve deleted files:
Please discontinue the use of your K: drive. Access to your K: drive will be removed at a later time to be announced.
ITS does not recommend OneDrive for department or shared drives. ITS will announce recommendations for shared at a later time.
Yes, Google is another cloud based solution that is available for users to store their data. Users may switch to Google at anytime. 
For more information, visit the G Suite for Education Page.
You can save disk space by enabling the
Files On-Demand
feature. This feature marks your files as online only, and downloads the files seamlessly as you open them, as long as you are connected to the Internet.
In order for Faculty and Staff Mac users to migrate files from Steamboat drives (also known as K: drives on Windows), you must connect to your steamboat drive via VPN or use a Mac located on the campus network.