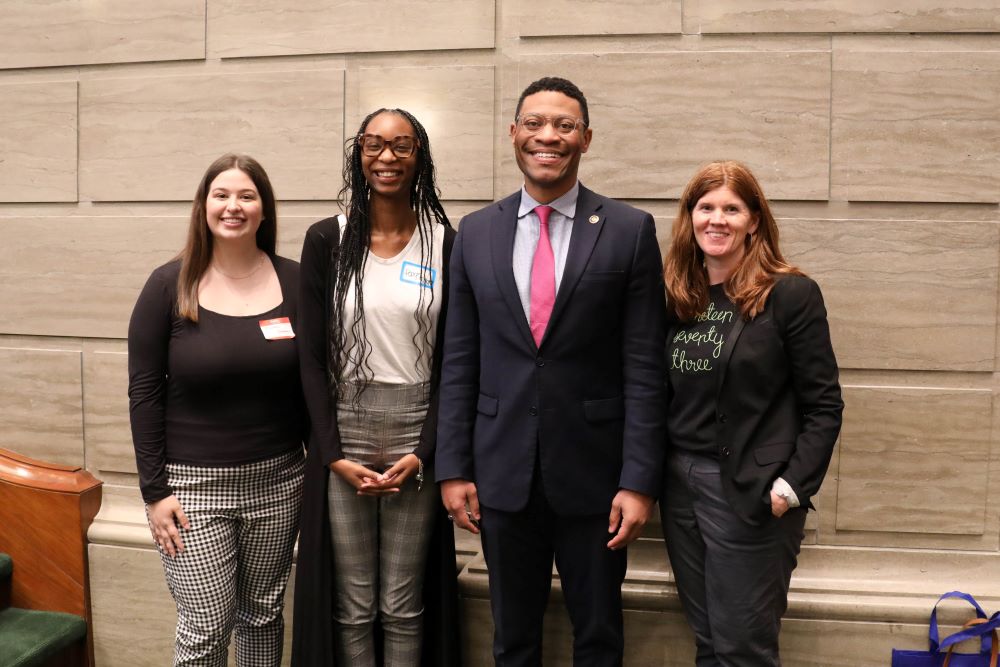 Faculty & Student Spotlight
Faculty & Students Visit State Capital
June 5, 2023 | Posted by Rebecca Taylor
Associate Teaching Professor Courtney McDermott, BSW, and MSW foundation policy courses went to Jefferson City in April to meet with legislators and learn about the importance of advocacy from Empower Missouri.

Students met with their legislators, including BSW students Paige Roland and Maddie Damann who visited with Senator Brian Williams to discuss fully funding early childhood education programs and extending Medicaid to pregnant mothers from 2 months post-partum to 12 months.

____________________________________________________________________________
Faculty & Student Spotlight
Faculty & Students Visit State Capital
February 22, 2023 | Posted by Rebecca Taylor
Adjunct Instructor Jim Wallis and Students from Family Policy 6200 visit Missouri's State Capital building. Students met with Senator Brian Williams and Lt. Governor Mike Kehoe.

____________________________________________________________________________
Student Spotlight
Tashina Jemmott 2023 recipient 
Social Work Leaders in Healthcare Distinguished Student Award
February 27th, 2023 | Posted by Rebecca Taylor
Congratulations to UMSL Social Work MSW student Tashina Jemmott for being awarded the Social Work Leaders in Healthcare Distinguished Student Award. Tashina is currently servicing her concentration practicum at Barnes Jewish Hospital in the Emergency Department. She is also a full-time Medical Case Manager working within an Infectious Disease clinic. After graduating in May 2023, Tashina plans to continue to integrate her Social Work skills with the Health Care field, volunteering locally, and studying to obtain an LCSW. 

"She is a phenomenal young woman and made this decision a very easy one" -

Stacey Gillette, LCSW, CCTP
____________________________________________________________________________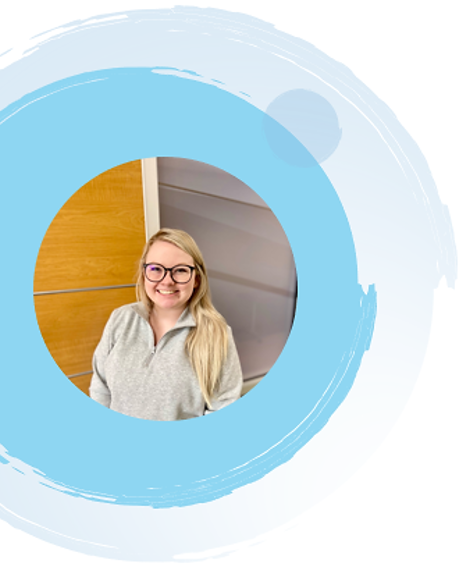 STUDENT SPOTLIGHT
BHWET Scholar Megan Camp makes a difference beyond the classroom
April 01, 2022 | Posted by Daphne Rivers
In a recent interview Megan, a current graduate student, Behavioral Health Workforce Education trainee (BHWET), graduate research assistant to the dean of Social Work, and a practicum student at SSM Health DePaul Hospital in their Child and Adolescent Behavioral Health division, shared with us why she aspires to be a social worker in the field of behavioral health.
SSW: So, tell us a little about yourself.
Megan: I am a first-generation college student in my last semester of the Master of Social Work (MSW) program at the University of Missouri - St. Louis (UMSL). In addition to my work in the dean's office, I am also a BHWET scholar finishing up my practicum at SSM Health DePaul Hospital with Child and Adolescent Behavioral Health.
SSW: Why is being a social worker important to you? Why focus on behavioral health?
Megan:  Seeing family and peers struggle with mental health, addiction, abuse, and violence was difficult to comprehend and navigate as a kid. Having been a witness to the resulting trauma and abuse, I am passionate and motivated to be a social worker in the mental health field because I know the difference we can make.
Many youth and teens lack positive support and guidance to understand the emotional and behavioral nuances of traumatic events and abuse. I want to be the social worker that holds a safe space for children and adolescents to explore their feelings and thoughts around trauma, abuse, mental illness, and gender/sexuality identity issues.
SSW: What has been the most challenging aspect of your practicum?
Megan: I have realized that facing the emotional drain that sometimes comes with the job when you are not able to solve every problem is what can be most challenging at times.
For example, there is a high need for therapy and psychiatry services for youth and teens, but a serious shortage of those services persists. There are long waitlists for therapy, psychiatry, residential treatment, intensive home services, and therapeutic foster homes. It is frustrating when you want to help but are limited by a scarcity of resources.
SSW: As a social worker in training, how do you cope with these challenges?
Megan: The first step is to realize that I cannot do it all. It is a difficult fact to accept, but very true. Fortunately, I am able to debrief and consult with my field supervisor and a task supervisor at SSM Health DePaul Hospital when dealing with some of the more distressing cases. I have been advised to encourage family therapy and to provide all the resources that I believe will benefit the client and family. Through current coursework and field training, I am actively learning how to mitigate vicarious traumatization before working in the field.
SSW: What are your future plans once you've completed your MSW degree and practicum?
Megan: I hope to continue my work with youth and adolescents in a behavioral health setting. I will be taking the test for the Licensed Master Social Worker (LMSW) and working toward Licensed Clinical Social Worker (LCSW) certifications. This will allow me to have access to more clinical positions to provide mental health interventions to youth and teens.
SSW: What are you most proud of about your journey?
Megan: I am proud that I did not give up.
In high school, I did not think I was meant for college and wanted to drop out several times. Today, I am a first-generation college student graduating with my MSW this spring and I could not be any prouder of what I have been able to achieve.
Student Resources
---