Join the Graduate School for the Three Minute Thesis Competition as presenters from across all academic disciplines come together in one amazing challenge! They each have one static slide and only three minutes to explain their complex research topics... who will come out on top!? Read the FAQ and Judging Criteria to find out more.
In a 3MT presentation, a student is asked to describe their thesis research in three minutes using only a single, static PowerPoint slide. The presentation must be understandable to a general university audience- not just to specialists in the student's area of research.
3MT presentations are competitive. The presentations are evaluated by a panel of judges, and cash prizes will be awarded. After the event, these awards will be credited to the students' accounts. Presentations from all academic areas are judged together. This reinforces the objective that the presentations must communicate effectively to a general audience.
There is an official 3MT organization housed at the University of Queensland. The following rules are based on their guidelines, with a few local modifications:
Eligibility
All active doctoral students and thesis master's students. Those who have successfully defended are not eligible to move onto the regional competition, but may participate at the UMSL University level.
Presentation must describe the student's own research (no literature reviews). Non-thesis master's students are not eligible.
Registration
You will have the ability to load your slide onto your registration form. If you are not ready to do so, you are still able to fully register and come back to add your slide to your registration at a later date. All materials must be submitted by the below deadline. If you are having problems submitting your slide, please email it directly to graduate@umsl.edu.
Registration deadline / slide submission is Midnight Monday, January 30th. 
Rules
The student is allowed a single, static PowerPoint slide. No transitions, movements, animations, etc.
Presentation must be in English.
No sound or video files allowed.
No additional props. No costumes, musical instruments, lab equipment, posters, etc.
Presentations must be spoken word. No poems, raps, dancing, miming, or singing.
Presentations are strictly limited to exactly three minutes. We will have a timer visible to the presenter, and anyone who runs over three minutes is disqualified.
The decision of the judging panel is final. Audience will also have the ability to live-vote for the "People's Choice" award.
Prizes
Prizes will be given to the following winners. All prizes will be awarded through the student's UMSL account. It is possible to win both the People's Choice award and place.
1st Place: $500
2nd Place: $300
3rd Place: $200
People's Choice: $100
Judging
The grad school will arrange for judging panels to be drawn from all disciplines. We may also include a few non-academic judges from off campus. Depending on how many students participate, we will divide the presentations into heats. The top 2-3 presentations from each heat will then move on to a finals round.
The judging criteria recommended by the 3MT organization are shown below.
Comprehension & content
– Did the presentation provide an understanding of the background to the research question being addressed and its significance?
– Did the presentation clearly describe the key results of the research, including conclusions?
– Did the presentation follow a clear and logical sequence?
– Was the thesis topic, key results, and research significance and outcomes communicated in language appropriate to a non-specialist audience?
– Did the speaker avoid scientific jargon, explain terminology, and provide adequate background information to illustrate points?
– Did the presenter spend adequate time on each element of their presentation, or did they elaborate for too long on one aspect, or was the presentation rushed?
Engagement & communication
– Did the oration make the audience want to know more?
– Was the presenter careful not to trivialize or generalize their research?
– Did the presenter convey enthusiasm for their research?
– Did the presenter capture and maintain their audience's attention?
– Did the speaker have sufficient stage presence, eye contact and vocal range; maintain a steady pace, and have a confident stance?
– Did the PowerPoint slide enhance the presentation – was it clear, legible, and concise?
Registration has closed for the Spring 2023 Event
Before registering please review the FAQ page!
If you have any clarifying questions / troubles with registering please contact UMSL Graduate School at graduate@umsl.edu or 314-516-5900.
February 2023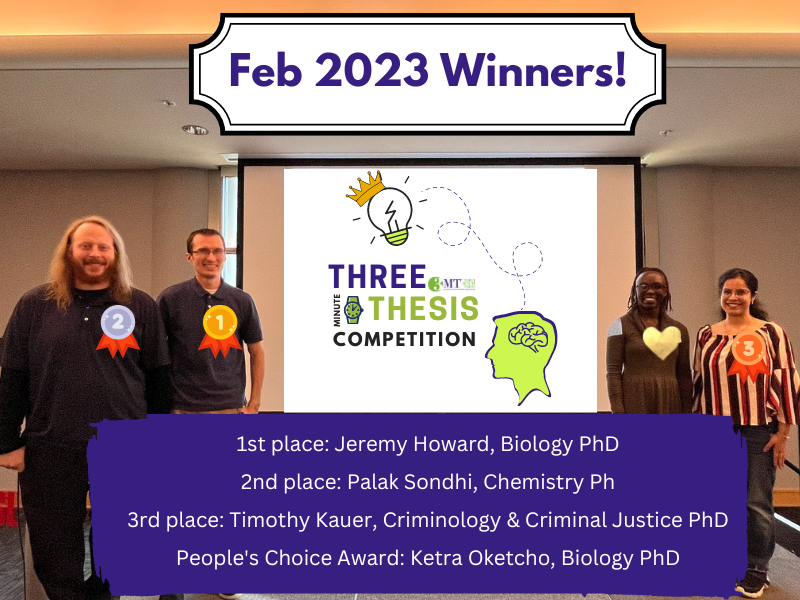 November 2018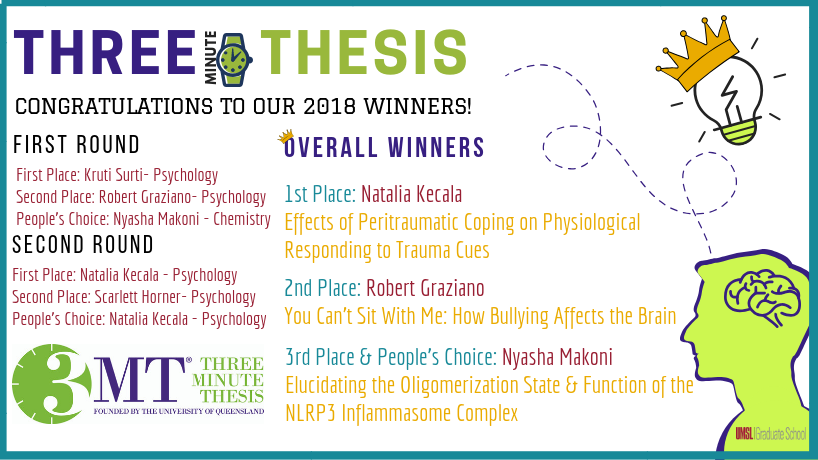 November 2017
1st place - Vanessica Jawahir, Biology PhD
Identifying Indole-3-butyric Acid Response Genes in Arabidopsis thaliana

2nd Place - Emma Young, Biology PhD
Malaria Parasites in Tropical Forest Birds: Do Birds of a Feather Flock Together?

3rd Place and People's Choice - Matteo Panza, Chemistry PhD
Development of the HPLC-based Automated Oligosaccharide Synthesizer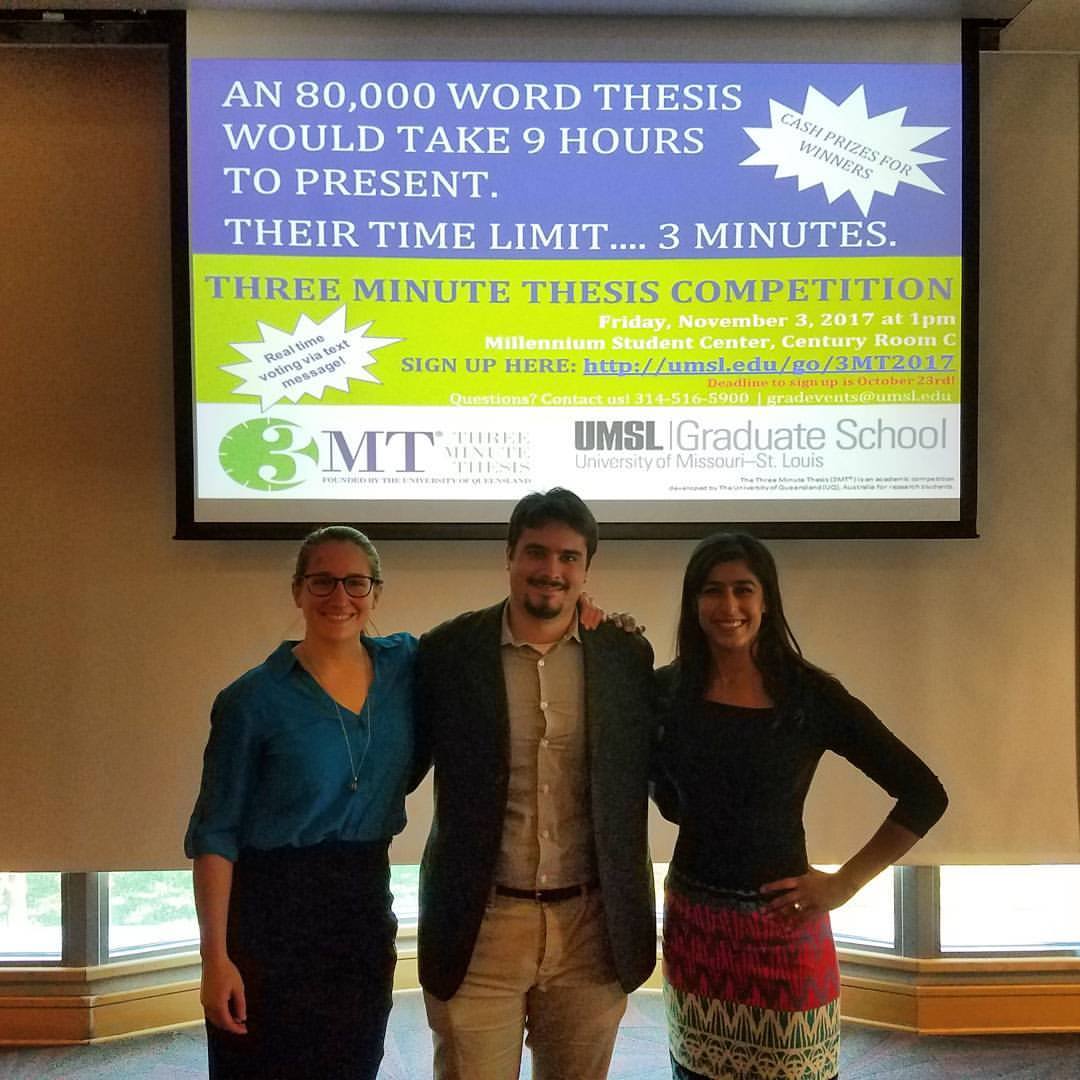 November 3MT winners - from left to right
Emma Young, Matteo Panza, Vanessica Jawahir
November 2016
1st place - Sydney Harris, Psychology MA
Heart Rate Reactivity and Locus of Control Predict PTSD Symptoms
2nd Place - Stephan Germann, Chemistry PhD
Synthesis and Characterization of Luminescent 2,7 and 3,6-Disubstituted Silfluorines
3rd Place - Michael Deckard, Criminology & Criminal Justice PhD
The Spatial and Temporal Distribution of Crime in St. Louis, MO from 2010-2014
People's Choice - Kruti Surti, Psychology PhD
Do you Think you can Control Love?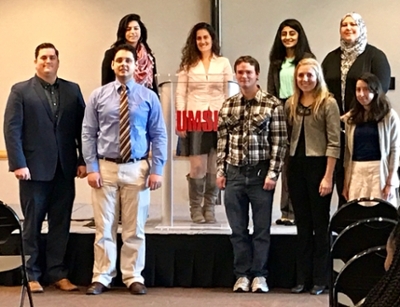 November 3MT participants - from left to right
Back Row: Reigna El-Yashruti, Mari Jaramillo, Kruti Surti, Ibitsam Al Badri
Front Row: Mike Deckard, Anthony Fischer, Stephan Germann, Sydney Harris, Rebecca Meza
April 2016
1st place - Omar Cabrera, Psychology PhD
Caffeinated and Sedated:Nerotoxic Implication for Preterm Babies
2nd Place - Joseph Meisel, Chemistry and Biochemistry PhD
Chemical Methods for Gene Therapy
3rd Place - Michelle Sanchez, Psychology MA
Love Regulation During Heartbreak