Drive growth by creating demand with UMSL's marketing major
Earn your Bachelor of Science in Business Administration with a Marketing emphasis and prepare for an exciting career in a growing field.
As a marketing major, you'll learn the latest techniques, strategies and skills in traditional, digital and social media marketing. Using the four P's - product, price, place and promotion - you'll discover how to develop effective marketing campaigns to meet consumer wants and needs. You'll also research consumer trends and find the best ways to promote a product, service or experience.
UMSL's bachelor's degree in marketing will prepare you for success in an ever-changing digital world. You'll take courses in content creation, e-commerce, search optimization, search marketing, paid advertising and social media, and get hands-on experience with the latest marketing software, including HubSpot, Salesforce and Google Analytics.
What are the benefits of a business degree in marketing?
As an UMSL marketing major, you'll learn about much more than marketing. Our marketing degree program includes at least 48 credit hours in business instruction. You'll get courses in accounting, analytics and statistics, financial and supply chain management and so much more - giving you a competitive advantage for top jobs in the marketing field.
Program type:
Major, BSBA
Format:
On-Campus, 100% Online
Take the next step
Request more information below:
Loading...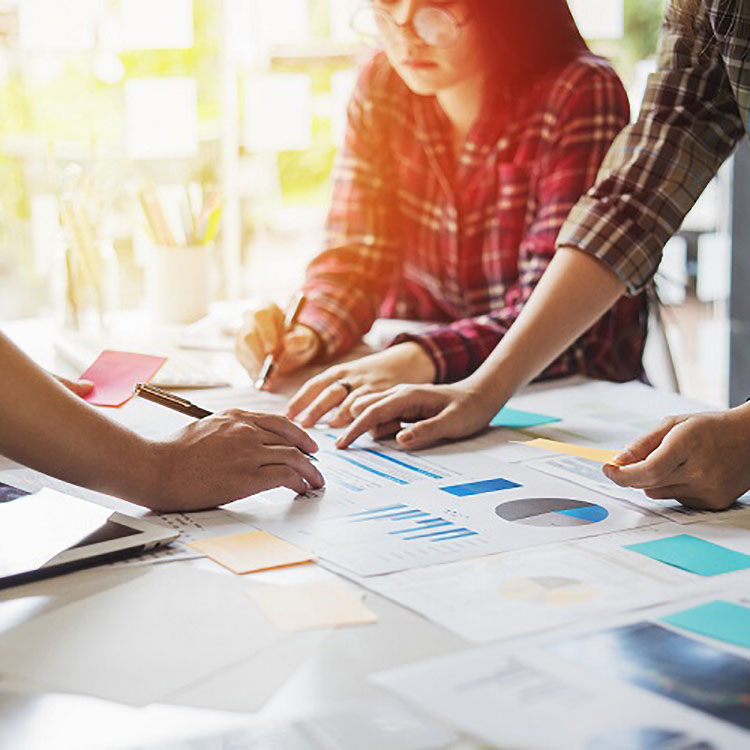 Why major in marketing at UMSL?
Through the marketing major at UMLS, you'll experience a comprehensive education that combines the best and latest training and trends in both business and marketing.
Learn from dedicated faculty. Our expert faculty are approachable and fully understand the marketing environment, meaning you'll get personalized, relevant guidance for your marketing career aspirations.
Get real-world experience. UMSL's marketing major includes ample options for internships and mentorships in addition to hands-on classroom learning. You'll also have opportunities to hear from experts from top companies like Microsoft, Meta, Twitter, Google, LinkedIn and more.
Expand your network and career opportunities. UMSL hosts several conferences and summits, including the Midwest Digital Marketing Conference. This annual event features about 2,000 industry professionals and over 125 speakers covering the latest in digital and social media.
What can you do with a marketing degree?
With an in-person or online degree in marketing from UMSL, you'll gain the knowledge, skills and experience to land a fulfilling career with wide-ranging opportunities.
From branding, communications and product design to digital careers in the social media and web space, nearly every organization and business across every industry needs marketing managers to promote and sell their products or services.
At UMSL, 100% of our marketing graduates are placed immediately - many with some of the nation's top companies. And not only are marketing majors in demand, but you can also secure high-paying jobs with our business marketing degree. In fact, U.S. News & World Report ranked marketing manager 14th for Best Paying Jobs.
Employment of marketing managers is projected to grow up to 10% over the next decade, with median marketing major salaries estimated at $133,380, according to wage and employment data from the U.S. Bureau of Labor Statistics.
Employment growth by 2029
Career Opportunities
Brand/Product Manager

Business Consultant

Business Owner

Marketing Director/Manager

Product Development
Student organizations
Make new friends and learn new skills by joining one of our Recognized Student Organizations. Here are several opportunities you may be interested in as a business administration, marketing emphasis major:
Marketing Club
Students of the University of Missouri
Internship opportunities and undergraduate research
The Career and Internship Program at the UMSL College of Business Administration will help prepare you with the real-world experience to hit the ground running when you get a job. We also encourage majors in accounting to participate in Undergraduate Research and Scholarship to innovate and collaborate with leaders in your field.
Honors College
The UMSL Honors College is a certificate program that can be paired with any major without adding extra classes or extending time to graduate. Classes in the Honors College are seminar-style, meaning that they are based in reading, writing, discussion, and critical thinking. This unique class format fosters an intellectual climate centered around democracy, diversity, civility and academic excellence.