Drive growth by creating demand.
Marketing allows organizations to understand consumers so they can develop and offer products, services and experiences to meet needs and wants. Behind every great marketing strategy is a lot of research and behind every successful organization is a marketing strategy that works to enhance growth, increase profits and move an organization toward its goals. In order to develop effective marketing campaigns, today's marketing professionals must understand the "4 Ps" (product, price, place, and promotion), as well as the ever-changing world of digital marketing, which includes content creation, e-commerce, search optimization, search marketing, paid advertising, social media, etc.
Program type:
Major, BSBA
Format:
On-Campus, 100% Online
Take the next step
Request more information below:
Loading...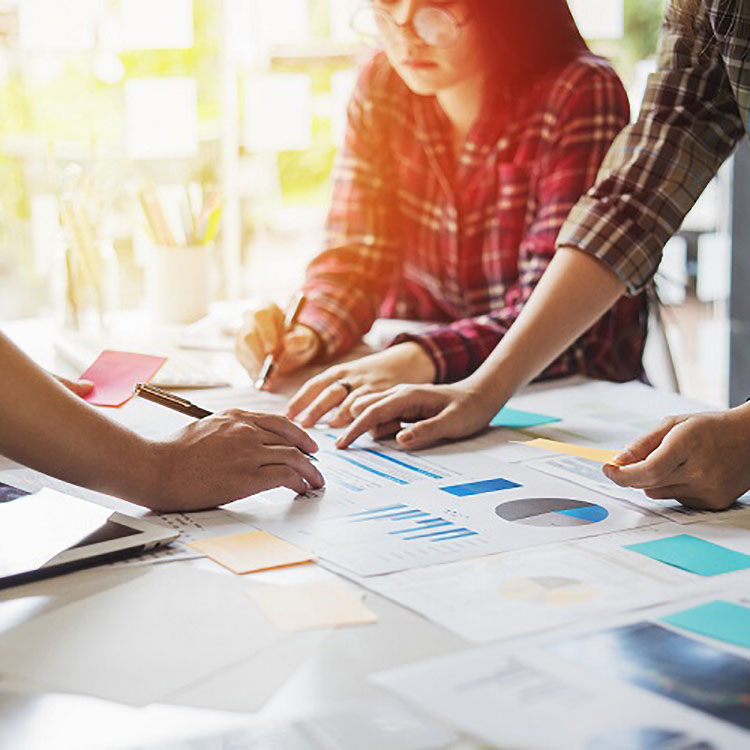 Overview
Bachelor of Science in Business Administration -
Marketing Emphasis
The BSBA, Marketing Emphasis degree program is a 120-credit-hour program that requires at least 48-credit hours be filled with business courses, of which a minimum of 18-credit hours need to be taken in Marketing courses. 
The core business classes include financial and managerial accounting, legal environment of business, information systems concepts, business analytics and statistics, supply chain management, financial management, management and organizational behavior, marketing, and strategic management must be completed. Once you've completed your required courses, you can customize your degree with business electives, even selecting a minor, if you choose.
Outcomes and Career Outlook
Throughout the program, students will learn to understand consumers through research and discover the best ways to interest them in purchasing a product, service or experience. Students will be prepared to market products, services and experiences opening them up to job opportunities in business and non-profit organizations, including everything from healthcare to museums, religious institutions, colleges and universities, and retirement homes.
Employment of marketing managers is projected to grow up to 6% to 2029, with a median annual salary of $135,030, according to wage and employment data from the U.S. Bureau of Labor Statistics.
Employment growth by 2029
Career Opportunities
Brand/Product Manager

Business Consultant

Business Owner

Marketing Director/Manager

Product Development
Student organizations
From leadership, to cultural, to just plain fun, Recognized Student Organizations at UMSL make it easy to get involved. Students who join RSOs make new friends, learn new skills, and perform better in classes. Plus, with over 120 student organizations on campus, there's something for everyone! You might like:
Internship opportunities
UMSL Business's Career and Internship Program is just one of the many reasons our students chose UMSL Business. As the leader in business education in St. Louis, we offer premier degree programs in accounting, business administration, cybersecurity, and information systems and technology. Emphasis areas within Business Administration include: entrepreneurship, finance, international business, management, marketing, and supply chain management.
Honors College
The UMSL Honors College is a certificate program that can be paired with any major without adding extra classes or extending time to graduate. Classes in the Honors College are seminar-style, meaning that they are based in reading, writing, discussion, and critical thinking. This unique class format fosters an intellectual climate centered around democracy, diversity, civility and academic excellence.
Undergraduate research
We encourage and support students as they engage in exciting activities in and outside of the classroom that enrich their academic and professional understanding of their chosen area of study. All majors are encouraged to participate in Undergraduate Research and Scholarship to produce discipline-specific intellectual or creative innovations to their field.