Share your vision with the world with a degree in Graphic Design
Companies and organizations of all types and sizes need creative professionals to bring their ideas to life, whether it's a new logo, a product package, an informational brochure, a sales presentation or a website mock-up. Graphic design is a broad medium that encompasses aspects of visual media, visual communication, design theory and typography. If you want to embrace your creativity, graphic designers flex their creative muscles more often than in many other jobs.
Take the next step
Request more information below:
Loading...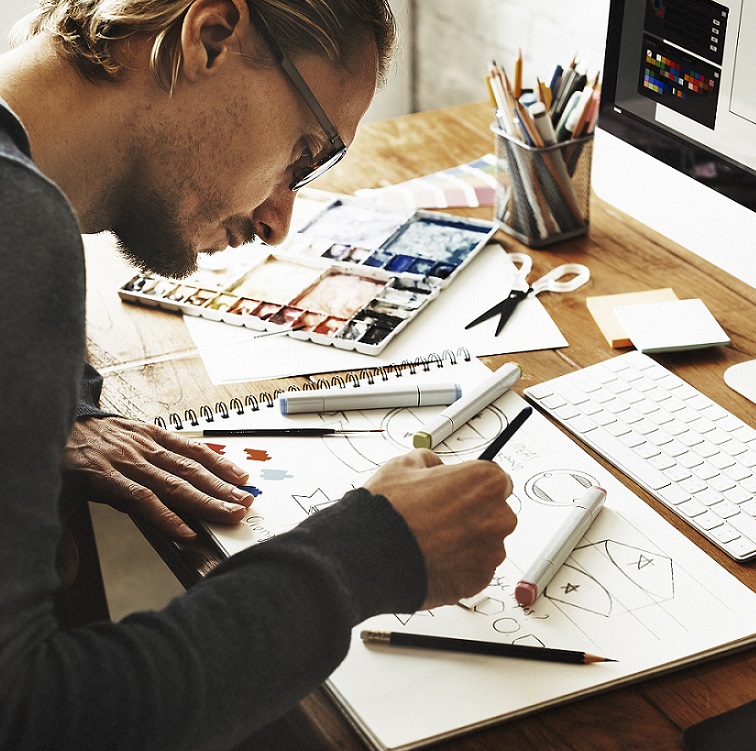 Overview
Bachelor of Fine Arts in Art -
Graphic Design Emphasis
The Bachelor of Fine Arts in Art with an emphasis in Graphic Design offers students the opportunity to explore essential cultural and professional systems through creative visual practice. Students in the Graphic Design program enjoy the benefits of close relationships with the St. Louis visual arts professional community.
Our professors maintain a rigorous program that prepares students for immediate employment as professionals in the creative industry. Students receive professional practice development with a new attention paid to entrepreneurial skills.
Outcomes and Career Outlook
Upon completion of the BFA in Art with an Emphasis in Graphic Design, graduates will be able to develop visual and verbal responses to visual phenomena and organize perceptions and conceptualizations both rationally and intuitively; explain the major achievements in the history of art and design; develop the capacity to identify and/or solve visual problems within a variety of physical, technological, social and cultural contexts; explain and evaluate contemporary thinking about art or design; develop competence in a number of art or design techniques; and make valid assessments of quality and effectiveness in design projects and works of art, especially their own.
Employment of Special Effects Artists, Animators and Graphic Designers is projected to grow up to 4% to 2029, with a median annual salary of $50,710 according to wage and employment data from the U.S. Bureau of Labor Statistics.
Employment growth by 2029
Career Opportunities
Graphic Designer
Digital Artist
Animator
Package Designer
Illustrator
Creative Director
Web Designer 
Marketing Professional
UX Designer
Art Educator
Plan of study
All majors must meet the general education requirements of the university in addition to completing degree-specific curriculum requirements.
Review Full Degree Requirements Review Sample Four-Year Plan
Non-Missouri Residents: Prospective students are responsible for reviewing the NC-SARA state authorizations page to see if this program is offered in their state throughout their program and to review the licensure or certification requirements for the state in which they reside.
Student organizations
Make new friends and learn new skills by joining one of our Recognized Student Organizations. Here are several opportunities you may be interested in as a graphic design major:
Artists Anonymous 
Students of the University of Missouri
Honors College
The UMSL Honors College is a certificate program that can be paired with any major without adding extra classes or extending time to graduate. Classes in the Honors College are seminar-style, meaning that they are based in reading, writing, discussion, and critical thinking. This unique class format fosters an intellectual climate centered around democracy, diversity, civility and academic excellence.
Undergraduate research
We encourage and support students as they engage in exciting activities in and outside of the classroom that enrich their academic and professional understanding of their chosen area of study. All majors are encouraged to participate in Undergraduate Research and Scholarship to produce discipline-specific intellectual or creative innovations to their field.