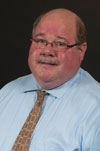 On behalf of my collegues in the Division of Student Affairs, it is my pleasure to welcome you to the University of Missouri-St. Louis. I am delighted that you have chosen the University of Missouri-St. Louis to continue your educational endeavors and become a part of an exciting community of scholars.
The Division of Student Affairs' mission is to provide quality programs and services that complement the academic experience and to provide opportunities that enhance the development of our students. Every department in the division provides activities and support that will help you explore new opportunities, develop your personal and professional skills, and most importantly have a successful student experience. We are excited to form a partnership with you to help you fulfill your goals and prepare you for the next chapter of your life.
In addition, our academic programs are very strong and our faculty members are here to share their knowledge and expertise with you. I encourage you to get to know your faculty members and use them to help guide your course selections and career decisions as you traverse through your educational journey.
I encourage you to take advantage of the many opportunities offered by departments in the Division of Student Affairs to enhance your educational experience. I invite you to visit the websites and offices of each of these departments to find out more information and to determine what programs and services might be of interest to you. The entire Student Affairs team is willing and able to help guide you on your educational journey, so please let us know how we can best assist you. Your success is very important to us and we will do everything we can to help.
I invite you to stop by my office in 301 Woods Hall. I look forward to meeting you and getting to know about your educational goals. I enjoy visiting with our students and welcome your feedback at all times.
Again, welcome to the University of Missouri-St. Louis. We are glad you are here!



Curtis C. Coonrod, Ed.D.
Vice Provost for Student Affairs and Dean of Students