The Triton Pantry is a food resource for any enrolled UMSL student who is experiencing or is at risk of food insecurity or hunger. We serve our students in a friendly, open, and supportive way. All are welcome and we are committed to helping anyone who needs it. We are the Triton Pantry. We help UMSL students thrive.
How it works
The Triton Pantry uses a self-choice model. Upon entering the space, students can sign themselves in via the Triton Connect app, or give their name at the check-in desk. This allows us to better understand the campus needs and how our pantry is being utilized. Students are then welcome to walk around the pantry and choose the items that will work best for their needs. Students are to bring their own bag or box to carry their items.
Depending upon availability, students can choose from non-perishable, fresh, frozen, and canned foods, as well as household items such as bathroom tissue and toiletries and personal items such as period supplies. Quantities and selection vary from week to week, but we strive to meet our students' needs. In addition, student parents can sign up to pick up diapers on a monthly basis from the Triton Pantry. See details below.
**By using the pantry, students agree to the declaration of need and waiver of liability.**
Location & Hours
The Triton Pantry is conveniently located on the lower level of the Millennium Student Center on UMSL's North Campus. We're just down the hall from The Nosh cafeteria. Our current hours of operation are:
***SUMMER HOURS***
MONDAY - THURSDAY
10am to 4pm
----------------------------------
SPRING/FALL HOURS
MONDAY - THURSDAY
10am to 6pm
FRIDAY
10am to 2pm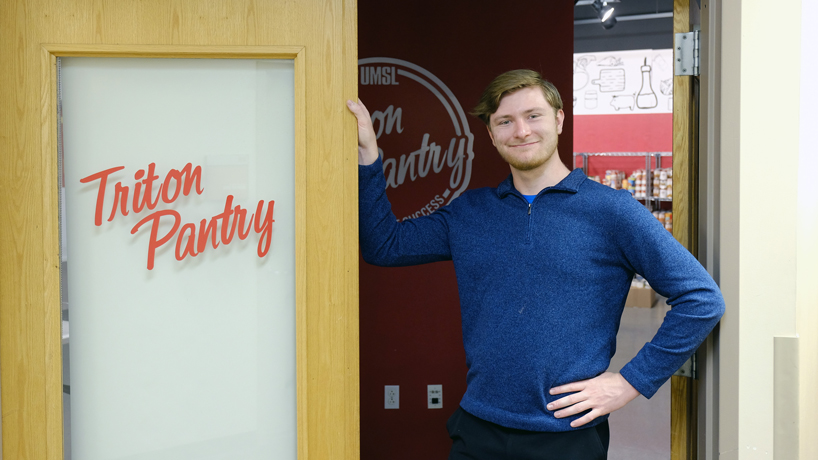 Triton Pantry Diaper Resource
The Triton Pantry is a proud partner of the St. Louis Area Diaper Bank. This partnership allows us to better support our students that have babies and young children in diapers. Diapers are provided on a monthly basis to student parents in need. Students must sign up for this resource by completing a quick form and arranging to pick diapers up each month in the Triton Pantry.
Applying for SNAP Benefits
SNAP stands for the Supplemental Nutrition Assistance Program. It's a federally funded nutrition program that helps individuals buy healthy food and stretch their budget. There are many college students who are eligible to receive SNAP benefits. If you would like help applying or determining if you're eligible, we have a specific partner to help you! Please reach out to Andrew Yakel at ayakel@stlfoodbank.org or by phone at (314) 528-8662.