New Simplified Tuition Structure at UMSL - Beginning Fall 2023
Our new Simplified Tuition structure makes the costs of a college education more predictable and transparent for UMSL students, allowing students and families to more accurately estimate and plan for college expenses. Effective Fall 2023, the new structure consolidates base tuition with the current course and supplemental fees into one flat credit hour rate based on a student's major. This helps by removing the uncertainty inherent in the current model where students are assessed tuition and fees based on the type of course enrolled.

Frequently Asked Questions

Why is there a change in UMSL's tuition structure?
The Missouri Legislature passed HB 297 in 2021 requiring public universities to simplify tuition structures. In May 2022, the University of Missouri Board of Curators approved a new tuition structure to simplify students' bills by consolidating course and supplemental fees into tuition tiers. Under this structure, UMSL will implement a flat credit hour rate in each tier for all undergraduate and graduate students based on their primary degree plan. The new structure will go into effect in the Fall 2023 academic year.
What is Simplified Tuition?
Simplified Tuition means that students will pay a single resident credit hour rate that consolidates credit hour cost with the current course and supplemental fees based on their degree program. Each degree plan will be assigned to one of four tuition tiers for undergraduate students and to one of four tuition tiers for graduate student degree plans, so you will be able to easily calculate the total tuition cost per semester for your academic program/major. Additional graduate premium programs are listed separately. Non-resident premiums will continue.
Will I still pay separate course fees?
No. Under the new model, all educational fees will be rolled into tuition pricing, giving students and their families a simplified bill and a more predictable cost per semester.
Are their separate fees associated with course modality?
No. Under the new model, all educational fees will be rolled into tuition, no matter if a course is offered in-person, fully online, or hybrid.  
What is not included?
Books, supplies, housing, food, transportation, professional licensing fees and other personal expenses are not included in the Simplified Tuition rate.
How are the tiers determined for tuition pricing?
Tuition tiers correspond to the cost of delivering the degree, factoring in the cost of specialized facilities, equipment, and faculty; which are currently factored in using course and supplemental fees.
How does this help students?
The new tuition model will make tuition more transparent and predictable and will simplify students' bills. For example, under the current model, students pay increasing course and supplemental fees when they enter their upper-level coursework…often adding significant costs during their junior and senior years. The new tuition model averages out the cost of a degree program over four years so annual tuition will remain relatively consistent. This allows students and families to plan financially for those costs and it allows UMSL to deliver a consistent financial aid package across academic years to move you to graduation.
Simply put, it makes tuition easier to understand and plan for. Your bill will now reflect the number of hours you are taking multiplied by the credit hour rate in your academic program tier determined by your major.
How will my bill change?
Billing will be simplified to roll course and supplemental fees into a single cost of tuition based on your degree of record. A sample of a current billing statement is the first image while a sample of the new simplified billing statement is the second.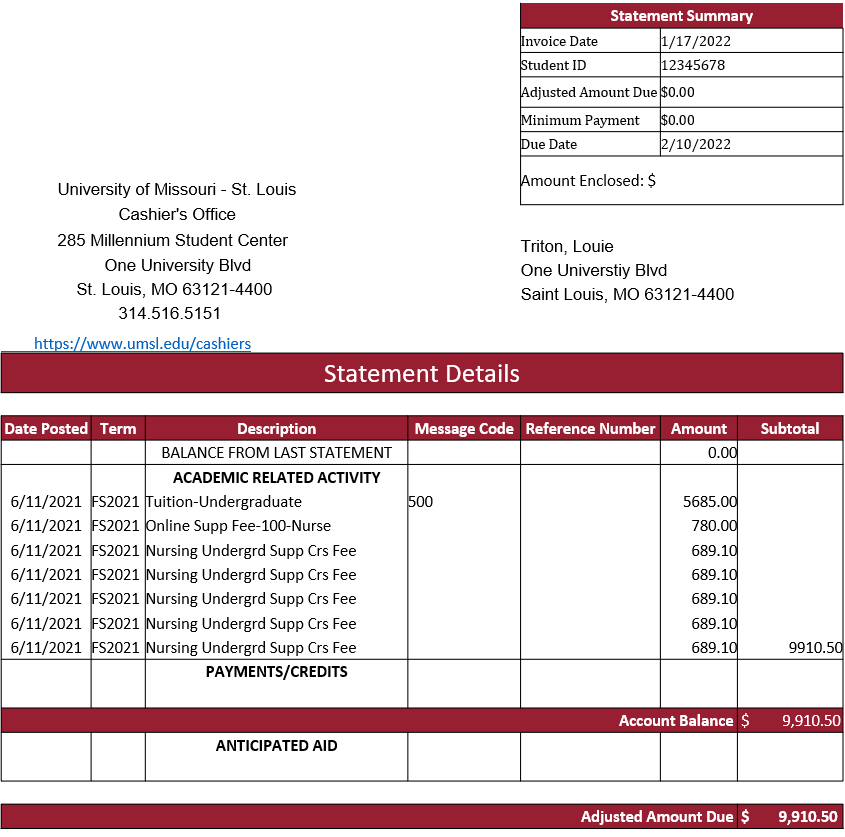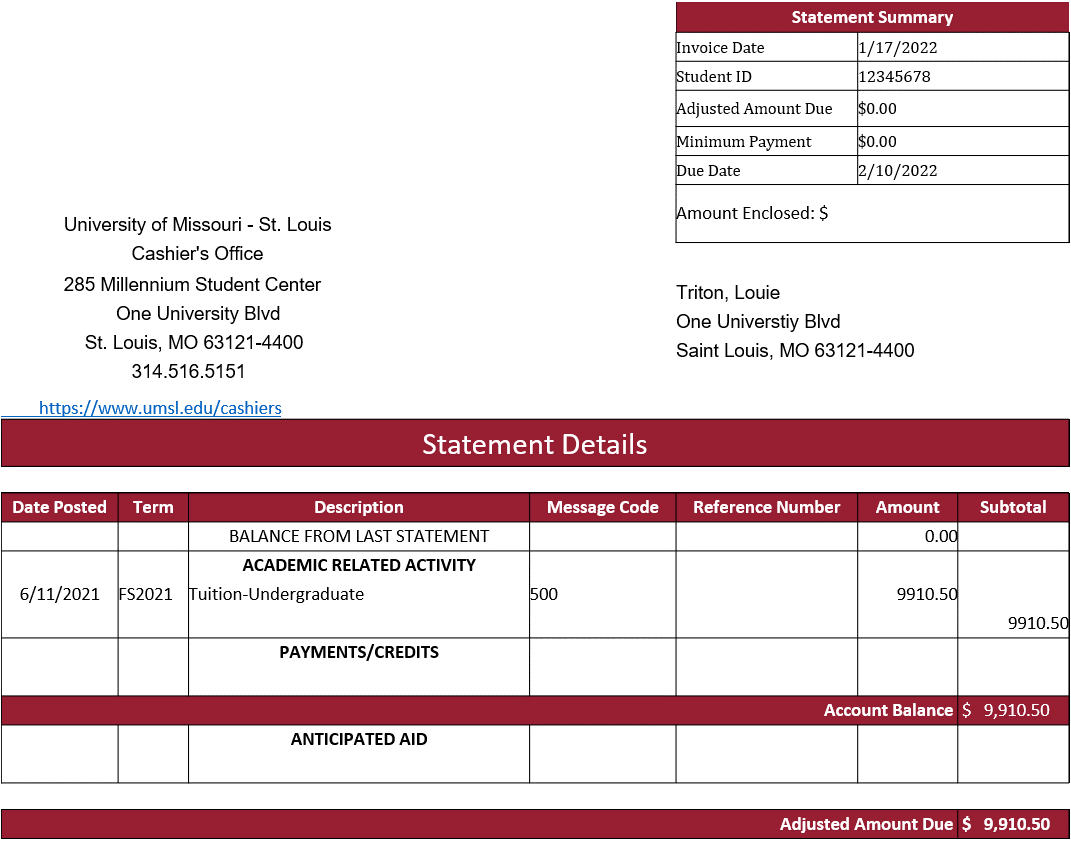 Is the financial aid structure going to change, too?
Students are at the center of our financial aid strategy, and we will continue to prioritize affordability as we adapt aid packages alongside the new model. With Simplified Tuition, your financial aid award will be more accurate as we can predict much more closely the annual cost of your degree program. Student Financial Services is already preparing financial aid for Fall 2023 based on the new tuition model. 
What if I haven't declared a major?
Each undergraduate student has a major or a degree plan – even if it is undecided/exploring or undeclared in an academic program, which are included in the undergraduate Tier 1 rate. Undergraduate students with a major of Non-degree will be placed in the undergraduate Tier 2 rate. 
Is there a different rate for Missouri residents and nonresidents?
Yes. Nonresident premiums will remain unchanged under the new model. However, UMSL does have unique programs that expand in-state rates for certain geographical areas including greater metropolitan St. Louis, bordering states and others.
Where can I go to see an estimate of my tuition for the academic year beginning Fall 2023?
Students can visit our online tuition estimator tool to gain a tuition estimate based on your primary degree program. It is important to note that these are only estimates of tuition costs based on estimates of the Academic Year 2023-2024 tuition rates. Academic Year 2023-2024 rates will not be approved by the University of Missouri Board of Curators until May 2023. While not yet finalized, these estimated rates include an annual increase less than inflation. Non-Resident differentials will continue to be applied at the graduate and undergraduate student careers in addition to the resident-tiered rates.
What is the rate for dual-enrollment students taking one UMSL class while enrolled at another UM System campus?
Tiered tuition is based on the individual student's academic plan. These undergraduate students are currently listed as non-degree and will be in the undergraduate Tier 2 rate.
Why is my major in one of the top tuition tiers?
Your degree is one that requires specialized facilities, equipment and faculty, so the cost of delivering it is higher. These factors were considered, along with the average total cost of tuition and fees of someone in your academic program, when the tuition tiers for the new Simplified Tuition model were developed.
What if I change my major?
Students will pay the tier rate for their degree plan as of the last day to register for a regular session class.  If a student changes majors after that day, the billing tier will not update. See the Academic Calendar for the date.
Can I choose a less expensive major?
Students should choose an academic plan/major that interests them. Academic advisors help students select courses and create a plan for graduation. Changing majors can lead to changes in this plan and potentially delay graduation. Students should work with their advisors to align their academic studies with their academic and career goals.
What if a student has declared two (or more) majors?
The tiered structure still applies. Students will pay tuition rates according to the academic plan/major with the highest tier rate of their selected majors.
Who can I talk to about my specific situation?
Contact Student Financial Services in person at 327 Millennium Student Center, by phone at 314-516-5151, or by email at cashiers@umsl.edu. You can also reach out to your academic advisor with questions related to degree planning.