Title IV Federal Aid will automatically apply toward current charges and fees. Students receiving this aid will have the option to have this aid also be applied toward other charges (such as bookstore charges, parking permit charges, prior term charges, etc.). This option will be presented online or by mail depending on how the student applied for the aid. Students can choose an option in MyView by following the instructions below. If an option is not chosen within the specified time frame, it will be assumed that the student does not want his or her federal aid to pay all charges. 
Your agreement to allow your Federal Financial Aid to be applied toward all charges on your student account is important as this may impact the processing of your refund. Your refund may not be mailed to you or direct deposited into your bank account if your student account reflects a balance due after your refund has been processed. This applies if you have a balance due in the current term because you have not agreed to allow your aid to pay all charges or if you have a balance due in a term from the prior financial aid year. Refunds to students having a balance due are processed as a paper check that is routed to the Cashier's Office, not to the student. As refund checks are received in the Student Financial Service office, students are emailed to advise that a check is available for pickup.
To choose an option:

Sign into MyView, click the Student Center tile.
Next, click the Awards/Lender Options link near the bottom of the screen (shown below)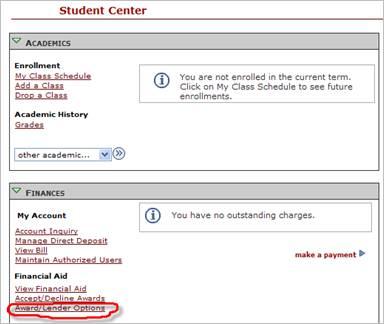 ---
Select an Aid Year

---
Choose I Agree or I disagree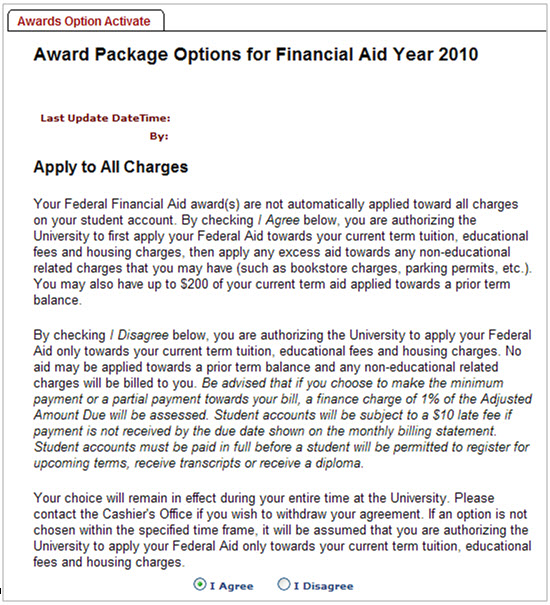 Click the Submit link at the bottom of the page.
Students wanting to change their selection from AGREE to DISAGREE will need to complete a form in the Student Financial Services office.