The UMSL Office of Precollegiate Student Services (PSS) is excited to collaborate with the College of Arts and Sciences to offer a Dual Enrollment program for area junior and senior high school students.  The purpose of dual enrollment is to provide advanced high school students the opportunity to take college-level coursework. Students will have the ability to expand on core high school academic subjects while simultaneously accelerating their goal of earning a college degree.
The PSS Dual Enrollment program will provide students with exposure to college life and the rigor of college course expectations.  This is an opportunity available to a limited number of students. Admitted students would be eligible to enroll in the English online course for the Fall and the Psychology online course in the Spring. Students must maintain a 3.0 cumulative GPA in order to re-enroll for the Spring.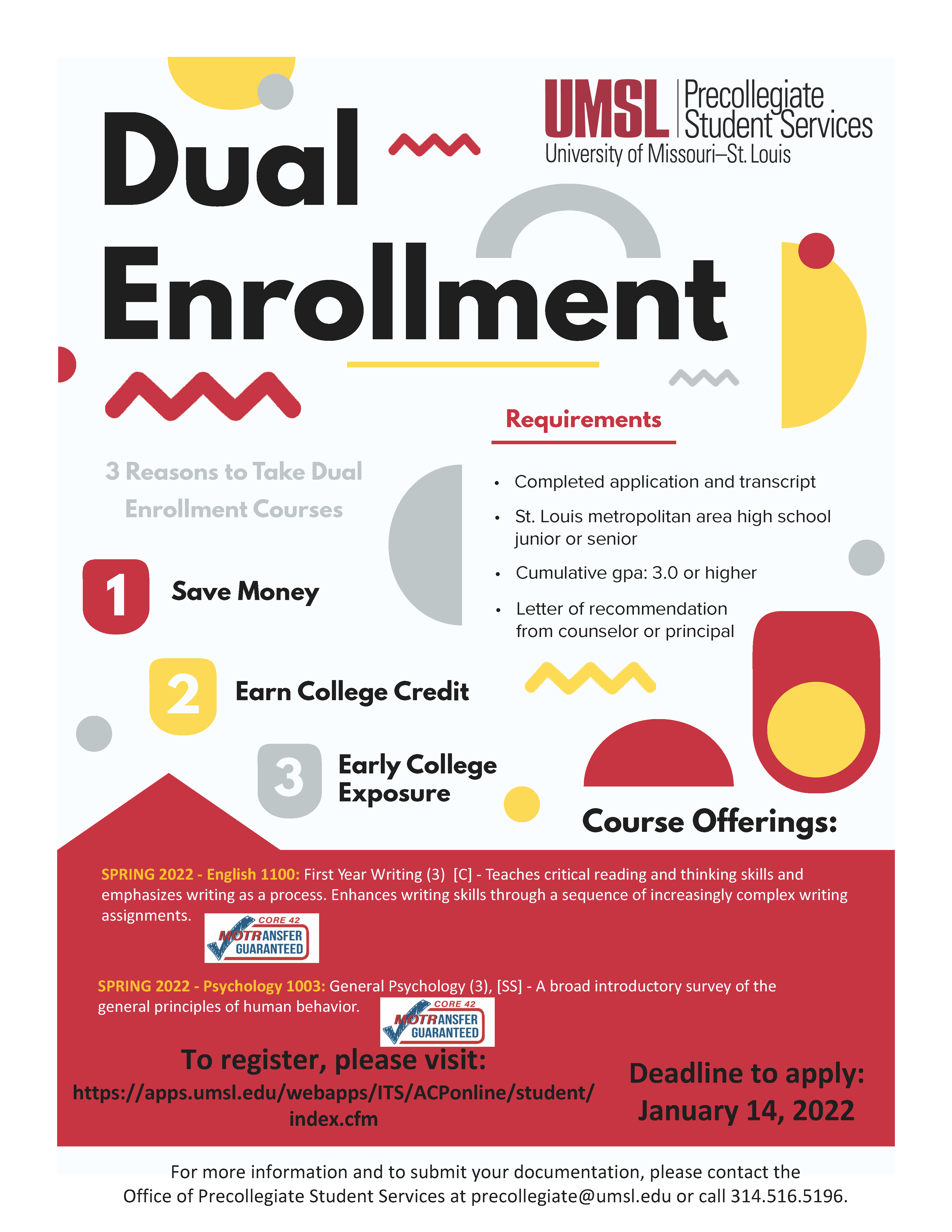 ONLINE COURSE DATES
The Spring 2022-Psychology 1003- General Psychology course and English 1100- First Year Writing course are three-credit online courses.  These courses will be conducted in a hybrid learning model whereby students are involved in face-to-face instruction and self-directed learning.  Blended learning enables the course participants to work together, engage in discussions, and provide useful feedback to one another, which undoubtedly leads to improvement and higher engagement.
ENROLLMENT CRITERIA
To enroll in the PSS Dual Enrollment Program, students must register for the course using the below link and submit their transcript to precollegiate@umsl.edu to verify the eligibility requirements found below:
Must be a previous/current Bridge Program participant
Enrolled in a St. Louis metropolitan area high school
A junior or senior with a cumulative GPA of 3.0 or above (based on a 4.0 scale) 
Deadline to register and submit transcript: Friday, January 14, 2022
Please note there are a limited number of slots available for this opportunity, therefore no later registrations will be accepted. 

REGISTRATION PROCESS
To register for Spring 2022, please visit: https://apps.umsl.edu/webapps/ITS/ACPonline/student/index.cfm
Select the "Bridge Program" course to proceed with the registration process.
A Google or Yahoo account is required for each student. 

If two students from the same family are registering, they cannot use the same Google or Yahoo account.

Upon completion of the registration process, the parent/guardian will be sent an email that allows them to electronically approve their student. Parent approval is due by the close of registration. It is essential to provide the correct email addresses or we may not be able to process your application, and the registration will be forfeited.  

The registration process is not complete until the student registers, the transcript is submitted to precollegiate@umsl.edu, and the parent/guardian approves the registration. It is the responsibility of the student and parent to ensure that the registration process is complete by the January 14th deadline.
COST OF ATTENDANCE
No payment is due at the time of registration. The Office of Precollegiate Student Services will cover the cost of course tuition for participating students, however, students will be responsible for the costs of any books and/or course materials. No late registrations are accepted. 
POST-REGISTRATION
Once a student has been accepted into the Dual Enrollment Program, they will receive an email confirmation from UMSL which will include their student ID number. Student ID numbers are assigned to all UMSL students and will be required to access student academic records. 
Included in the same email, students will be issued a user ID and a temporary password for logging into MyView, an online service for students that allows them to easily request transcripts, check grades, and keep up with their schedules. Once a student logs in with a temporary password, the student will be prompted to create a new password. It's important to keep track of your username and password for MyView. If you do lose or forget your password, please visit the password recovery page.  
STUDENT IDENTIFICATION CARDS
UMSL student ID cards can be acquired at the
Triton Card Office
.
A driver's license, state ID, passport, or other government-issued photo identification is required to obtain a UMSL student ID. 
These cards are valid for the duration of the course(s) in which the students are enrolled and will allow the students access to University of Missouri-St. Louis libraries, on-campus activities, and sporting events. A valid ID card is required to use any UMSL facility.