Become a Teacher, Change a Life!
In partnership with the UMSL Office of Precollegiate Services, the UMSL COE Future Teacher Leadership Academy 2024 is specifically designed to bring high school students a vision for a career in education.
Cohort 1 (first time FTLA attendees):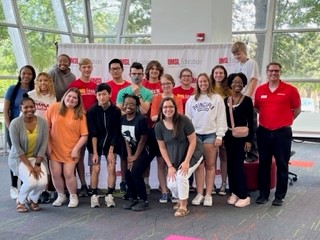 You will start your day with a college class: Tch Ed 2000 Becoming a Professional Educator. This one credit class will serve to ground you in the education profession, including its diverse career options and programs offered at the College of Education. The second morning session will give you a chance to dialogue with education professionals and fellow students, gain valuable leadership skills and learn what a career in education could mean for you.


Cohort 2 (returning FTLA participants):
You will enroll in Tch Ed 1001, Early Clinical Experience: Community Agency, a one credit class involving active and purposeful early clinical experiences with regional community agencies that support youth and/or families.
June 10-13 & 17-21
Registration Information
In order to be considered for FTLA 2024, please complete the FTLA application. 
Requirements:
HS Junior/Senior
2.5 Cumulative GPA
School Letter of Rec.
There is no deadline, so please continue to submit applications.
More Information
For more information contact David A. Stofer, Ed.S. dastofer@umsl.edu or 314-243-0773.