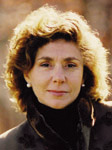 World Ecology Award Remarks
Mrs. Teresa Heinz is Chairman of the Heinz Family Philanthropies and of the Howard Heinz Endowment. She is also the creator of the prestigious Heinz Awards, an annual program recognizing outstanding vision and achievement in the arts, public policy, technology and the economy, the environment, and the human condition.
Teresa Heinz has long been recognized as one of the nation's premier environmental leaders. After assuming the reins of The Heinz Endowments in 1991, she directed the creation and design of a grant making program in the environment. In 1995, she announced one of the largest grants ever made to the environment, a $20 million gift to create the H. John Heinz III Center for Science, Economics and the Environment, a unique effort to bring together representatives of business, government, the scientific community and environmental groups to collaborate on the development of mutually acceptable yet scientifically sound environmental policies.
She is Vice Chair of Environmental Defense and was one of ten representatives from non-governmental organizations attached to the U.S. Delegation to the U.N. Conference on Environment and Development (Earth Summit) in Brazil in 1992. She has endowed a professorship in environmental management at the Harvard Business School and a chair in environmental policy at Harvard's John F. Kennedy School of Government. Since 1995, she has sponsored annual conferences designed to inform women about the relationship of health and environmental issues to their daily lives.
As a member of the Advisory Board for the Earth Communications Office, she has helped to pioneer an internationally acclaimed public service campaign promoting citizen environmental action in countries around the globe. She is also a co-founder and board member of the Alliance to End Childhood Lead Poisoning.
As a staunch advocate for the environment, Teresa Heinz has emphasized the need to align environmental and economic interests based on sound science, economics, technology, innovative thinking, and partnerships between business and the environmental community. She is married to U.S. Senator John Kerry. She has three sons, John, André and Christopher Heinz.