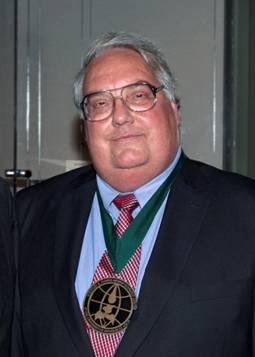 On Friday, May 13, Howard G. Buffett became the 19th recipient of the World Ecology Award. Through his Howard G. Buffett Foundation, he is directing projects in such countries as Afghanistan, Burundi, Colombia, Democratic Republic of the Congo, El Salvador, Guatemala, Honduras, Liberia, Nicaragua, Sierra Leone, Sudan, Uganda and many additional countries.
Buffett has also been employed with and served on boards at a variety of organizations, including United States Trade Representative Committees, Archer Daniels Midland Company, The GSI Group, Coca-Cola Enterprises, ConAgra Foods, Sloan Implement, Coca-Cola Company, Berkshire Hathaway and numerous nonprofit boards.
In 1999 this extraordinary individual established the Howard G. Buffett Foundation (HGBF) with a mission to improve the standard of living and quality of life for the world's most impoverished and marginalized populations. Its immediate priorities include food security, clean water and humanitarian aid in conflict and post-conflict regions.
Buffett established HGBF using the bulk of the resources available to him through family assets. At the time Howard himself worked on his own farm. Currently he has a 1,400 acre farm near Decatur, Illinois; oversees two research farms of 2,300 acres and 9,200 acres in Illinois and South Africa respectively.
In his Foundation's 10th Anniversary Annual Report, he quotes his father Warren's advice to him: "Don't just go for safe projects. You can bat a thousand in this game if you want to do nothing important. Or you'll bat something less than that if you take on the really tough problems."
In addition to the primary mission described above, his Foundation's operations have remained sensitive to global issues such as conservational agriculture, habitat protection and biodiversity. Additional funding is directed toward nutrition, forced migration and development of journalists—which supports student learning and improved governance. Buffett also continues a decade-long interest in the well-being of cheetahs and mountain gorillas.
He has traveled to more than 100 countries documenting the challenges of preserving our biodiversity while providing adequate resources to meet the needs of a growing global population. He is the recipient of numerous honors bestowed by both international governments and domestic organizations.
The Howard G. Buffett Foundation's Annual Report proudly describes it efforts to learn from its mistakes, failures and successes. It seeks to be a catalyst for successful innovation, to provide the leadership required for success, and makes seed capital available that can be leveraged for additional support. This year's World Ecology Award uniquely recognizes a carefully developed, well-managed and innovative effort to build a better planet by focusing on fundamental, structural problems designed to improve the lives of over 3 billion people who live on less the $2 a day.