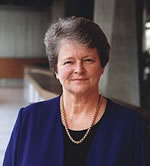 Dr. Gro Harlem Brundtland received the World Ecology Award from the International Center for Tropical Ecology at a gala dinner held at the Hyatt Regency on June 27, 2001. The award was presented to Dr. Brundtland by Mr. Robert R. Hermann, Chairman of the Harris Center's Advisory Board. Dr. Brundtland is Director-General of the World Health Organization and former Prime Minister of Norway.
At the dinner, Dr. Brundtland made a passionate plea for more action to limit carbon dioxide emissions and thereby slow the rate of climate change. She stressed that "long term changes in world climate will affect many pre-requisites for healthsufficient food, safe and adequate drinking water, and secure dwellings. Some of the health impacts will be direct, such as heat-wave or flood related deaths. Others come from disturbance of complex ecological processes, changes in water supply, food availability and patterns of vectors and infectious diseases." She concluded her address with the quote: "Healthy peoplehealthy planet. Healthy planethealthy people. It works both ways."
Dr. Brundtland was born in Oslo, Norway, on April 20, 1939. As a young mother and newly qualified doctor, Gro Harlem Brundtland won a scholarship to the Harvard School of Public Health. She returned to Oslo and the Ministry of Health in 1965 to work on children's health issues including breast-feeding, cancer prevention and other diseases.
In 1974, Dr. Brundtland became Norway's Minister of the Environment. During the 1970's she acquired international recognition in environmental circles and a political reputation at home. In 1981, at the age of 41, she was appointed Prime Minister of Norway for the first time. Dr. Brundtland was the youngest person and the first woman ever to hold the office of Prime Minister. As Prime Minister from 1986-1989 and 1990-1996, Dr. Brundtland was Head of Government for more than 10 years.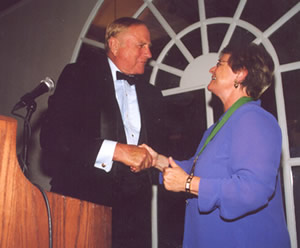 Throughout her political career, Dr. Brundtland developed a growing concern for issues of global significance. In 1983 the then United Nations Secretary-General invited her to establish and chair the World Commission on Environment and Development. The Commission, which is best known for developing the broad political concept of sustainable development, published its report Our Common Future in April 1987 (commonly referred to as the Brundtland Report). The Commission's recommendations led to the Earth Summitthe United Nations Conference on Environment and Development (UNCED) in Rio de Janeiro in 1992.
Dr. Brundtland was nominated Director-General of the World Health Organization by the Executive Board of WHO in January 1998 and the World Health Assembly elected her to the position in May 1998. As Director-General of the World Health Organization her many skills as doctor, politician, environmentalist, activist and manager have come together. In her acceptance speech for the World Health Assembly, Dr Brundtland said: "What is our Key mission? I see WHOs role as being the moral voice and the technical leader in improving health of the people of the world. Ready and able to give advice on the key issues that can unleash development and alleviate suffering, I see our purpose to be combating disease and ill-healthpromoting sustainable and equitable health systems in all countries".