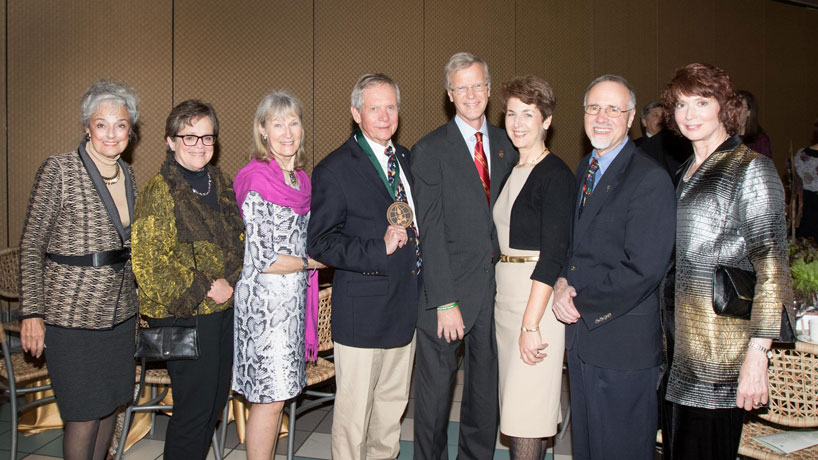 (Left to right: Anna Harris, Patty Parker, Birgit and Robert Bateman, Virgil and Sandra Van Trease, Chancellor Tom George, Barbara Harbach.)
Robert  Bateman is an internationally-acclaimed wildlife artist who captures the majesty and beauty of nature in his paintings. His subjects include the birds and mammals of the Canadian north, the megafauna of the African plain, and the Siberian tiger.  His respect and love for nature have inspired countless students, and he has used the sale of his paintings and limited edition prints to raise millions of dollars for conservation. Wherever he goes, he is a spokesperson for the protection of the environment as a means for bettering the human condition. On November 21st, 2015, Mr. Bateman became the 21st recipient of the World Ecology Award.  He is the first visual artist to receive this award.
Mr. Bateman was born in Toronto and now resides in British Columbia, with his conservationist and artist wife Birgit.  He taught high school for 20 years, including two years in Nigeria in 1963-4. Since the '70s has devoted his full time to painting, traveling, and conservation.  His art has been shown in many venues, including the Smithsonian Institute in Washington D.C. A number of films have made about him, and more than a million books have been sold, either written by him and about him. He has earned 13 honorary doctorates, and was named a "Hero of Conservation" by the National Audubon Society.  His other honors include Officer of the Order of Canada, the Order of British Columbia, the Rachel Carson Award, and Human Rights Defender Award from Amnesty International. One of the largest private holdings of his paintings is now on display at the Saint Louis Zoo.
He says, "I can't conceive of anything being more varied and rich and handsome than the planet Earth. And its crowning beauty is the natural world. I want to soak it up, to understand it as well as I can, and to absorb it . . . and then I'd like to put it together and express it in my painting. This is the way I want to dedicate my life."