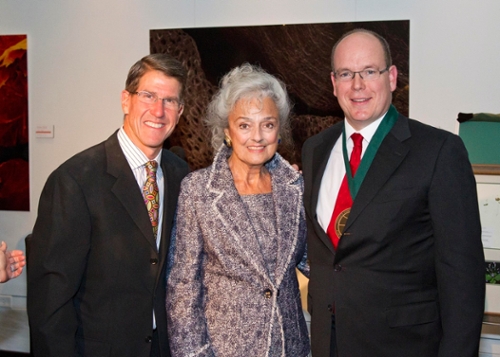 (Left to right, Eugene Harris, Anna Harris, and His Serene Highness)
Prince Albert II is the head of the House of Grimaldi and the ruler of the Principality of Monaco. He is the son of Prince Rainier III and the much admired American actress Grace Kelly. While a student of Political Science at Amherst College, class of '81, he engaged in a wide variety of sports and musical activities. Besides his responsibilities for running a unique world centric country, the Prince enjoys a wide variety of sporting activities including a five-time Olympian role on the country's bobsled team; he has also served as a member of the International Olympic Committee. 
The Prince Albert II of Monaco Foundation is deeply concerned with water resource management and desertification control technologies. Its activities have focused on Polar Regions, the Mediterranean Basin, and in the least developed countries of the world. Though geographically small, Monaco is globally significant and the Prince has used his worldly influence to promote bold environmental and ecological ideals.
This ecological activity model represents one of the most diverse programs recognized by the Harris World Ecology Center. Most recently the Foundation sponsored the Tara Oceans Polar Circle project that represents the final step of a project to collect plankton in all of the world's waters, this time in the Arctic Ocean. Plankton biodiversity is of critical interest to both biologists and oceanographers. Currently it is also supporting flora conservation and restoration of ecosystems on Easter Island. Among his many achievements, Prince Albert was awarded in 2009 the Roger Revelle Prize from the
Scripps Institution of Oceanography for his efforts to protect the environment and promote scientific research. He was also named International Patron of the 'Year of the Dolphin' for protecting marine biodiversity, and is the founder of Monaco's Jardin Animalier, a zoo that has begun to return animal to the wild.