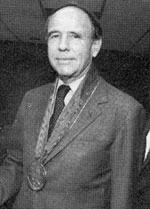 Carol Browner, Administrator of the federal Environmental Protection Agency and Mr. Robert R. Hermann, Chair, Advisory Board, International Center for Tropical Ecology presented the World Ecology Award to Prince Sadruddin Aga Khan at a ceremony held in Washington D.C. in April 1993. Prince Sadruddin Aga Khan, humanitarian and environmentalist, received the World Ecology Medal from the International Center for Tropical Ecology of the University of Missouri-St. Louis.
He was born in Paris in January 1933, his father was the late Highness Sir Sultan Mohammed Shah Al-Husseini Aga Khan III. Prince Sadruddin Aga Khan went to Harvard, where he attended some of Dr. Kissinger's lectures. He learned to despise racial discrimination and joined the National Association for the Advancement of Colored People. After graduating he was recruited by UNESCO to help raise funds for the preservation of the great Nubian monuments, such as Abu Simbel, which were threatened by the building of the Aswan Dam. In 1962, barely 29, he became Deputy High Commissioner for Refugees with the United Nations. In 1965 he was named U.N. High Commissioner for Refugees, a post he was to hold for 12 year. In 1981, he won the vote to become U.N. Secretary-General, but his election was vetoed by the Soviet Union.
Prince Sadruddin, is founder of the internationally renowned Bellerive Foundation that promotes conservation of the earth's natural resources and protection of all life forms and the environment. The foundation operates Bellerive Rural Technology Program which promotes tree conservation in developing countries and encourages tree-planting activities, reduction of fuelwood consumption through dissemination of fuel-saving domestic and institutional cooking systems, and education on tree and fuelwood conservation through children's programs and women's groups.
Prince Sadruddin has been decorated and recognized by the United Nations, the Vatican and the countries of Sudan, Iran, Afghanistan, Poland and France for humanitarian and environmental efforts. A leading member of the Aga Khan family of Ismali Muslims, the prince has served as coordinator for the U.N. humanitarian and economic assistance programs relating to the people of Afghanistan. He is a founding member of the Geneva International Peace Research Institute and a trustee of the World-Wide Fund for Nature International. In addition, he also is active in animal welfare issues.