Welcome to the New Department of Marketing and Entrepreneurship
We are excited to announce that as of Fall 2020, the Marketing and Entrepreneurship Departments have merged into one.  This move makes perfect sense in that any entrepreneurial endeavor relies heavily on the 4 P's of marketing within that ecosystem:  price, product, placement/sourcing and promotion. 
Dr. Michael Elliot and Dr. Perry Drake remain the co-chairs of this new department.
Dan Lauer remains the Executive Director of UMSL | Accelerate, the entrepreneurial division, which includes education, innovation and collaboration. 
Department Mission:
The Department of Marketing and Entrepreneurship's mission is to provide a high-quality student learning experience that prepares students for successful careers and leadership roles in business and society. We integrate the latest marketing theory as well as experiential learning into a robust curriculum that serves both traditional students as well as business professionals in the St. Louis region. It also strives to develop entrepreneurial leaders via an interdisciplinary, multi-dimensional approach focusing on educating, innovating, and collaborating.
For more information on Marketing and Entrepreneurship curriculums or student support and activities please visit the corresponding website:
Instagram Moments from the Department of Marketing and Entrepreneurship:
Annual Marketing Golf Outing sponsored by the AMA. Dr. Michael Elliot, Dr. Joe Rottman, and Dan Lauer.  UMSL Business had 6 faculty and 7 students in attendance.  July 2020.  #AMA #Golf #UMSLBusiness
UMSL Accelerate startups competing at the Midwest Digital Marketing Conference for a $5,000 prize.  April 2019.  #MDMC19 #UMSLAccelerate #Entrepreneurship
UMSL Business celebrated their graduates with a virtual ceremony due to COVID-19. It was an event created and produced under the direction of the Marketing Department.  #UMSL #Commencement #Spring2020
UMSL Accelerate Student Pitch Competition.  2019.  #UMSLAccelerate #Entrepreneurship
Last live UMSL Business student event prior the COVID-19 shutdown.  Arch Apparel guest speaking on their startup business and endeavors.  March 2020.  #MarketingClub #ArchApparel
MDMC Virtual Conference.  Featuring live speakers from Facebook, Google, Pinterest, LinkedIn, and more.  May 2020.  #MDMC2020 #Covid19
UMSL Business Entrepreneurial endeavors supporting our startup ecosystem with professional legal advice.  March 2018.  #Entrepreneurship #UMSLBusiness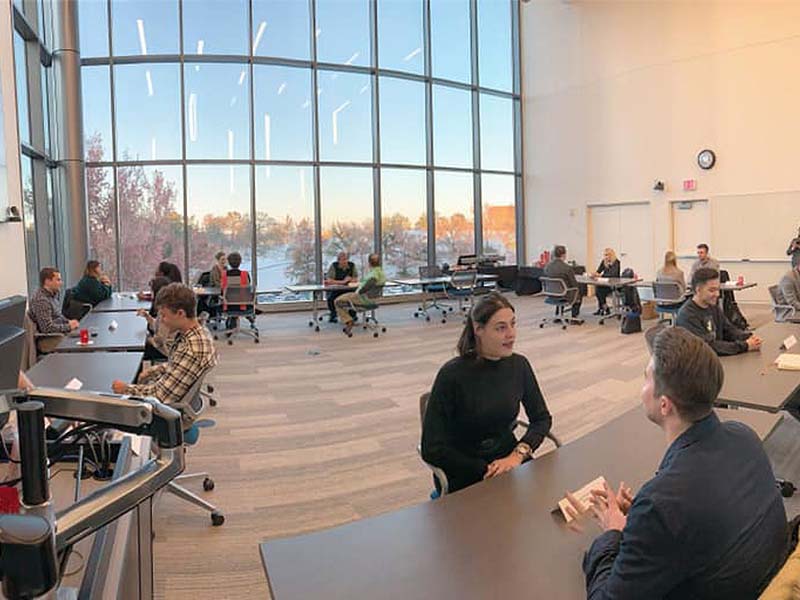 Speed networking with Marketing and Communications Majors.  A Marketing Club event.  Fall 2019.  #MarketingClub #SpeedNetworking
Ameren, our UMSL Accelerate partner - the support engine for all of our entrepreneurial efforts.  #Ameren #UMSLAccelerate