Move your future forward.
The Master of Business Administration (MBA) at UMSL is a flexible program designed for motivated professionals who are focused, goal-oriented, and ready to take the next step in their career. The Flex MBA program provides working professionals with the flexibility to work at their own pace and design a program of study that meets their needs and fits into their schedule.
More than 27,000 professionals have graduated from the UMSL College of Business Administration nationwide, many of whom continue to live and work in the St. Louis metropolitan area. That translates into a powerful alumni network and access to the region's top corporations, nonprofits and start-ups.
Program type:
Graduate, MBA
Take the next step
Request more information below:
Loading...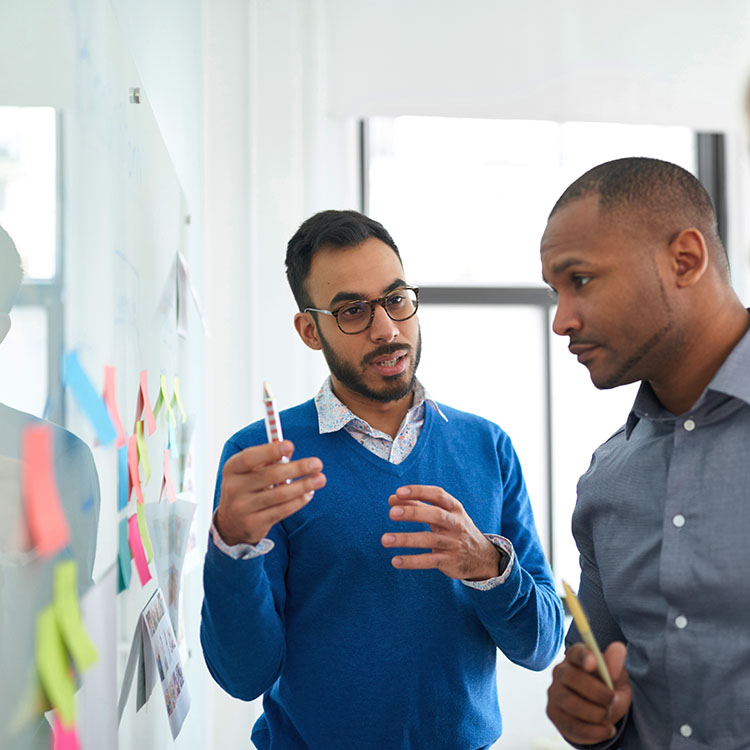 Overview
Master of Business Administration
The MBA program is designed to accommodate a busy professional's life by offering classes in the evening, online or in a hybrid format, enabling students to balance school, work, and life. MBA students may choose to build a general, broad-ranging program or focus with an emphasis in accounting, business analytics, cybersecurity, finance, information systems and technology, international business, management, marketing and supply chain management.
Emphasis areas are available in: Accounting, Business Analytics, Cybersecurity, Finance, Information Systems and Technology, International Business, Management, Marketing and Supply Chain Management.
Outcomes and Career Outlook
Upon completion of at least 30-credit hours, graduates should be able to apply what they've learned to real-world business situations and:
Understand complex business financial affairs
Maintain awareness of legal and compliance issues
Critically evaluate emerging markets and technologies
Lead and manage groups and teams
Develop effective marketing and promotion strategies
Communicate effectively and develop healthy working relationships
MBA graduates are in demand with employment growth dependent on the industry and specialty with a median annual salary of $90,489, according to wage and employment data from Payscale.com.
Career Opportunities
Business Analyst
Business Operations Manager
Chief Technology Officer (CTO)
Computer & Information Systems Manager
Finance Manager
General Manager
Health Services Manager
Investment Banker
Logistics & Supply Chain Analyst/Manager
Management Analyst/Consultant
Marketing/Advertising Manager
Marketing Consultant
Procurement Specialist
Project Manager
Admission Requirements
The admissions decision is based on a combination of factors. Consideration is given to a candidate's academic record, scores on the Graduate Management Admissions Test (GMAT), work and leadership experience, a personal narrative on the application form and recommendation letters.
Applicants are generally required to submit Graduate Management Admissions Test (GMAT) scores. A waiver of GMAT requirement may be requested if applicants meet certain criteria.
Degree Requirements
Depending on the student's previous background, programs will require a minimum of 30 hours. Coursework must be completed within a maximum six-year period. At least 2/3 of coursework must be taken while enrolled as an MBA candidate at UMSL.
All students must satisfy the following requirements in professional written and oral communication, business law and ethics/ and social responsibility, economics, and business statistics. The Graduate Business Office in collaboration with department chairs will determine whether a student satisfies these requirements. In general:
The Professional and Written Communications skills requirement can be satisfied by any one of the following:
Evidence of prior coursework
Completion of

BUS AD 5100
The Business Law and Ethics/Social Responsibility requirements can be satisfied by any one of the following:
Evidence of prior coursework
Completion of BUS AD 5900
The Economics requirement can be satisfied by any one of the following:
Evidence of prior coursework
Completion of BUS AD 5000
Completion of Economics boot camp
The Statistics requirement can be satisfied by any one of the following:
Evidence of prior coursework
Completion of SCMA 5300
Completion of Statistics boot camp
More information about pre-requisites and requirements can be found in the Bulletin.
Application Deadlines
Fall semester: July 1
Spring semester: December 1
Summer semester: May 1
Choose your emphasis
Accounting
Business Analytics
Cybersecurity
Finance
Information Systems & Technology
International Business
Management
Marketing
Supply Chain Management
Non-Missouri Residents: Prospective students are responsible for reviewing the NC-SARA state authorizations page to see if this program is offered in their state throughout their program and to review the licensure or certification requirements for the state in which they reside.
Student Organizations – UMSL is home to more than 100 student organizations with many serving graduate students. This includes graduate organizations in business, creative writing, psychology, biology and more in addition to graduate honors societies and student veterans organizations.
Career Services – Students have access to professional career counselors who can assist in everything from resume development and interview preparation to lining up an internship or connecting you with your next fulltime career. UMSL alumni also enjoy high quality, lifelong career management programming, services, events and resources to assist in all phases of career development.
Networking – with the largest alumni network in the region, UMSL graduate students have access to leading professionals engaged in business, research, entrepreneurship, non-profit, government, community organizations. Our academic units engage this network in curriculum development to ensure our graduate students gain the skills needed to advance along their choose career path.
Research – There are many opportunities for graduate students to showcase their research including our annual Graduate Research Fair, which is open to students from all graduate programs. Doctoral and thesis master's students can also compete in the Three Minute Thesis challenge to be evaluated by a panel of judges for a chance to win cash prizes.