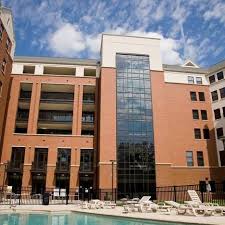 UMSL Global strongly recommends students to live in on-campus housing for at least their first semester in the United States. 
Only those students with a signed on-campus living contract will be eligible for airport pickup upon their arrival.
Early Arrival OR Not Living On Campus
If you arrive to Saint Louis before official move-in dates or will not be living on campus, you will need to make arrangements to stay in a hotel until you can secure permanent living arrangements.
UMSL is very near to the St. Louis Lambert International Airport, there are many hotels nearby. Please do not stay with strangers or in Airbnb's. The Drury Inn and Pear Tree Inn are both reasonable hotels at different price points providing breakfast and WI-FI. However, there are many other hotels available just near the airport at different prices.
We recommend booking a hotel within walking distance of a Metrolink stop.
On-Campus Housing
On-campus housing is open to undergraduates and graduate students through our Office of Residential Life. On-campus options include:
Oak Hall Residential Hall
Oak Hall is a 400 room dormitory that offers the complete on-campus housing experience. This dorm features full-furnished rooms in a suite-style set-up.
For detailed information and comparison chart about on campus housing please visit Residential Life & Housing website.
University Meadows
University Meadows is a private apartment complex that offers on-campus apartments for students looking for apartment style housing. Private and shared apartments are available.
For information on University Meadows visit their website.