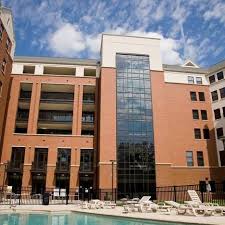 Students at UMSL have the option to live on-campus or off-campus.
On-campus housing is open to undergraduates and graduate students through our Office of Residence Life. On-campus options include:
 »Oak Hall Residence Hall
Oak Hall is a 400 room dormitory that offers the complete on-campus housing experience. This dorm features full-furnished rooms in a suite-style set-up.
 
»Mansion Hill Apartments
Mansion Hill offers private 1-2 bedroom apartments that are on-campus and administered by UMSL. You can choose between furnished or unfurnished accommodations.
For detailed information and comparison chart about on campus housing please visit Residential Life & Housing website.
»University Meadows
The Meadows is private apartment complex that offers on-campus apartments for students looking for apartment style housing. Private and shared apartments are available.
For information on University Meadows: https://www.mystudentvillage.com/us/university-meadows/