Oak Hall is a six-story, 130,000 square foot residential hall that accommodates more than 400 students.
Oak Hall is for residents aged 25 or younger, and features four-bedroom suites. Each resident has a private room and a shared bathroom, featuring a dual vanity and enclosed restroom stall.
Each floor in Oak Hall is led by a Residential Advisor (RA) and an Assistant Resident Director (ARD). The ARD of Oak Hall oversees the Front Desk Assistants and assists with planning and executing programming in Oak Hall.
Hotel-style swipe card security access
Individual room key
24-Hour Front Desk (during the school year) and RAs On Call
Internet (both wired and wireless)
Fully furnished rooms which include a micro-fridge, desk and chair, dresser and armoire, and XL twin mattress and frame
24-Hour Laundry Room
Game Room with 60" Flat Screen TV
Heated Saltwater Pool
Oak Convenience Store (C-Store)
Modern common area with shared kitchen
Gender-inclusive suite options
Study Lounges on each floor
Oak Hall residents have the option of renting a loft bed rather than using the provided bed frame. A loft bed is a comfortable, affordable, and easy way to free up extra space in your room for other items, such as a futon or additional storage.
Here are three examples of the suites available in Oak Hall. Dimensions for rooms will vary with availability.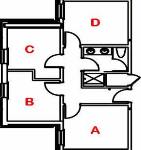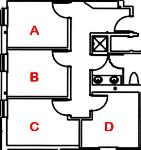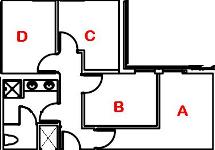 Rates for the 2023 - 2024 Academic Year
All Oak rooms are single bedrooms. Meal plans are required for all Oak residents. 
Standard Oak Rates
| | Semester Cost | Academic Year |
| --- | --- | --- |
| Full Rate | $3,778 | $7,556 |
| Louie's Leaders | $3,400 | $6,800 |
 Meal Plan Rates
Semester Cost
Academic Year
Option 1
100 blocks and
$500 Declining Balance
$2,100
$4,200
Option 2
150 blocks and
$250 Declining Balance
$2,360
$4,720
Option 3
200 blocks and
$150 Declining Balance
$2,425
$4,850
Option 4
All Access Plan: 19 meals/week
and $100 Declining Balance
$2,600
$5,200
Option 5
$1,950 Declining Balance
$1,950
$3,900
Option 6
80 blocks and $600 Declining Balance
$1,550
$3,100
Residents may cancel their housing at anytime. Please keep in mind that cancellation fees may apply. Please see our Housing Cancellation Information page for more details.
Last Updated July 20, 2023.