Succeed in a data-rich, technologically intense, rapidly changing workplace.
Computing power and access to data has revolutionized organizations. Those that harness this data revolution will gain a competitive edge. These organizations rely on people with specialized training who are proficient at managing, analyzing and understanding trends in data. As a result, there is a growing demand for workers who are skilled in data science techniques and have the educational training to apply these techniques to real-world problems. Apply your knowledge to uncover solutions hidden in data.
Take the next step
Request more information below:
Loading...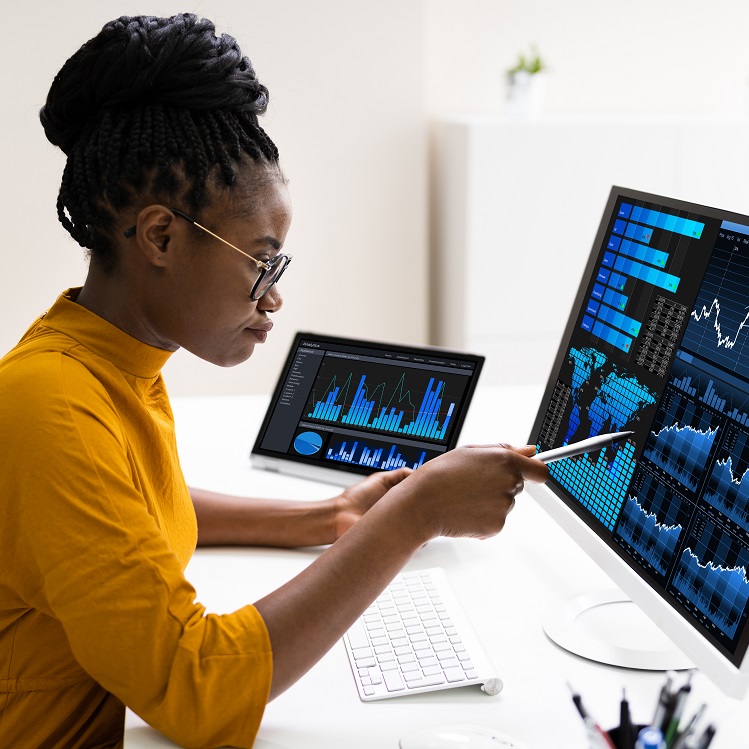 Overview
Bachelor of Science in
Data Science and Analysis

The BS in Data Science and Analysis is an interdisciplinary program that is designed for students who want to develop statistical and data science skills. While data science is at the core of this program, students will also select a specialization from one of the following emphasis areas: biology, computer science, economics, mathematics, social science or supply chain analytics.
Students will learn the latest techniques including Python, R, Big Data and Data Mining. This degree will require between 36- and 51-credit hours to complete, depending on the emphasis area selected.
Outcomes and Career Outlook
Upon completion of the BS in Data Science and Analysis, graduates will be able to apply knowledge of statistical data collection, analysis and quantitative modeling techniques; demonstrate proficiency in industry-standard programming languages that support data acquisition, retrieval and analysis; select, apply and build data-based models and visualizations to devise solutions to data science problems; and effectively communicate technical results and recommendations in various formats to appropriate audiences.
Big Data is instrumental to all sectors of the economy. From healthcare and government, to the commercial, technological and industrial sectors, data is utilized to promote growth, identify and adapt rapidly to changes, and improve services. As organizations continue to find more ways to collect and utilize data, opportunities in this field are expected to grow well into the future. The U.S. Bureau of Labor Statistics reports that the demand for data science skills will drive a 28 percent rise in employment in the field through 2026.
28
Employment growth by 2029
Career Opportunities
Database Administrator
Data Scientist 
Market Research Analyst
Data Engineer
Advertising Analytics
Financial Analyst
Machine Learning Engineer
Applications Architect 
Business Intelligence Developer
Infrastructure Architect 
Plan of study
The BS in Data Science and Analysis consists of a set of core courses along with an emphasis area.
Core Requirements
Core Course
MATH 18001
     or MATH 1100
5
3
Statistics Course
The Introduction to Statistics course should align with the student's Discipline Emphasis Area.
Choose one of the following:
     SOC/ANTHRO 3220
Quantitative Data Analysis in Social Science Research or 

Quantitative Techniques in Sociology

3
     BIOL 4122
Biostatistics
3
     ECON 3100
Economic Data and Statistics
3
     CRIMIN 2220
Statistical Analysis in Criminology and Criminal Justice
4
     MATH 1320
Introduction to Probability and Statistics 
3
     PSYCH 2201
Psychological Statistics
4
     POL SCI 3000
Political Analysis
3
     SCMA 3300
Business Analytics and Statistics
3
MATH 4005
Exploratory Data Analysis with R
3
CMP SCI 1250
Introduction to Computing
3
CMP SCI 4200
Python for Scientific Computing and Data Science
3
CMP SCI 4342
Introduction to Data Mining
3

Total Core Hours

 

18-21

1 Students interested in the Computer Science emphasis area, the Mathematics Emphasis Area, or in taking additional mathematics courses should take MATH 1800.
In addition to the core requirements, students seeking the BS in Data Science must also choose one of the following emphasis areas:
Biology
Review Full Degree Requirements
Computer Science
Review Full Degree Requirements
Economics
Review Full Degree Requirements
Mathematics
Review Full Degree Requirements
Social Science
Review Full Degree Requirements
Supply Chain and Analytics
Review Full Degree Requirements
Non-Missouri Residents: Prospective students are responsible for reviewing the NC-SARA state authorizations page to see if this program is offered in their state throughout their program and to review the licensure or certification requirements for the state in which they reside.
Student organizations
Make new friends and learn new skills by joining one of our Recognized Student Organizations. Here are several opportunities you may be interested in as a data science major:
Students of the University of Missouri
Honors College
The UMSL Honors College is a certificate program that can be paired with any major without adding extra classes or extending time to graduate. Classes in the Honors College are seminar-style, meaning that they are based in reading, writing, discussion, and critical thinking. This unique class format fosters an intellectual climate centered around democracy, diversity, civility and academic excellence.
Undergraduate research
We encourage and support students as they engage in exciting activities in and outside of the classroom that enrich their academic and professional understanding of their chosen area of study. All majors are encouraged to participate in Undergraduate Research and Scholarship to produce discipline-specific intellectual or creative innovations to their field.