Gain a competitive edge with a bachelor's degree in data science.
There is high demand for people who can transform data into meaningful insights that help businesses stay on the cutting edge of their industry. With the University of Missouri–St. Louis' bachelor's degree in data science and analysis, you'll gain the critical knowledge and skills you need to excel in the world of data science.
Our bachelor's degree in data science prepares you to advance in a data-rich, technologically intense and rapidly changing workplace. Specialize your study with an emphasis based on your interests, such as economics, mathematics, supply chain analytics and more. We also offer certificates and minors to help you stack your credentials and highlight your knowledge and skills.
When you graduate with your data science degree, you will be proficient at analyzing and managing trends in data and ready to apply your skills to a desirable, high-paying career.
What is data science?
Data science helps us make sense of information so that we can use it to create insights that solve our biggest problems. Data scientists use math, statistics, computer science, data analysis and other concepts to extract knowledge and apply it. As a data science major, you'll benefit from an interdisciplinary curriculum that touches on all these areas and real-world training you need to launch a successful career in data.
Take the next step
Request more information below:
Loading...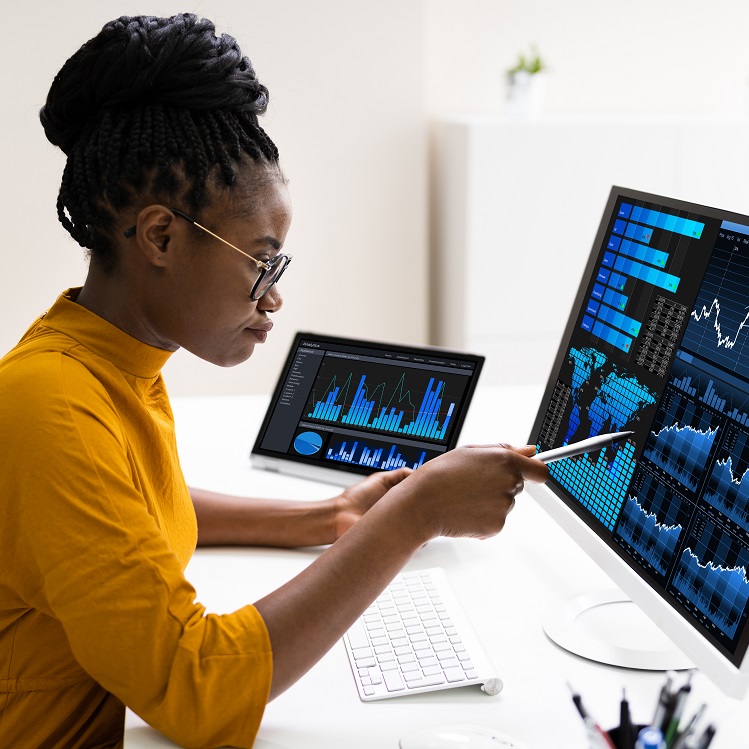 Why earn your data science degree from UMSL?
Our program prepares you to meet the evolving needs of this industry by focusing on both data science and data analysis, ensuring that you gain the skills to stand out in the job market. On top of all that, you can further shape your future career by selecting a specific emphasis:
Benefit from the interdisciplinary design. Select a specialization from one of the following emphasis areas: biology, computer science, economics, mathematics, social science or supply chain analytics.
Earn stackable certificates. Each emphasis is constructed such that with just one additional course you can earn a minor or certificate in the field and stack your credentials.
Learn the latest techniques. You'll learn the most up-to-date programming languages and practices, including Python, R, big data and data mining.
What can you do with a bachelor's degree in data science?
Data is instrumental to every area of our lives. From health care and government to the technological and industrial sectors, data is collected and utilized to promote growth, identify and adapt rapidly to changes, and improve services in every known industry. This means that the need for workers with data science degrees and data analytics degrees will only grow in the years ahead. In fact, the U.S. Bureau of Labor Statistics estimates that the demand for data science skills will drive a 28 percent growth in employment through 2026.
The median annual salary with a data science degree is $100,910 according to the U.S. Bureau of Labor Statistics.
28
Employment growth by 2029
Career Opportunities
Database Administrator
Data Scientist 
Market Research Analyst
Data Engineer
Advertising Analytics
Financial Analyst
Machine Learning Engineer
Applications Architect 
Business Intelligence Developer
Infrastructure Architect 
Plan of study
Emphasis areas:
Biology
Computer Science
Economics
Mathematics
Social Science
Supply Chain and Analytics
Non-Missouri Residents: Prospective students are responsible for reviewing the NC-SARA state authorizations page to see if this program is offered in their state throughout their program and to review the licensure or certification requirements for the state in which they reside.
Student organizations
Whether you are looking for leadership, networking, mentoring opportunities or just looking to have fun, UMSL makes it easy to get involved with one of the  many student organizations on campus. As a data science major, you may be interested in joining one of the following:
Students of the University of Missouri
Honors College
The UMSL Honors College is a certificate program that can be paired with any major without adding extra classes or extending time to graduate. Classes in the Honors College are seminar-style, meaning that they are based in reading, writing, discussion, and critical thinking. This unique class format fosters an intellectual climate centered around democracy, diversity, civility and academic excellence.
Undergraduate research
We encourage and support students as they engage in exciting activities in and outside of the classroom that enrich their academic and professional understanding of their chosen area of study. All majors are encouraged to participate in Undergraduate Research and Scholarship to produce discipline-specific intellectual or creative innovations to their field.