Invest in your future.
In today's data-driven world, the field of finance is going through substantial and transformative changes in the delivery of financial services. Modern finance tools including fin-tech, block chain, computational finance, artificial intelligence, robo-advisors and algorithmic trading are ubiquitous throughout the financial services industry affecting decisions in investments, portfolio management, trust services and securities trading. Industry participants including banks, brokerage houses, real estate trusts, insurance companies, hedge funds, mutual funds, trading exchanges and other corporations require the latest finance knowledge.
Program type:
Major, BSBA
Format:
On-Campus, 100% Online
Take the next step
Request more information below:
Loading...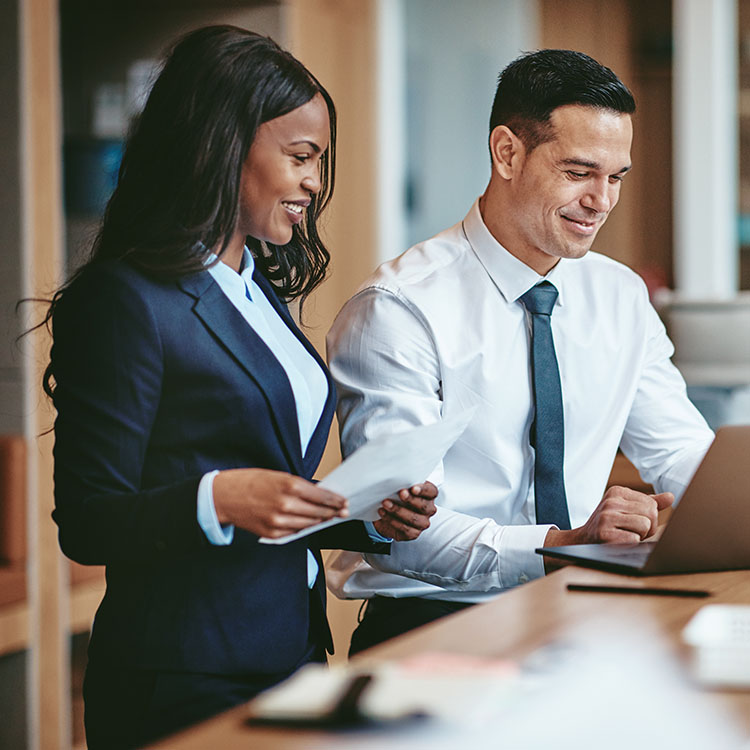 Overview
Bachelor of Science in Business Administration -
Finance Emphasis
The BSBA, Finance Emphasis degree is a 120-credit hour program that requires at least 48-credit hours in business courses, with a minimum of 18-credit hours in Finance courses. The core business classes include financial and managerial accounting, legal environment of business, information systems concepts, business analytics and statistics, supply chain management, financial management, management and organizational behavior, marketing and strategic management. Once you've completed the required courses, you can customize your degree with business electives or even select a minor.
Outcomes and Career Outlook
A global economy, the emergence of big data and increasingly complex tax and regulatory environments means that occupations in the finance field will continue to grow. From investing, financial planning, banking, real estate, corporate finance, auditing, tax and advisory services, opportunities exist across the financial spectrum. Graduates may be employed in brokerage firms, credit agencies, banking institutions or professional services companies. They may also work for themselves as an accountant or personal financial advisor.
The U.S. Bureau of Labor Statistics projects that employment in business and financial operations occupations will grow five percent from 2019 to 2029, faster than the average for all occupations. This, paired with salaries that are higher than the median average, makes a career in business finance very inviting and rewarding.
Employment growth by 2029
Career Opportunities
Actuary
Banker - Commercial & Investment
Corporate Resource Manager
Financial Advisor
Financial Analyst
Financial Planner
Insurance Risk Manager
Market Analyst
Mutual Fund Manager
Stock Broker
Trust/Wealth Manager
Plan of study
Track Certification
Students may combine selected courses from the list above, and other specified upper division business electives, to fulfill a designated track with dual objectives of acquiring in depth knowledge, and to prepare and be eligible for various professional certification examinations. Detailed information is available in the Office of Undergraduate Academic Advising. The specific tracks available include:
Corporate Finance
Financial Institutions and Services Investment
FinTech
Portfolio Management
Financial Planning
Insurance
All business majors must meet the general education requirements of the university in addition to completing degree-specific curriculum requirements.
Review Full Degree Requirements
Review Sample Four-Year Plan
Download 4-Year Academic Map
Non-Missouri Residents: Prospective students are responsible for reviewing the  NC-SARA state authorizations page to see if this program is offered in their state throughout their program and to review the licensure or certification requirements for the state in which they reside.
Student organizations
From leadership, to cultural, to just plain fun, Recognized Student Organizations at UMSL make it easy to get involved. Students who join RSOs make new friends, learn new skills, and perform better in classes. Plus, with over 120 student organizations on campus, there's something for everyone! You might like:
Internship opportunities
UMSL Business's Career and Internship Program is just one of the many reasons our students chose UMSL Business. As the leader in business education in St. Louis, we offer premier degree programs in accounting, business administration, cybersecurity, and information systems and technology. Emphasis areas within Business Administration include: entrepreneurship, finance, international business, management, marketing, and supply chain management.
Honors College
The UMSL Honors College is a certificate program that can be paired with any major without adding extra classes or extending time to graduate. Classes in the Honors College are seminar-style, meaning that they are based in reading, writing, discussion, and critical thinking. This unique class format fosters an intellectual climate centered around democracy, diversity, civility and academic excellence.
Undergraduate research
We encourage and support students as they engage in exciting activities in and outside of the classroom that enrich their academic and professional understanding of their chosen area of study. All majors are encouraged to participate in Undergraduate Research and Scholarship to produce discipline-specific intellectual or creative innovations to their field.