Become a computational expert.
Computer science applies the principles of mathematics, engineering and logic to multiple functions including algorithm formulation, software and hardware development, and artificial intelligence. It is the study of algorithmic processes, computational machines and computation itself. As a discipline, computer science spans a range of topics from theoretical studies of algorithms, computation and information to the practical issues of implementing computational systems in hardware and software.
Format:
On-Campus, 100% Online, 100% Evenings
Take the next step
Request more information below:
Loading...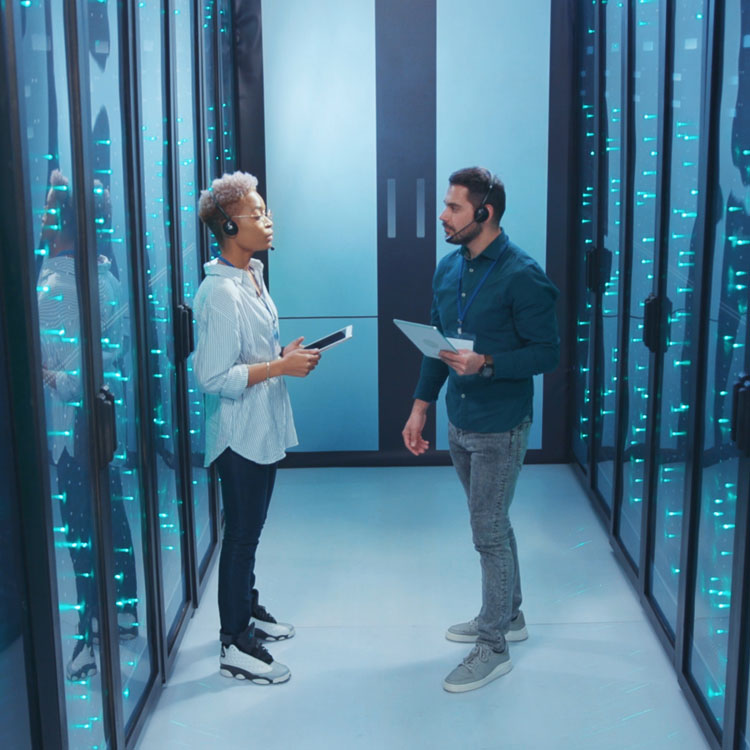 Overview
Bachelor of Science in -
Computer Science
The BS in Computer Science is designed for those interested in software and computer systems on the technical side. Graduates can find fulfilling careers in many related areas such as cybersecurity, networks, Internet programming, software and mobile apps development, data science, AI, graphics or they can pursue additional graduate studies in computer science or in a more specialized area. Some courses are available online, and the entire program can be completed in the evening.
Outcomes and Career Outlook
Upon completion of the program, graduates will be able to apply logical reasoning, algorithmic and mathematical principles and computer science theory to understand and solve a wide variety of computational problems; analyze computing problems size, scope and input-output requirements; analyze, evaluate and compare alternative solutions to computing problems; compare multiple general-purpose programming languages and select and use the appropriate languages for specific applications; design, implement (code) and document solutions to computational problems; create software systems; implement Internet applications on client and server sides; work effectively in teams to design, implement and evaluate solutions; effectively communicate computer science concepts and solutions; and recognize and promote the professional, social, ethical and legal issues and responsibilities in the computing/software profession.
Employment of computer science professionals is projected to grow between 5% and 20% through 2029, with a median annual salary of $131,490 depending on specialty, according to wage and employment data from the U.S. Bureau of Labor Statistics.
Employment growth by 2029
Career Opportunities
Computer Network Architect
Computer Programmer
Computer Support Specialist
Computer Systems Analyst
Database Administrator
Information Systems Analyst
Network & Systems Administrator
Software Developer
Web Developer


Plan of study
All majors must meet the general education requirements of the university in addition to completing degree-specific curriculum requirements.
Review Full Degree Requirements Review Sample Four-Year Plan
Non-Missouri Residents: Prospective students are responsible for reviewing the NC-SARA state authorizations page to see if this program is offered in their state throughout their program and to review the licensure or certification requirements for the state in which they reside.
Student organizations
From leadership, to cultural, to just plain fun, Recognized Student Organizations at UMSL make it easy to get involved. Students who join RSOs make new friends, learn new skills, and perform better in classes. Plus, with over 120 student organizations on campus, there's something for everyone! You might like:
Honors College
The UMSL Honors College is a certificate program that can be paired with any major without adding extra classes or extending time to graduate. Classes in the Honors College are seminar-style, meaning that they are based in reading, writing, discussion, and critical thinking. This unique class format fosters an intellectual climate centered around democracy, diversity, civility and academic excellence.
Undergraduate research
We encourage and support students as they engage in exciting activities in and outside of the classroom that enrich their academic and professional understanding of their chosen area of study. All majors are encouraged to participate in Undergraduate Research and Scholarship to produce discipline-specific intellectual or creative innovations to their field.