Apply to Become an Orientation Leader (OL)!
2022 Orientation Leader (OL) Team Application Closes Friday, October 1, 2021 at 5:00pm CST
Must Attend an OL Informational Session to get your OL Application Link
See Below for more information & MyEngage for Zoom Links
Please take a look below to learn more about the Orientation Leader (OL) role. If you are interested for our OL role or you have any questions, please contact the Office of New Student Programs at newstudentprograms@umsl.edu or at 314-516-5089.
The role of the Orientation Leaders is one of the most important in the Orientation process; the students below are dedicating their summer to offer guidance and support to our incoming first-year and transfer students! Please look for these students and join the Office of New Student Programs in welcoming our new students. 
We encourage all new students and families to use these leaders during your time at Orientation. They are here to assist with any questions.
2021 Orientation Leader (OL) Team
**Please note all years in school of our OL Team below, reflects class standing for Fall 2021 semester.**
Summer Allen
Major: Criminology

Year in School: Junior

Hometown: Chicago, IL
Hussam Alsaliti
Major: Biochemistry & Biotechnology (pre-med)
Year in School: Senior
Hometown: St. Louis, MO

Imogen Bennett
Major: Economics

Year in School: Senior
Hometown: Essex, UK

Beauty Cooper
Major: Psychology/Philosophy

Year in School: Senior
Hometown: St. Louis, MO
Mallory Mason
Major: Social Work & Psychology

Year in School: Senior
Hometown: Ballwin, MO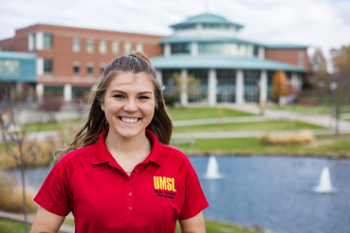 Mia Milazzo
Major: Elementary Education Special ED

Year in School: Senior
Hometown: Orland Park, IL
Corlia Spears
Major: Business Administration: Finance, Minor: Accounting

Year in School: Senior
Hometown: Steele, MO
Kirsten Travelstead
Major: Nursing

Year in School: Junior
Hometown: Harrisburg, IL 
Maya Ware
Major: Elementary Education & TESLO

Year in School: Senior
Hometown: Granite City, IL