U.S. Department of State Launches International Education Week, Open Doors Report 2022
From November 14-18, the U.S. Department of State, in partnership with the U.S. Department of Education, will celebrate International Education Week (IEW), an annual joint effort to elevate the importance of and the opportunities that international educational exchange brings to campuses and communities, both in the United States and around the world.
This year's theme, 'Open for Opportunity,' is confirmed through the annual Open Doors Report, which measures and outlines trends in international student mobility, and reports that the United States maintains its ranking as the top destination globally for international students. International educational exchange, which welcomes students from overseas to the United States as well as Americans studying abroad, is a foundational pillar of the U.S. people-to-people diplomacy efforts, a key component of U.S. foreign policy.
[Read the entire press release here.]
UMSL Global will once again participate in International Education Week through a series of in-person and virtual events. Download a full schedule.
In addition to our in-person events during the day, UMSL Global will also host two evening events:
Nov. 16, 2022 - 5:45 p.m. (broadcast begins at 6) -
CHINA Town Hall
UMSL will join a national broadcast with former U.S. ambassador to China, Jon Huntsman, followed by a subsequent conversation about the relationship between the U.S. and China with faculty from UMSL and SIUE. Online only. Register.
Nov. 17, 2022 - 7 p.m.
Summit Lounge, J.C. Penney Building
The Dr. Edwin H. Fedder Annual Lecture in Foreign and International Affairs
The War in Ukraine and U.S. Foreign Policy: Strengthening NATO and (Re)establishing American Influence in Europe
Timothy White, Ph.D., Professor of Political Science at Xavier University and UMSL alumnus, will discuss how the war in Ukraine affects American foreign policy, the expansion of NATO, and the re-establishment of American influence in Europe. Hybrid event - Register.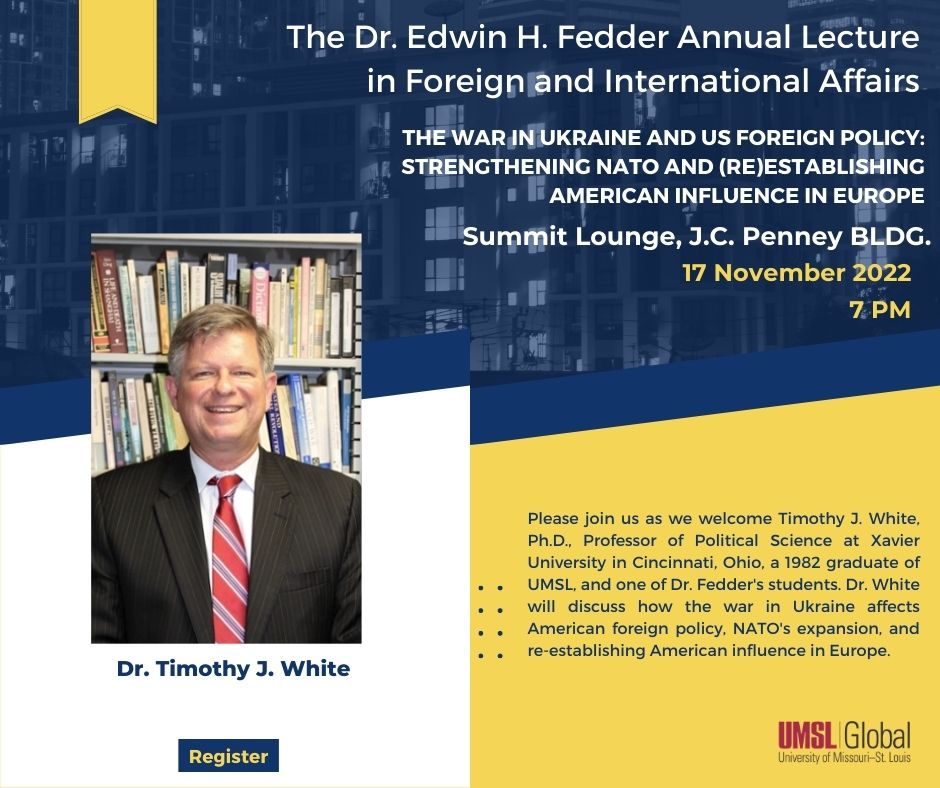 We hope you can join us!