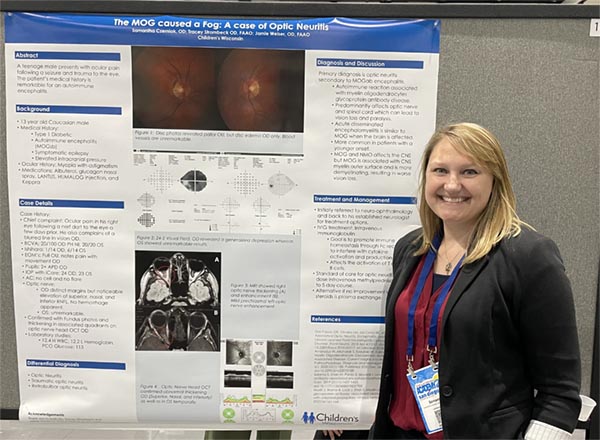 Program Description
This focus of this residency is primary care pediatric optometry. The resident will practice alongside three pediatric optometrists and four pediatric ophthalmologists in the outpatient Eye Clinic at the Children's Hospital of Wisconsin. The resident will visit three site locations: Wauwatosa, Mequon, and New Berlin. The resident will be exposed to patients from birth to age 18 years, and will learn to manage refractive error, strabismus, amblyopia, and various ocular disease conditions.
Program Length and Weekly Schedule
The program is from July 1- June 30. The expected hours are Monday-Friday 7am-5pm, with one half day per week of administrative/scholarly time. The administrative day, may also be scheduled as one full day every other week. The resident will not be required to participate in any on-call activities.
Program Mission
The pediatric optometry residency program at the Children's Hospital of Wisconsin provides advanced clinical education in various pediatric ocular and vision problems, focusing on patient management and treatment. The residency program aims to provide a comprehensive experience in a collaborative optometry/ophthalmology academic hospital setting.
Program Goals
strengthen the resident's expertise in management pediatric vision problems and common ocular disease

enhance the resident's examination skills in pediatric patients

develop the resident's appreciation for scholarly activity

by the conclusion of the residency program, the resident will have completed the necessary requirements for Fellowship in the American Academy of Optometry, should they wish to pursue it
Curriculum
Clinical

exposure to wide variety of cases, including high complexity
opportunity to co-manage with various specialists

Academic/didactic

attend pediatric and other topical lectures
attend weekly case conference
weekly article/journal discussion with faculty

Scholarly

expected to present at least one poster
expected to write at least two case reports
expected to present at Residency Day at UMSL College of Optometry

Criteria for Completion of Residency
1. The resident is required to deliver clinical services at a level which is satisfactory to the program supervisor.
2. The resident is required to maintain a patient log, including information about patient age, diagnoses, and treatment plan.
3. The resident is required to maintain a log of their academic and scholarly activities.
4. The resident is required to create three scholarly works, which may include a combination of poster(s) (presented at approved meeting that meets requirements for AAO Fellowship) and case report(s) (at least 1 case report required). Examples of acceptable scholarly work completion: 1 case report and 2 posters; 2 case reports and 1 poster; or 3 case reports.
5. The resident is required to present at the annual Residency Day event at the University of Missouri – St. Louis College of Optometry.
6. The resident will be expected to perform in a professional manner in the delivery of patient care services.
7. The resident is expected to attend academic lectures and case conferences as directed by the program supervisor.
8. Any resident accepted for training can be dismissed, without receiving a certificate of completion, for infractions of the rules and regulations of Children's Wisconsin or Medical College of Wisconsin, or for any action that jeopardizes the safety of patients, personnel, or physical facilities.
9. Upon evidence of satisfactory performance in meeting all requirements of the program, the resident will be awarded a Certificate of Completion.
Eligibility Criteria
3.0 GPA or higher on a 4.0 scale
graduated from an ACOE accredited school or college of optometry
passed all parts of NBEO, including TMOD
Wisconsin optometry license upon matriculation
Selection Procedure and Admission Criteria
Selection Procedure: Participation in the ORMatch

Must submit letter of interest, Curriculum Vitae, 3 letters of recommendation, and official optometry school transcripts. Completed applications are reviewed, qualified applicants are interviewed and a ranking is submitted to ORMatch which determines the final selection.
All residency candidates will be evaluated without regard to race, color, religion (creed), gender, gender expression, age, national origin (ancestry), disability, marital status, sexual orientation, or military status.
Program Benefits and Liability Coverage
Health benefits, vacation, and educational stipend offered through Medical College of Wisconsin Professional Liability Insurance provided for the resident
Stipend
$45,000
Contact Information
Tracey Strombeck, OD, FAAO
Children's Hospital of Wisconsin
Eye Clinic, Suite 130
9000 W Wisconsin Ave
Milwaukee, WI 53226
414-266-2021