Asyncronous delivery with synchronous support.
The Online Master of Business Administration (MBA) program is an accelerated MBA program for those who already have some work experience and want to enhance their career opportunities. It provides working professionals with the flexibility and experiences they seek in a business graduate degree.
This program is designed to accommodate a busy professional's life by offering classes completely online, enabling students to balance school, work and life responsibilities. Online MBA students have already achieved a certain level of success, so valuable networking opportunities are a key benefit of this program. Students also have the ability to learn from classmates' work experiences as small class sizes and a cohort model offer specialized attention and close relationships. 
We are committed to supporting our online learners throughout the program. Students will be equipped with dedicated professional advising and executive mentorship. They'll also be paired with a leadership development coach and receive regularly scheduled faculty support. We are here to help you succeed every step of the way.
Join one of the top ranked AACSB accredited schools
Our internationally recognized College of Business Administration is ranked among the top two percent of business schools in the world thanks to dual AACSB accreditation in both business and accounting.
Program type:
Graduate, MBA
Take the next step
Request more information below:
Loading...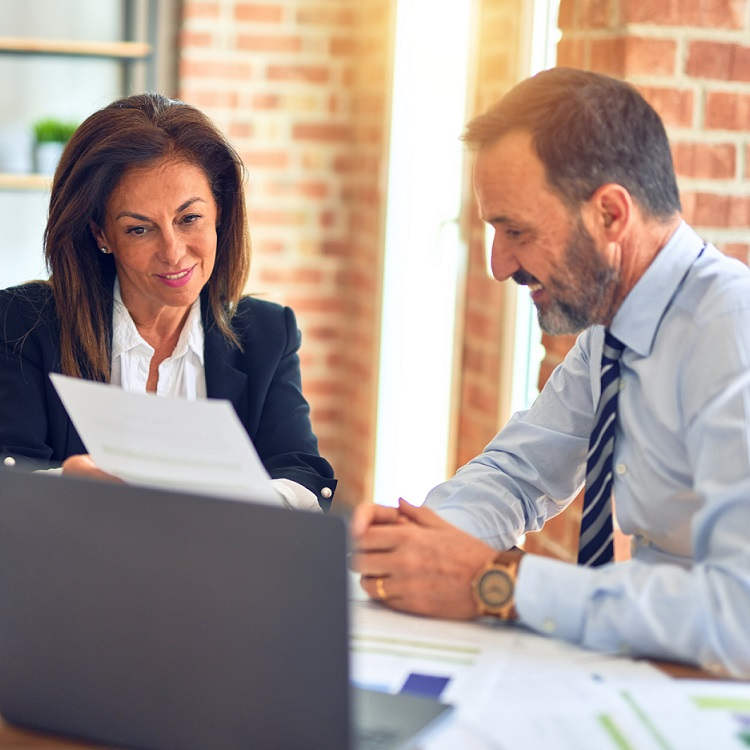 Degree Overview
Master of Business Administration -
100% Online MBA
Get the Credentials You Need to Elevate Your Career
Chiefly designed to accommodate working professionals, the 100% Online MBA Curriculum can be completed in as little as 4 semesters and in just 16 months. The fully online program provides professionals an accelerated pathway to gaining the credentials they need to boost their career prospects. Students can expect to gain high level training and top-tier education in predominant business topics such as financial and managerial accounting, people management, information systems, supply chain and logistics, law, ethics, and contemporary marketing concepts. By completing the program, students will have a well-rounded and versatile understanding of crucial aspects of business operations allowing them to pursue elevated career positions or start their own business venture. 
Outcomes and Career Outlook
Upon completion of the program, graduates will apply what they've learned to real-world business situations. They will maintain awareness of legal and compliance issues, critically evaluate emerging markets and technologies, and understand complex business financial affairs. 
MBA graduates are in demand with employment growth dependent on the industry and specialty with a median annual salary of $90,489, according to wage and employment data from Payscale.com.
Career Opportunities
Financial Manager
Computer and Informtion Systems Manager
Business Analyst
Human Resources Manager
Quality Control Systems Manager
Marketing Manager
Project Manager
Transportation, Storage, and Distribution Manager
Budget Analyst
The Online MBA program takes a holistic approach when evaluating student applications. Grade point average (GPA) and professional experience are all considered when making an admissions decision.
Applicants with a 3.0 GPA or higher (on a 4.0 scale) qualify for regular admission. Students may be admitted on a restricted status if their GPA is slightly below 3.0.
For more information on applying to a Graduate Business program, please review the College's Admissions Standards page. For more information on what you need to apply, please see the Application Checklist.
Plan of study
Non-Missouri Residents: Prospective students are responsible for reviewing the NC-SARA state authorizations page to see if this program is offered in their state throughout their program and to review the licensure or certification requirements for the state in which they reside.
Student Organizations - Make new friends and learn new skills by joining one of our Recognized Student Organizations. 
Career Services – Students have access to professional career counselors who can assist in everything from resume development and interview preparation to lining up an internship or connecting you with your next fulltime career. UMSL alumni also enjoy high quality, lifelong career management programming, services, events and resources to assist in all phases of career development.
Networking – with the largest alumni network in the region, UMSL graduate students have access to leading professionals engaged in business, research, entrepreneurship, non-profit, government, community organizations. Our academic units engage this network in curriculum development to ensure our graduate students gain the skills needed to advance along their choose career path.
Research – There are many opportunities for graduate students to showcase their research including our annual Graduate Research Fair, which is open to students from all graduate programs. Doctoral and thesis master's students can also compete in the Three Minute Thesis challenge to be evaluated by a panel of judges for a chance to win cash prizes.