Gain the skills for a successful career with a master's in accounting from UMSL
The accounting programs at the University of Missouri–St. Louis have a long-standing reputation for developing outstanding CPAs and financial professionals. Our master's in accounting program is an excellent way to launch or advance your career in accounting or finance.
UMSL's Master of Accounting program is designed for undergraduate accounting or business majors, as well as students with other undergraduate backgrounds. You can specialize your degree in six distinct areas, from auditing to controllership.
If you're seeking a career as a certified public accountant, our master's degree in accounting program will prepare you for the contemporary CPA Exam, as well as the contemporary CPA profession.
A master's in accounting that aligns with your career goals
The master's in accounting is offered through UMSL's College of Business Administration, which ranks among the top 2 percent of business schools worldwide. Whether you aspire to become a CPA or a CFO, our MAcc degree program will help you get there. Elevate your potential with a comprehensive education that combines essential accounting coursework with electives in sought-after areas such as information and data security.
Join one of the top ranked AACSB accredited schools
Our internationally recognized College of Business Administration is ranked among the top two percent of business schools in the world thanks to dual AACSB accreditation in both business and accounting.
Want more information?
Join Graduate Business for a one-hour information session. We will explore and discuss our graduate business programs in detail, answer questions you have and show you why you should choose UMSL Graduate Business.

Register for an Info Session
Program type:
Graduate, MAcc
Take the next step
Request more information below:
Loading...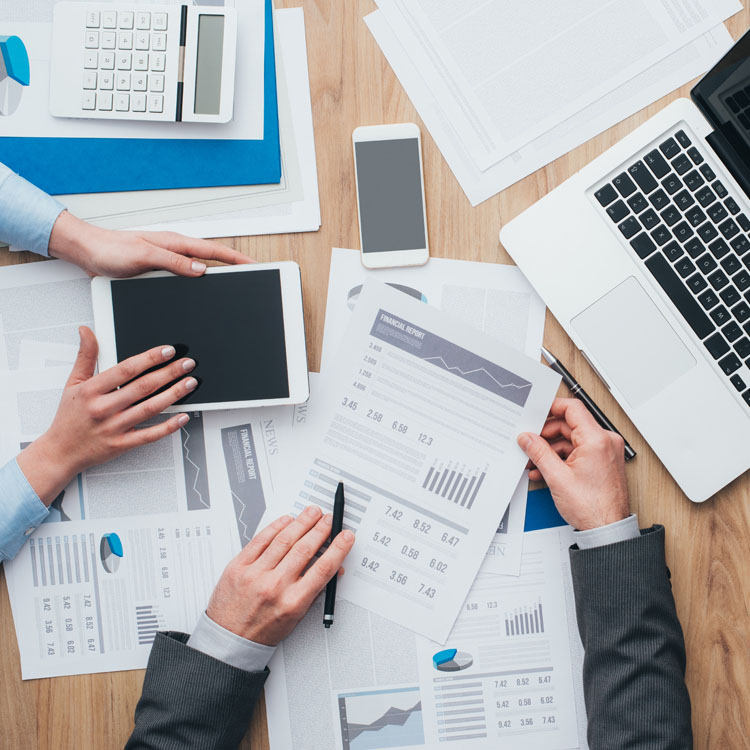 Why earn your master's in accounting at UMSL?
For more than half a century, UMSL accounting has been a go-to program for accountancy. When you earn your master's in accounting here, you'll join other alumni who enjoy placement rates at or near 100 percent, as well as CPA Exam pass rates far above national averages. You'll also find:
Expert faculty. Take courses with faculty who have years of experience working in public and private practices, at top CPA firms, corporations and more. Their knowledge bridges coursework with the real world.
Gain real-world training before finishing your MAcc degree. Find paid internships at area CPA firms, corporations, not-for-profit organizations and government agencies. Work with the Voluntary Income Tax Assistance program to serve your community and earn academic credit. Conduct and showcase your research.
Flexible options. Take classes during the day, online and in the evening.
What can you do with a master's in accounting?
Earning a master's degree in accounting can help you build a successful career in a host of roles in business and finance, from auditor and analyst to consultant and CPA. UMSL MAcc students often receive multiple internship offers – and our graduates are in high demand by employers. In fact, most students sign contracts to join CPA firms or corporations before they even graduate.
UMSL accounting alumni include partners at CPA firms, as well as chief executive, financial and operating officers at companies across the nation. Most graduates who have earned their master's degree in accounting join CPA firms such as Anders, Deloitte, EY, KPMG, PWC and more. Others join corporations including Bayer, Edward Jones, Enterprise and Wells Fargo, or government agencies such as the IRS, the FBI or the Government Contract Audit Agency.
Accountants earn a median annual salary of $77,250 per year, according to wage and employment data from the U.S. Bureau of Labor Statistics.
No matter your career aspirations, the UMSL master's degree in accounting curricula are designed to efficiently and effectively prepare you to succeed on the CPA Exam and throughout your career.

Career Opportunities
Chief Financial Officer (CFO)
Chief Executive Officer (CEO)
Corporate Controller
CPA
External Auditor
Financial Analyst
Forensic Accountant
Information & Technology Consultant
Managerial Accountant
Tax Professional
Application Deadlines
Domestic Applicants: Fall - July 1; Spring - December 1; Summer - May 1
International Applicants: Fall - May 1; Spring - October 1
Requirements
A complete application to the MAcc program includes official transcripts, a personal statement and two letters of reference. Students planning to enter the MAcc program are strongly encouraged to complete their application several months before entering the graduate program. Students admitted earlier have greater flexibility in scheduling graduate courses. The GMAT is not required for admission to this program.
Applicants who hold a BS in Accounting from UMSL with excellent grades who meet the stated application deadlines may be eligible for Early Admission.
Early Admission
The Accounting Department provides an admission option for outstanding students at the University of Missouri -St. Louis. The Early Admission option is available to any applicant who meets ALL of the following criteria:
Will earn a B.S. in Accounting or a B.S. in Business Administration at UMSL prior to entering the Master of Accounting program
Has an overall undergraduate GPA of 3.0 or higher at the time of application
Has completed at least three 3000-level accounting classes at UMSL
Has a UMSL upper-level accounting GPA of 3.2 or higher
Students who meet the academic qualifications and deadlines above will receive an expedited admission decision, generally within two weeks of their application.
Download Program Requirements
Student Organizations
Make friends, network and gain new skills by joining one of our Recognized Student Organizations. UMSL Accounting Students participate in:
Accounting Club
UMSL's Gamma Psi Chapter of Beta Alpha Psi (the nationwide Honorary Fraternity for Accounting Scholars
UMSL's Student Chapter of the National Association of Black Accountants (NABA)
Career Services
As you earn your master's degree in accounting, you'll have access to professional career counselors who can assist you with everything from resume development and interview preparation to connecting you with an internship or your next full-time career. UMSL MAcc degree alumni also enjoy high-quality, lifelong career management programming, services, events and resources that help during all phases of career development.
Networking
With the largest alumni network in the region, UMSL graduate students have access to leading professionals in business, research, entrepreneurship, nonprofit, government and community organizations. Our master's in accounting and other academic programs engage with this network to develop curriculum that ensures our graduate students develop and sharpen the skills required to advance in their chosen careers.