Master of Accountancy Program
The Master of Accounting (MAcc) degree program is intended for students preparing to enter the accounting profession as well as for those seeking to advance their existing accounting careers. It is designed to accommodate both undergraduate accounting majors and students with other undergraduate backgrounds. The MAcc degree will satisfy the minimum education requirements to be eligible to take the Certified Public Accountant (CPA) examination in Missouri.
The flexibility of this program enables busy adults to earn their graduate degree while balancing work, family and academic responsibilities. With many of our students working full time, all graduate classes are available in the evening.
UMSL MAcc graduates annually pass the four CPA exam parts at rates far above national averages and at rates competitive with the best programs in the state.
Program type:
Graduate, MAcc
Take the next step
Request more information below:
Loading...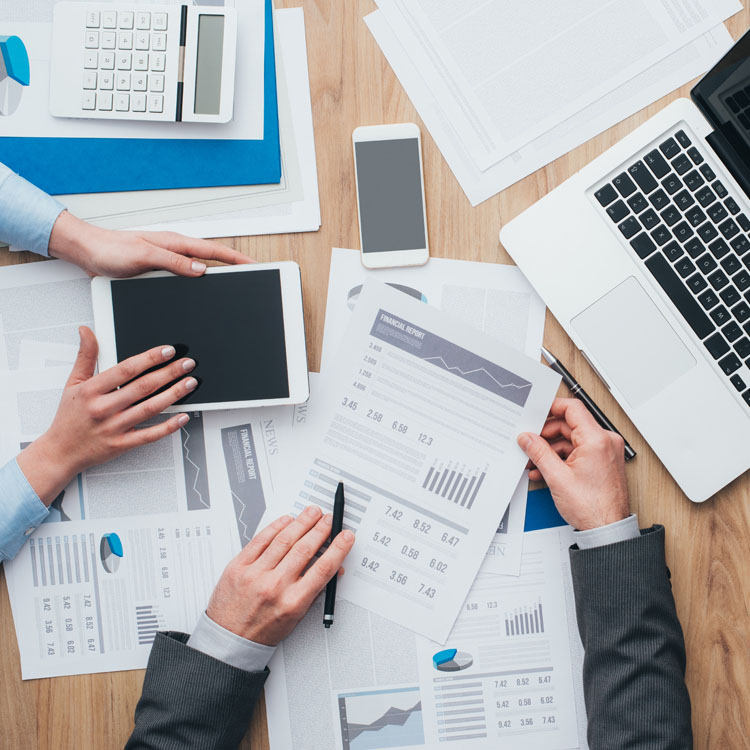 Overview
Master of Accounting
The Master of Accounting program is earned through our internationally recognized College of Business Administration, ranked among the top 2 percent of business schools in the world thanks to dual accreditation in both business and accounting.
UMSL Accounting faculty members hold Ph.D.'s from top doctoral programs in accounting, have published in premier academic journals, and have won numerous prestigious teaching awards. Before entering academe, each gained extensive professional experience at organizations including the "Big Four" CPA firms, other national and local CPA firms and prominent corporations such as Anheuser-Busch InBev and Citi. They're not only academics, but business practitioners and active consultants who bridge the classroom with the real world.
Outcomes and Career Outlook
Upon Completion of the program, graduates will gain an advanced knowledge in financial and managerial accounting, taxation, auditing and accounting information systems, and be well-prepared to successfully complete the CPA Exam. We offer an excellent track record of placement in both internships and entry level career positions and have a strong alumni network both locally and nationwide. In addition, we have on-campus recruiting opportunities. 
Master of Accounting graduates earned a median annual salary of $71,386 according to wage and employment data from Payscale.com.
Career Opportunities
Chief Financial Officer (CFO)
Chief Executive Officer (CEO)
Corporate Controller
CPA
External Auditor
Financial Analyst
Forensic Accountant
Information & Technology Consultant
Managerial Accountant
Tax Professional
Application Deadlines
Domestic Applicants: Fall - July 1; Spring - December 1; Summer - May 1
International Applicants: Fall - May 1; Spring - October 1
Requirements
A complete application to the MAcc program includes official transcripts, a personal statement and two letters of reference. Students planning to enter the MAcc program are strongly encouraged to complete their application several months before entering the graduate program. Students admitted earlier have greater flexibility in scheduling graduate courses. The GMAT is not required for admission to this program.
Applicants who hold a BS in Accounting from UMSL with excellent grades who meet the stated application deadlines may be eligible for Early Admission.
Early Admission
The Accounting Department provides an admission option for outstanding students at the University of Missouri -St. Louis. The Early Admission option is available to any applicant who meets ALL of the following criteria:
Will earn a B.S. in Accounting or a B.S. in Business Administration at UMSL prior to entering the Master of Accounting program
Has an overall undergraduate GPA of 3.0 or higher at the time of application
Has completed at least three 3000-level accounting classes at UMSL
Has a UMSL upper-level accounting GPA of 3.2 or higher
Students who meet the academic qualifications and deadlines above will receive an expedited admission decision, generally within two weeks of their application.
Plan of study
Review Full Degree Requirements
Non-Missouri Residents: Prospective students are responsible for reviewing the NC-SARA state authorizations page to see if this program is offered in their state throughout their program and to review the licensure or certification requirements for the state in which they reside.
Student Organizations - Make new friends and learn new skills by joining one of our Recognized Student Organizations. 
Career Services – Students have access to professional career counselors who can assist in everything from resume development and interview preparation to lining up an internship or connecting you with your next fulltime career. UMSL alumni also enjoy high quality, lifelong career management programming, services, events and resources to assist in all phases of career development.
Networking – with the largest alumni network in the region, UMSL graduate students have access to leading professionals engaged in business, research, entrepreneurship, non-profit, government, community organizations. Our academic units engage this network in curriculum development to ensure our graduate students gain the skills needed to advance along their choose career path.
Research – There are many opportunities for graduate students to showcase their research including our annual Graduate Research Fair, which is open to students from all graduate programs. Doctoral and thesis master's students can also compete in the Three Minute Thesis challenge to be evaluated by a panel of judges for a chance to win cash prizes.