Master of Science in Cybersecurity
Cybersecurity is currently one of the most critical issues facing individuals, organizations, governments and society. Media reports are replete with breaches of information security and the adverse consequences for all stakeholders involved. At the same time, industry and government reports indicate a continued severe shortage of skilled cybersecurity talent across both public and private sectors.
UMSL offers dynamic, industry-driven cybersecurity curricula at the master's level. The Master of Science (MS) in Cybersecurity is an interdisciplinary program jointly provided by the departments of Information Systems and Technology (College of Business Administration) and Computer Science (College of Arts and Sciences). It is designed to equip students with a vital combination of business and technical knowledge, and it produces professionals who can protect information resources and manage people while making cybersecurity a priority in each technology initiative. 
Program type:
Graduate, MS
Format:
On-Campus, 100% Online, 100% Evenings
Take the next step
Request more information below:
Loading...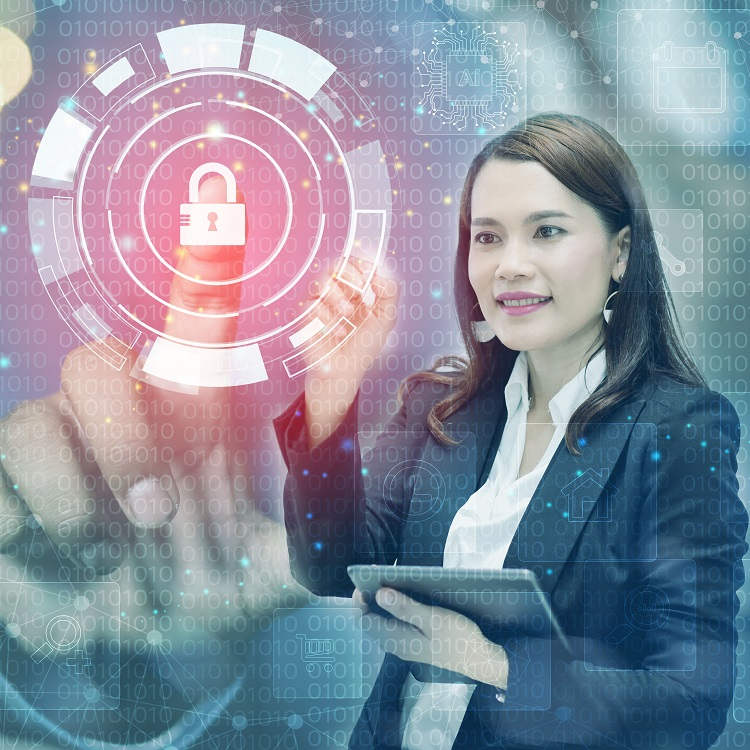 Overview
Master of Science in Cybersecurity
The MS in Cybersecurity is a 30-credit hour degree program and offers two emphasis areas, each with its own admission requirements. This program was designed with the busy working adult in mind and can be completed in 12 to 18 months. Online coursework provides students the flexibility to complete the program's 10 courses as their schedule permits.
The Information Systems and Technology Emphasis is geared toward management of cybersecurity. This emphasis is designed for professionals from a diverse set of undergraduate backgrounds who wish to transition into management of information security or general IT management related work roles.
Outcomes and Career Outlook
Students will learn to address modern security risks that every organization—from finance to healthcare to government and education—faces every day.
The median income for a Cybersecurity graduate is $86,485 according to Payscale.com. A projected 1.8 million cybersecurity positions will remain unfilled worldwide by year 2022, a 20% increase from 2020.
Career Opportunities
Cybersecurity Specialist
Cyber-crime Analyst
Incident Analyst
IT Auditor
Cybersecurity Analyst
Cybersecurity Consultant
Penetration and Vulnerability Tester
Cybersecurity Engineer
Cybersecurity Architect
Graduate Business Programs takes a holistic approach when evaluating student applications. Grade point average (GPA), letters of recommendation, professional experience, and GMAT are all considered when making an admissions decision. (
The GMAT is WAIVED for applicants to all Graduate Business Programs for Spring 2022, Summer 2022 and Fall 2022.
)
Applicants with a 3.0 GPA or higher (on a 4.0 scale) qualify for regular admission. Students may be admitted on a restricted status if their GPA is slightly below 3.0.
For more information on applying to a Graduate Business program, please review the College's Admissions Standards page.
Application Deadlines
Domestic Applicants: Fall - July 1; Spring - December 1; Summer - May 1
International Applicants: Fall - May 1; Spring - October 1
Plan of study
Review Full Degree Requirements
Non-Missouri Residents: Prospective students are responsible for reviewing the NC-SARA state authorizations page to see if this program is offered in their state throughout their program and to review the licensure or certification requirements for the state in which they reside.
Student Organizations – UMSL is home to more than 100 student organizations with many serving graduate students. This includes graduate organizations in business, creative writing, psychology, biology and more in addition to graduate honors societies and student veterans organizations.
Career Services – Students have access to professional career counselors who can assist in everything from resume development and interview preparation to lining up an internship or connecting you with your next fulltime career. UMSL alumni also enjoy high quality, lifelong career management programming, services, events and resources to assist in all phases of career development.
Networking – with the largest alumni network in the region, UMSL graduate students have access to leading professionals engaged in business, research, entrepreneurship, non-profit, government, community organizations. Our academic units engage this network in curriculum development to ensure our graduate students gain the skills needed to advance along their choose career path.
Research – There are many opportunities for graduate students to showcase their research including our annual Graduate Research Fair, which is open to students from all graduate programs. Doctoral and thesis master's students can also compete in the Three Minute Thesis challenge to be evaluated by a panel of judges for a chance to win cash prizes.