Take your career to the next level with a master's degree in cybersecurity
Cybersecurity is one of the most critical issues facing individuals, organizations, governments and society at large, and skilled cybersecurity workers are needed in every sector. Learn the vital technical knowledge you need to become a leader in this field with the University of Missouri–St. Louis' industry-driven cybersecurity master's program.
Our master's degree in cybersecurity builds on your existing knowledge and skills to qualify you for advanced cybersecurity positions. When you choose the emphasis on information systems and technology, you'll focus on cybersecurity management, honing the skills you need to easily take on information security and IT management roles.
Designed to meet the needs of busy working professionals like you, we offer in-person, evening and online cybersecurity master's degree options to ensure you have the flexibility and support you need. You can complete the program in 12–18 months as your schedule permits.
UMSL's MS in Cybersecurity is ranked No. 9 on the list of Best Master's in Cybersecurity Degrees in 2023 by Fortune.
Join a top-ranked AACSB-accredited school
Our master's degree in cybersecurity is offered by UMSL's internationally recognized College of Business Administration, which is ranked among the top 2 percent of business schools in the world thanks to dual AACSB accreditation in both business and accounting.
Want more information?
Join Graduate Business for a one-hour information session. We will explore and discuss our graduate business programs in detail, answer questions you have and show you why you should choose UMSL Graduate Business.

Register for an Info Session
Program type:
Graduate, MS
Format:
On-Campus, 100% Online, 100% Evenings
Take the next step
Request more information below:
Loading...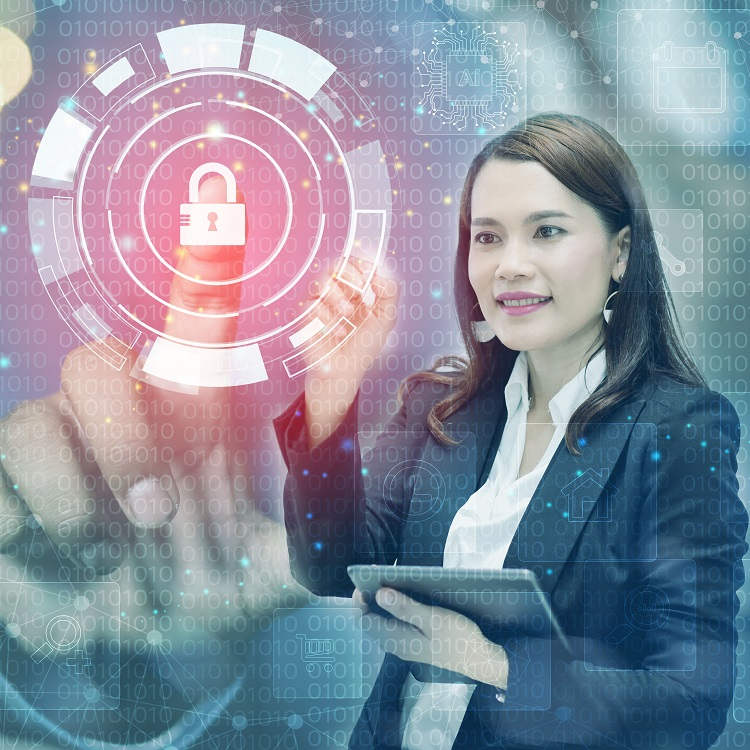 Why earn your cybersecurity master's degree at UMSL?
The more data is shared and stored online, the more vital cybersecurity is to our world. UMSL's cybersecurity master's programs are designed to prepare you with the knowledge and training you need to hit the ground running. Pairing a high-quality education with personalized academics and expert instructors, you'll have everything you need to take the next step in your career:
Learn from expert faculty. Our dedicated staff brings decades of industry experience and relevant research.
Benefit from small class sizes. Most courses are capped at 25 students per class, ensuring you have the personalized attention and support you need.
Advance your skills with experiential learning opportunities. Courses include hands-on exercises and opportunities to solve real-world security challenges, giving you a chance to apply your skills and training to real situations and recommend the corrective course of action.
What can you do with a master's degree in cybersecurity?
From the government and finance sectors to the health care and education industries, cybersecurity professionals help address the modern security risks that face every organization. When you get your master's degree in cybersecurity, you will be opening the door to a broad range of higher-paying jobs in the fastest-growing field on the market.
100 percent of graduates of the in-person and online cybersecurity master's program at UMSL are either pursing a higher degree or employed within six months of graduation. Our alumni now work as analysts for leading companies such as Charter, Emerson, Express Scripts (CIGNA) and Mastercard. The median annual salary with a cybersecurity master's is $102,600, according to the U.S. Bureau of Labor Statistics.
Employment growth by 2030
Career Opportunities
Cybersecurity Specialist
Cyber-crime Analyst
Incident Analyst
IT Auditor
Cybersecurity Analyst
Cybersecurity Consultant
Penetration and Vulnerability Tester
Cybersecurity Engineer
Cybersecurity Architect
Graduate Business Programs takes a holistic approach when evaluating student applications. Grade point average (GPA), letters of recommendation and professional experience are all considered when making an admissions decision. The GMAT is not required for admission to this program.
Applicants with a 3.0 GPA or higher (on a 4.0 scale) qualify for regular admission. Students may be admitted on a restricted status if their GPA is slightly below 3.0.
For more information on applying to a Graduate Business program, please review the College's Admissions Standards page.
Application Deadlines
Domestic Applicants: Fall - July 1; Spring - December 1; Summer - May 1
International Applicants: Fall - May 1; Spring - October 1
Download Program Requirements
Student Organizations - Make new friends and learn new skills by joining one of our many recognized student organizations. 
Professional and Career Resources - Whether you're pursuing your cybersecurity degree online or in-person, you'll have access to professional career counselors who can assist you with everything from resume development and interview preparation to lining up an internship or connecting you with your next full-time career. Additionally, these benefits will remain available to you even after you've graduated. Cybersecurity master's program alumni get access to lifelong career management programming, services, events and resources to assist in all phases of career development.
You'll also be connected to the largest alumni network in the region, helping you professionally network with other graduates from UMSL's cybersecurity master's programs as well as leading professionals in every industry. We work closely with this network to ensure our coursework aligns with what businesses need, ensuring you are developing skills that will advance your career and open doors to the highest-paying jobs.
Cybersecurity master's program students will have many opportunities to showcase their research, including our annual Graduate Research Fair.