Mathematics knows no boundaries. Neither should you.
Mathematics lays the foundation for complex thinking skills and teaches multiple problem-solving abilities. Which may be why the American mathematician William Paul Thurston said "Mathematics is not about numbers, equations, computations or algorithms: it is about understanding." The Master of Arts in Mathematics degree program at the University of Missouri–St. Louis helps students of all backgrounds with a love for mathematics develop that greater understanding.
Master of Arts in Mathematics
The MA in Mathematics program at UMSL offers students the option of focusing on either applied math for those interested in non-teaching careers, or pure math for those seeking teaching careers. Graduates of the program will be able to enhance their existing careers as high-school math teachers, teach mathematics at the college level, build a foundation for the continuation of their education in a PhD program, or work as applied mathematicians or statisticians in positions requiring strong quantitative skills. Students may enroll in the program on a part-time basis, but must have at least a bachelor's degree in mathematics or in a field with significant mathematical content.
Master of Arts in Mathematics, Emphasis in Data Science
UMSL is the only public university in the St. Louis region that offers a graduate-level data science degree. By choosing the data science emphasis, students learn the mathematics and statistics needed for data analysis, data modeling and machine learning applications. They also learn to design and implement statistical models using either R or Python, and become proficient in applied statistics and data analysis. Upon graduation, they will be able to work with data, understand data, extract conclusions from data, as well as build computer-based statistical/machine learning models.

Program type:
Graduate, MA
Take the next step
Request more information below:
Loading...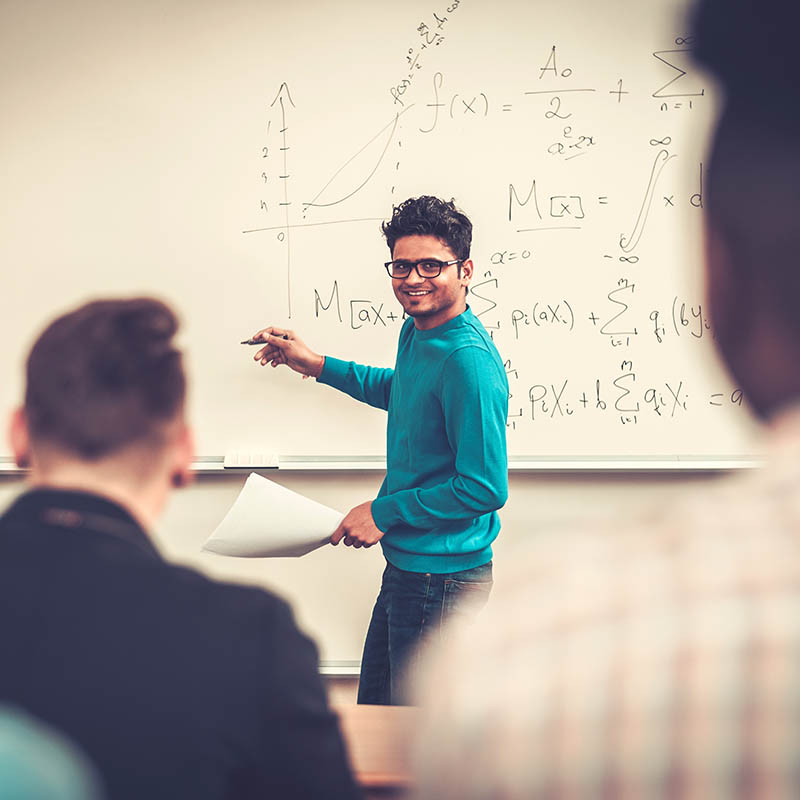 Why earn your degree in Mathematics from UMSL?
The Department of Mathematics and Statistics at UMSL conducts pivotal research in areas such as data science, computational mathematics, topology, probability and statistics.
Many faculty members have received international recognition for contributions to their fields.
The Math Academic Center provides free individual assistance to all students.
The Math Technology Learning Center is a resource dedicated to our math students where they can access study space, do homework online, take advantage of various resource materials or get help from an instructor or student teacher.
Outcomes and Career Outlook
UMSL graduates are known for their professionalism on the job and their strong sense of civic responsibility. Students in our programs engage in creative and critical thinking, learn to analyze evidence, to appreciate patterns of complexity and to reflect on important issues that impact our daily lives. Students gain skill sets to prepare for a changing workplace that requires flexible, dynamic and well-educated employees.
Employment of mathematicians and statisticians is projected to grow up to 31% to 2031, with a median annual salary of $96,280 according to wage and employment data from the U.S. Bureau of Labor Statistics.
Employment growth by 2029
Career Opportunities
Actuary
Applied Mathematician
Data Analyst
Data Modeling Specialist
Data Scientist
Financial Analyst
GIS Analyst
Market Research Analyst
Math Teacher
Operations Research Analyst
Quantitative Analyst
Statistician
Admission Requirements
Applicants must have at least a bachelor's degree in mathematics or in a field with significant mathematical content. Examples of such fields include computer science, data science, economics, engineering and physics. An applicant's record should demonstrate superior achievement in undergraduate mathematics.
Applicants should have a minimum GPA of 3.0 on 4.0 scale.
The Graduate Record Examination (GRE) General Test is required only to apply for an assistantship. International students are required to document English proficiency by providing scores from an internationally accepted standardized examination before a decision is made on admission.
More information about applying is available on the Graduate School website.
Application Deadlines
For domestic applicants: Fall Semester: July 1,  Spring Semester: December 1, Summer Semester: May 1
For international applicants: Fall Semester: May 1, Spring Semester: October 1
Download Program Requirements
Plan of study
Non-Missouri Residents:
Prospective students are responsible for reviewing the
NC-SARA state authorizations page
to see if this program is offered in their state throughout their program and to review the licensure or certification requirements for the state in which they reside.
Connect with likeminded business students and professionals though one of our student organizations.
Career Services - Students have access to professional career counselors who can assist in everything from resume development and interview preparation to lining up an internship or connecting you with your next fulltime career. UMSL alumni also enjoy high quality, lifelong career management programming, services, events and resources to assist in all phases of career development.
Research - There are many opportunities for graduate students to showcase their research including our annual Graduate Research Fair, which is open to students from all graduate programs. Doctoral and thesis master's students can also compete in the Three Minute Thesis challenge to be evaluated by a panel of judges for a chance to win cash prizes.