The study of chemistry is the study of life itself.
Chemists and those who study advanced chemistry have left an indelible mark on human history. That's because chemistry has always been essential for meeting the needs of life: food, shelter, health, energy, clean air and water, and more. Today, chemists continue to enrich our quality of life by providing new solutions to what we eat, what we wear, the technologies we use, how we treat illnesses, protect the environment…and the list goes on and on.
The Department of Chemistry and Biochemistry at UMSL boasts a strong research emphasis and a dedication to teaching, but also allows for substantial interaction between faculty and students. The department is equipped with modern instrumentation and computing resources, including outstanding NMR, microscopy, X-ray and mass spectrometry facilities, with two 300 MHz and one 600 MHz NMR spectrometers, two single-crystal and one powder X-ray diffractometers, a Bruker Maxis Plus and GC-MS facilities. Research specializations include the traditional areas of chemistry mentioned above, as well as organometallic, supramolecular, surface chemistry, computational chemistry, laser spectroscopy and the study of new materials. 
Program type:
Graduate, MS
Take the next step
Request more information below:
Loading...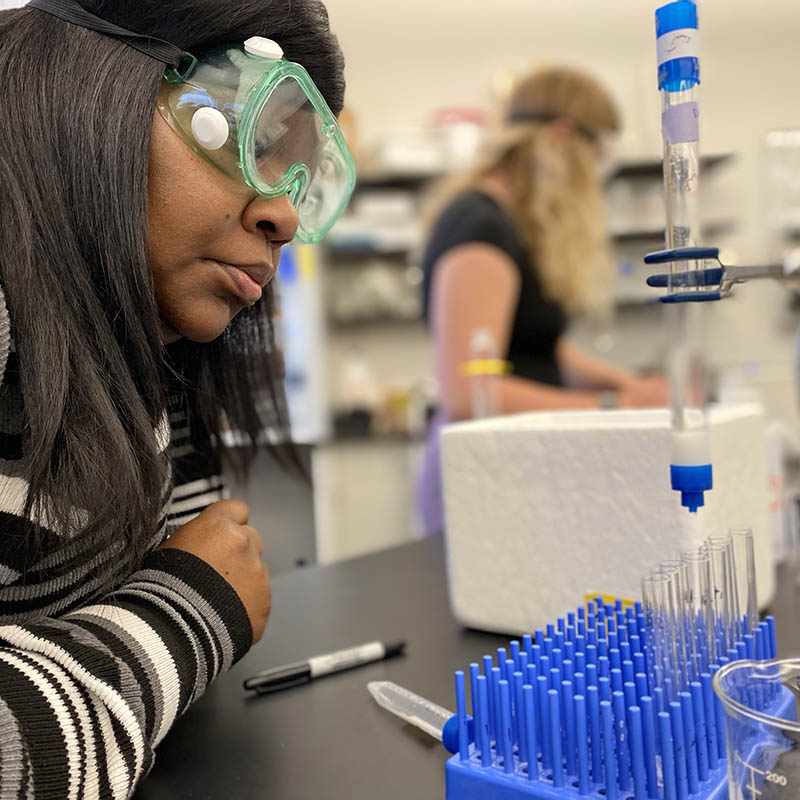 Overview
Master of Science in Chemistry
The Master of Science in Chemistry at the University of Missouri–St. Louis includes advanced coursework in the areas of organic chemistry, analytical chemistry, biochemistry, physical chemistry and inorganic chemistry. The specific program of courses is flexible and may be designed to suit students' interests.
Chemistry students have the opportunity to engage in hands-on research projects under the guidance of faculty with full access to all university facilities. The Chemistry Department maintains four chemical instrumentation centers (X-Ray Diffractions, NMR, Mass Spectrometry and Microscopy) that provide training for students and services for academic institutions and companies across the state. Additionally, chemistry students benefit from the Science Learning Building, a $32 million addition to the UMSL science complex that provides state-of-the-art, dedicated teaching lab spaces for students.
Outcomes and Career Outlook
Upon completion of the degree program, graduates will have the ability to understand current chemical research and to apply this understanding to new problems in applied research, basic research and product development. What's more, the job outlook for those with an MS in chemistry is excellent as graduates are highly sought after for jobs in the chemical and life sciences industries, can expect higher salaries and have better potential for advancement to higher level positions. They are also well prepared to advance to pursue a PhD in chemistry.
Employment of chemists and materials scientists is projected to grow up to 6% to 2031, with a median annual salary of $79,760, according to wage and employment data from the U.S. Bureau of Labor Statistics.
Employment growth by 2031
Career Opportunities
Analytical Chemist
Biochemist
Chemical Engineer
Chemical Sales and Marketing
Environmentalist
Field Service Engineer
Food Scientist
Forensic Scientist
Formulations Chemist
Chemistry Teacher/Professor
Instrumentation Specialist
Materials Chemist
Medicinal Chemist
Preparative Chemist
Production Chemist
Research Scientist
Admission to the Master of Science in Chemistry program requires:
BS or BA in a scientific discipline is required, although other degrees will be considered for strong candidates. The admission committee will evaluate previous coursework to determine potential for success.
Minimum of 3.00 GPA on 4.0 scale. Students whose GPA is 2.75 to 2.99 may be admitted under some circumstances.
Two Letters of Recommendation.
Official transcripts from all universities attended.
The Graduate Record Examination General Test is NOT required, but may add value to the application. 
International students are required to document English proficiency by providing scores from an internationally accepted standardized examination prior to admission decision.
The department admissions committee considers applicants' grade point averages and normally requires above-average performance in all areas of chemistry as well as physics and mathematics, or other evidence of high aptitude for graduate work in chemistry. Applicants' GRE scores, letters of recommendation, and academic programs are also considered. In some cases the committee may require successful completion of undergraduate course work as a condition of enrollment as a regular student.

Students with bachelor's degrees in fields other than chemistry may be admitted to pursue graduate studies in chemistry, but they must make up background deficiencies, usually by taking undergraduate course work.
Application Deadlines
Preferred Application Deadlines (for domestic applicants)
Fall Semester: July 1
Spring Semester: December 1
Summer Semester: May 1
Application Deadline (for international applicants)
Fall semester: May 1
Spring Semester: October 1
Connect with likeminded business students and professionals though one of our student organizations. As a chemistry master's degree candidate, you may be interested in joining one of the following:
Chemistry Club
Chemistry Graduate Student Association
Career Services - Students have access to professional career counselors who can assist in everything from resume development and interview preparation to lining up an internship or connecting you with your next fulltime career. UMSL alumni also enjoy high quality, lifelong career management programming, services, events and resources to assist in all phases of career development.
Research - There are many opportunities for graduate students to showcase their research including our annual Graduate Research Fair, which is open to students from all graduate programs. Doctoral and thesis master's students can also compete in the Three Minute Thesis challenge to be evaluated by a panel of judges for a chance to win cash prizes.