Develop a Foundation in Information Systems.
Information systems technologists think strategically about selecting, deploying and utilizing computer-based information systems for organizational efficiency and competitive advantage. This involves aspects of business analysis, information theory, hardware and software systems, databases and systems design.
The BSBA, Information Systems and Technology Emphasis is earned through our internationally recognized College of Business Administration, ranked among the top 2 percent of business schools in the world thanks to dual AACSB accreditation in both business and accounting.
Program type:
Major, BSBA
Format:
On-Campus, 100% Online
Take the Next Step
Request more information below:
Loading...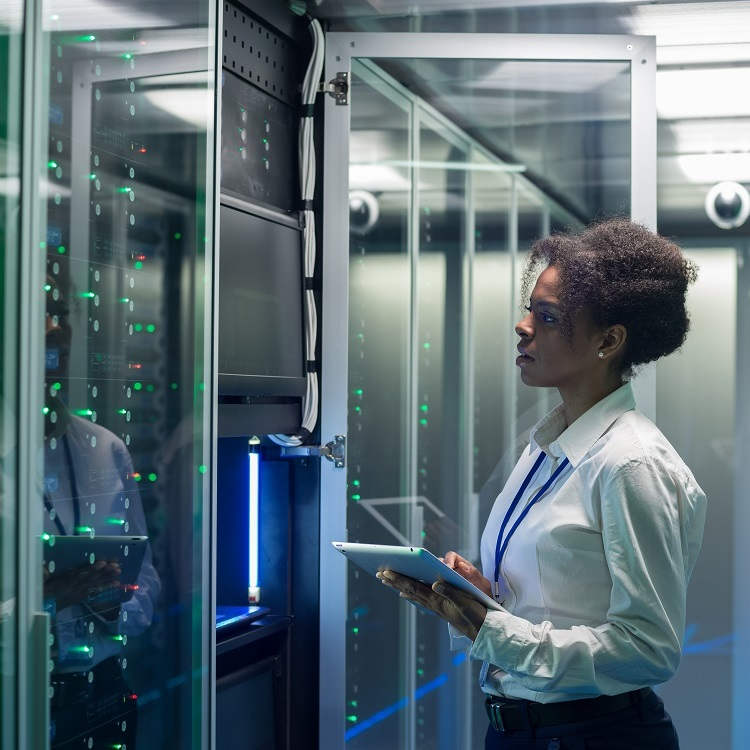 Overview
Bachelor of Science in Business Administration -
Information Systems & Technology Emphasis
The BSBA, Information Systems & Technology Emphasis degree is a 120-credit-hour program that requires at least 48-credit hours be filled with business courses, of which a minimum of 21-credit hours need to be taken in Information Systems & Technology courses. The program is offered three ways: in-person; fully online; and in a hybrid format.
The core business classes include financial and managerial accounting, legal environment of business, information systems concepts, business analytics and statistics, supply chain management, financial management, management and organizational behavior, marketing and strategic management. Once you've completed required courses, you can customize your degree with business electives, even selecting a minor, if you choose.
Outcomes and Career Outlook
Throughout the program, students will gain both core business skills and an overview of current Information Systems & Technology competencies including Business Intelligence, Cybersecurity and the management of disruptive IT, such as AI. Students will be enabled to become more effective managers by understanding the interface with IT managers and the alignment of business plans with IT plans.
Employment of Database Administrators is projected to grow up to 10% to 2029, with a median annual salary of $96,710, according to wage and employment data from the U.S. Bureau of Labor Statistics.
10

Employment growth by 2029
Career Opportunities
Application Analyst
Business Analyst
Data Administrator
Data Analyst
Data Governance
Database Administrator
Database Architect
Database Consultant
Database Developer/Designer
Plan of study
Information Systems, BS College of Business Administration Information Systems
Lower Division Business Core Requirements
ACCTNG 2400
Fundamentals of Financial Accounting
3
ACCTNG 2410
Managerial Accounting
3
BUS AD 2900
Legal Environment of Business
3
INFSYS 2800
Information Systems Concepts and Applications
3

Total Hours

12
Upper Division Requirements
| | | |
| --- | --- | --- |
| ENGL 3120   | Business Writing                                             | 3 |
Upper Division Non-Business or Business Requirements
Upper Division Business Requirements
Finance 3500
Financial Management
3
SCMA 3300
Introduction to Supply Chain Management
3
SCMA 3301
Introduction to Supply Chain Management
3
MGMT 3600
Management and Organizational Behavior
3
MGMT 4219
Strategic Management
3
MKTG 3700
Basic Marketing
3
A minimum of 18 additional hours of upper division approved business electives
18
Assessment Requirement
| | | |
| --- | --- | --- |
| MGMT 4220 | Business Assessment Testing | 3 |
Emphasis Area Requirements
INFSYS 3830
Data Programming
3
INFSYS 3848
Introduction to Information Security
3
INFSYS 3862
Artificial Intelligence Applications for Business
3
INFSYS 4800
IT Leadership
3
INFSYS 4847
IT Project Management
3
INFSYS 4847
IT Project Management
3
Elective
3
One additional INFSYS course1

Total Hours

21
1A course in a related-field may be taken with approval of the department chair.
All business majors must meet the general education requirements of the university in addition to completing degree-specific curriculum requirements.
Review Full Degree Requirements  Download 4-Year Academic Map
Non-Missouri Residents: Prospective students are responsible for reviewing the NC-SARA state authorizations page to see if this program is offered in their state throughout their program and to review the licensure or certification requirements for the state in which they reside.
Student organizations
Make new friends and learn new skills by joining one of our Recognized Student Organizations. Here are several opportunities you may be interested in as a business administration, information systems and technology emphasis major:
Information Technology and Cybersecurity Club
IS Mentoring Club
Associated Students of the University of Missouri
Internship opportunities and undergraduate research
The Career and Internship Program at the UMSL College of Business Administration will help prepare you with the real-world experience to hit the ground running when you get a job. We also encourage majors in accounting to participate in Undergraduate Research and Scholarship to innovate and collaborate with leaders in your field.
Honors College
The UMSL Honors College is a certificate program that can be paired with any major without adding extra classes or extending time to graduate. Classes in the Honors College are seminar-style, meaning that they are based in reading, writing, discussion, and critical thinking. This unique class format fosters an intellectual climate centered around democracy, diversity, civility and academic excellence.