Share your vision with the world.
A degree in fine arts prepares students to explore and expand their vision and creativity while learning about present and past artistic styles and techniques. For aspiring artists, a fine arts degree may provide the ideal way to gain hands-on experience, make professional connections and land a dream job. Your college curriculum can give you access to techniques that can only be learned from a professional.
Take the next step
Request more information below:
Loading...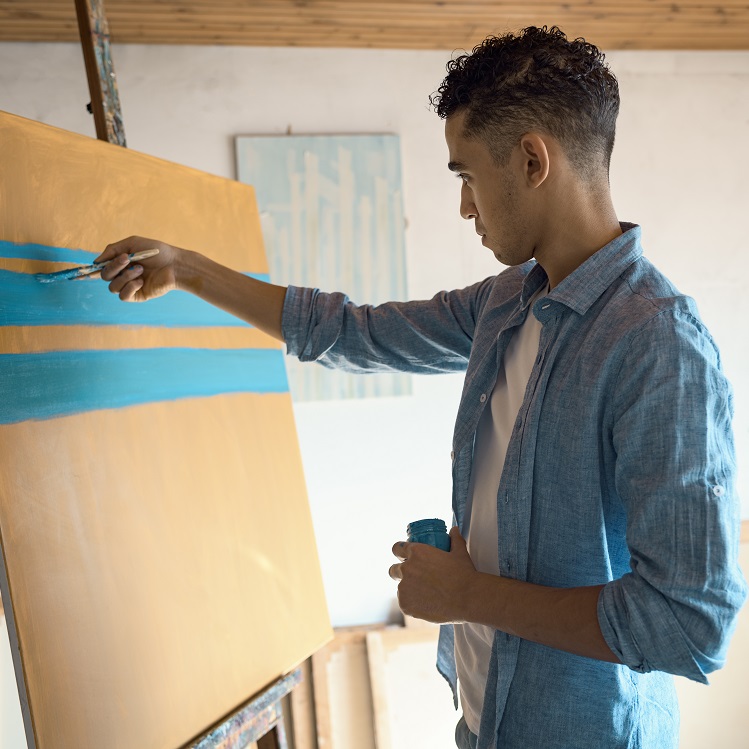 Overview
Bachelor of Fine Arts in Art -
Studio Practice Emphasis
The Bachelor of Fine Arts in Art with an Emphasis in Studio Practice offers students the opportunity to explore essential cultural and professional systems through creative visual practice. The degree is considered a professional degree program in art, as well as traditional preparation to pursue graduate studies in the field. 
Studio Practice encompasses painting, drawing, photography, printmaking, sculpture, ceramics and digital arts in 2D and 3D. Students encounter both traditional and new technologies in their study and in creating the visual world in which we live. Students in the Studio Practice program enjoy the benefits of close relationships with the St. Louis visual arts professional community. Our professors maintain a rigorous program that prepares students for immediate employment as creative professionals and enriches lives through creative practice.
Outcomes and Career Outlook
Upon completion of the BFA in Art with an Emphasis in Studio Practice, graduates will be able to develop visual and verbal responses to visual phenomena and organize perceptions and conceptualizations both rationally and intuitively; explain the major achievements in the history of art and design, including the works and intentions of leading artists and designers in the past and present; develop the capacity to identify and/or solve visual problems within a variety of physical, technological, social and cultural contexts; explain and evaluate contemporary thinking about art or design; develop competence in a number of art or design techniques; and make valid assessments of quality and effectiveness in design projects and works of art, especially their own.
Fine arts is an evergreen industry with applications across a wide range of sectors. Employment of fine artists is expected to increase by 7% through 2029, with a median annual salary of $60,820, according to wage and employment data from the U.S. Bureau of Labor Statistics.
7
Employment growth by 2029
Career Opportunities
Professional Fine Artist and Entrepreneur
Transmedia/Multimedia Artist
Commercial Photographer
Comic Book Artist
Game Artist and Model Maker
Art Director
Art Handler
Gallery Owner and Curator
Exhibits Designer
Maker Space Director
Printshop Director
Plan of study
Foundations
ST ART 1020
Expanded Artforms
3
ST ART 1150
2D Design: Surface
3
ST ART 1151
3D Design: Space
3
ST ART 1140
Drawing I (MOTR PERF 105D)
3

Core

15

Select five 2000-level courses from the following:
     ST ART 2205
Graphic Design I
 
     ST ART 2220
Computer Design I
 
     ST ART 2230
Drawing II
 
     ST ART 2235
Comics and Cartoon Illustration
 
     ST ART 2245
Painting I
 
     ST ART 2252
Printmaking I
 
     ST ART 2260
Photography I
 
     ST ART 2270
Ceramics I
 
     ST ART 2275
Sculpture I
 
     ST ART 2285
Entrepreneurship for the Visual Arts
 
     ST ART 2278
Introduction to Fibers and Textiles
 

History of Art and Visual Culture

ART HS 1100
Introduction to Western Art (MOTR ARTS 100)
3
ART HS 2280
Modern to Contemporary Art
3
Choose one non-Western History of Art and Visual Culture course from the following:
3
     ART HS 1120
Global Art and Visual Culture (MOTR ARTS 101)
     ART HS 1140
Indigenous Arts of the Americas
     ART HS 1150
Introduction to the Art and Visual Cultures of Africa
     ART HS 1160
Introduction to the Art and Visual Cultures of Asia
Choose one course from the following:
3
     ART HS 2211
Art and Archaeology of The Ancient World
     ART HS 2212
Greek Art and Archaeology
     ART HS 2225
Medieval Art
     ART HS 2235
Renaissance and Baroque Art
     ART HS 2250
Rococo to Realism
     ART HS 2270
Art of the United States
     ART HS 2275
History of Illustration
     ART HS 3390
Special Study
     ART HS 2295
Selected Themes in the History of Art and Visual Culture

Major (Studio Art Emphasis)

Select ten (10) of the following courses:
30
     ST ART 3330
Drawing III
     ST ART 3332
Figure Drawing I
     ST ART 3333
Figure Drawing II
     ST ART 3342
Painting II
     ST ART 3343
Painting III
     ST ART 3344
Watercolor Painting
     ST ART 3351
Printmaking II
     ST ART 3352
Printmaking: Screenprinting
     ST ART 3354
Printmaking: Lithography
     ST ART 3356
Printmaking: Etching
     ST ART 3360
Photography II
     ST ART 3362
Digital Color Process
     ST ART 3364
Non-Silver Photography
     ST ART 3366
Commercial Applications in Photography
     ST ART 3382
Advanced 2D Practices
     ST ART 3385
Advanced 3D Practices

Electives

Choose two elective courses from any 2000- or 3000-level Studio Practice or History of Art and Visual Culture courses
6

Capstone

ST ART 4495
Senior Studio Seminar
3
ST ART 4496
Senior Studio Seminar
3

Total Hours

81

All majors must meet the general education requirements of the university in addition to completing degree-specific curriculum requirements.
Review Full Degree Requirements Review Sample Four-Year Plan
Non-Missouri Residents: Prospective students are responsible for reviewing the NC-SARA state authorizations page to see if this program is offered in their state throughout their program and to review the licensure or certification requirements for the state in which they reside.
Student organizations
Make new friends and learn new skills by joining one of our Recognized Student Organizations. Here are several opportunities you may be interested in as an art major. 
Artists Anonymous
Students of the University of Missouri
Honors College
The UMSL Honors College is a certificate program that can be paired with any major without adding extra classes or extending time to graduate. Classes in the Honors College are seminar-style, meaning that they are based in reading, writing, discussion, and critical thinking. This unique class format fosters an intellectual climate centered around democracy, diversity, civility and academic excellence.
Undergraduate research
We encourage and support students as they engage in exciting activities in and outside of the classroom that enrich their academic and professional understanding of their chosen area of study. All majors are encouraged to participate in Undergraduate Research and Scholarship to produce discipline-specific intellectual or creative innovations to their field.