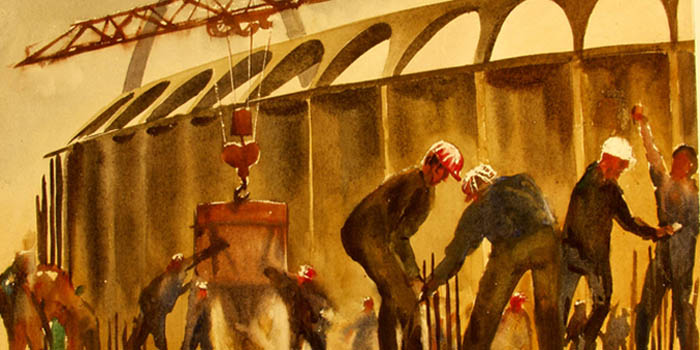 Assembled by St. Louis labor lawyer Bruce Feldacker, the collection consists of over 500 paintings, prints, drawings and sculpture on the theme of labor and the role of the laborer in America. While focusing on this subject as the primary guide for acquisition decisions, Bruce also gave weight to local and regional artists in selecting works. As a result, the collection has a remarkable breadth of style as well as a chronological depth, both of which contribute to its strength as a teaching tool in the areas of American art and American labor history.
Artists in the collection with ties to St. Louis and the region include Thomas Hart Benton, Joe Jones, Wallace Bassford, Frank Brangwyn, Carol Carter, Paul Harney, Ed Karasek, Larry Pogue, Kyra Markham, Jessie Beard Rickly and Joseph Vorst. These regional artists reflect the Mercantile's primary collecting goal to preserve and interpret the art of the Midwest.
Other nationally-known artists in the Feldacker Collection include Ben Shahn, Don Freeman, Hugo Gellert, Rockwell Kent, Otto Kuhler and Harry Sternberg, artists whose work is less frequently displayed in St. Louis museums, thus their availability at the Mercantile affords a much needed opportunity for the general public.
In May, 2004, Bruce and Barbara Feldacker designated their collection as a Promised Gift to the Mercantile Library. In addition to the works currently held by the Library and on view in its Feldacker Gallery, the Labor Art Collection Research Library has now been donated to the Mercantile. The library of over three hundred volumes is available for use through the Rare Book Reading Room at the Mercantile Library, and can be searched through the Merlin online catalogue. The Mercantile Library is pleased and honored to make a permanent installation of highlights of the Feldacker Collection available to the public for research, study and enjoyment.
Those wishing to learn more may access lists of the artwork in the collection and books in the research library.