"…Working together we can produce a synergism far exceeding the efforts of any one segment working independently."  
- Des Lee Collaborative Vision
UMSL's College of Education has multiple Literacy Clinic sites. We have a University, online Literacy Clinic, a Literacy Clinic partnered with a community organization, and school-based Literacy Clinics. Each year, UMSL undergraduate and graduate students tutor approximately 150 students in literacy education. In addition, we lead summer literacy initiatives, outreach programs, and author visits for families and teachers. These sites work in collaboration with the E. Des Lee Tutorial Endowment.
UMSL's Community Literacy Clinic (Virtual)
UMSL has continued providing a free, online Literacy Clinic that is open to students in the University's footprint. Teachers meet with students face-to-face, online to administer literacy assessments and design evidence-based literacy instruction that is culturally responsive. Students registered for our online Literacy Clinic have access to a digital collection of books, virtual libraries, writing Apps, interactive phonics instruction, and can also create media and digital stories.
Each Fall semester, approximately 15 students are matched with a literacy educator for 12 weeks of evidence-based literacy instruction.

Each Spring semester, approximately 60 students are matched with a literacy educator for 12 weeks of evidence-based literacy instruction.
Lucas Crossing School-Based Literacy Clinic 
Dr. Martille Elias leads our partnership with Lucas Crossing Elementary School. Each semester, approximately 30 elementary students are matched with a teacher candidate for evidence-based literacy instruction.


Woerner Elementary School
Dr. Doris Villarreal leads a school-based Literacy Clinic at Woerner Elementary School. UMSL teacher education students are matched one-on-one with students needing additional reading and writing support at the school. Evidence based literacy teaching occurs during the school day. The semester culminates with a literacy celebration. This school-based clinic partnership began in 2021 as a virtual initiative and is now in-person.

In addition, the E. Des Lee Tutorial Endowment provides author visits and literacy tutoring for students during the school day at Woerner Elementary.
Literacy Clinic Partnership with Girls Inc. of St. Louis  
Dr. Rebecca Rogers leads our partnership with Girls Inc. of St. Louis. In the Spring semester, graduate students in our Literacy Clinic work with small groups of students at the community-based organization. The semester culminates in an Author celebration where the students share the literary magazine they produce called "Only the Story you can Tell: A Literary Production of the Triton Readers and Writers. In the Fall of 2022, Dr. Kelly Byrd, Scholar in Residence, led a group of 6-8th grade students at Girls Inc. of St. Louis in an exploration of family genealogy and family stories as a route to enriching the students' literacy learning and ability to think like historians. In Fall 2023, Dr. Kelly Byrd, Dr. Inda Schaenen, and Dr. Rebecca Rogers collaboratively designed an afterschool literacy initiative for 3-6th graders that embeds literacy-rich instruction within a gardening, sustainability, and climate justice framework.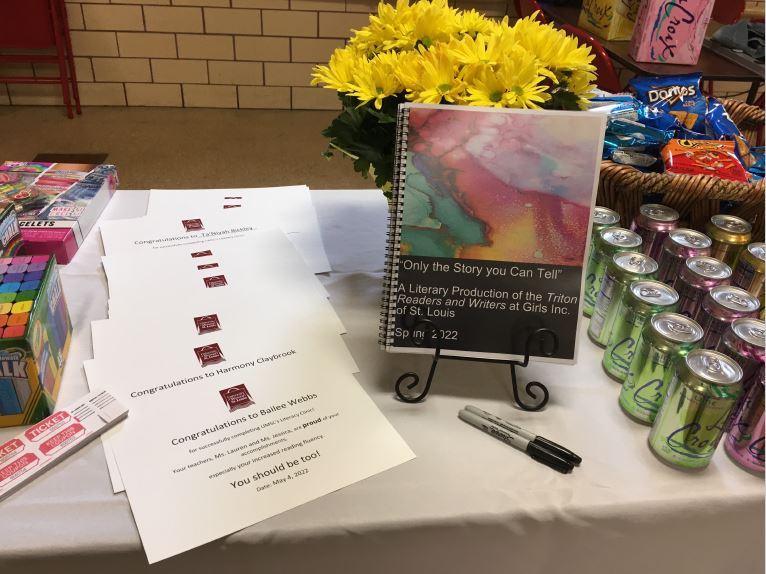 Coming Soon … Saturday Literacy Lab (virtual)
This outreach initiative will bring together experienced literacy teachers with literacy tutors to provide evidence-based literacy interventions with a focus on the environment and climate justice.
Literacy Specialist Cohort Initiative with St. Louis Public Schools. 
Celebration of Literacy Cohorts
UMSL Literacy Clinic Faculty in Network with National Literacy Clinic Study Group of the Literacy Research Association
In collaboration with the E. Des Lee Endowment for Tutorial Education