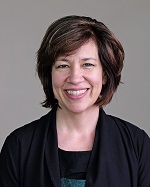 Office
: 535 Clark Hall
Phone
: (314) 516-5186
denise@umsl.edu
---
Teaching Professor of English for Academic PurposesEducation:
 Denise earned a BA in French at the University of Kansas and an MA in Applied Linguistics at the University of Illinois at Chicago. She has also studied Speech Pathology at SIU-Edwardsville. She is an Ed.D. candidate in Global Education and Leadership, expected graduation in 2018. 
Personal History:
  Denise was born in Memphis, grew up in St. Louis, and finished high school in Kansas. She is enthusiastic about assisting international students with the transition into a new language, culture, and educational system due to her experiences of being an international student in Belgium, France, and China.  She has traveled to the Caribbean, South America, Europe, and Asia. She speaks French and has studied Haitian Creole, Bahasa Indonesian, Mandarin, and Spanish. 
Professional Activities: 
Denise has taught English for Academic Purposes (EAP) since 1990. Prior work experience includes advertising sales and instructing conversational French. She started teaching at UMSL in 1994, when the EAP program began. She designed the current Seminar for International Teaching Assistants, directs the Seminar for International Faculty, and developed the EAP program curricula from three classes to eight to include both intermediate and advanced levels in four language skills. Her area of specialty is accent modification, for which she has created materials and worked as a consultant to area professionals including interpreters. She served as the UMSL's Faculty Advisor for the Thai Student Association and as the Awards Chair for MIDTESOL. She currently sits on the board of the St. Louis-Lyon Sister Cities and Alliance Française of St. Louis. She has presented at area conferences as well as at MIDTESOL, TESOL, and PNRU in Thailand. She has published articles in MIDTESOL Matters, MIDTESOL Conference Proceedings, and the ITA-IS newsletter; written a children's book; and edited TESOL's revised
New Ways in Teaching Writing
.