Earn your Master of Science in Cybersecurity with a Computer Science Emphasis
Cybersecurity is currently one of the most critical issues facing individuals, organizations, governments and society. Media reports are replete with breaches of information security and the adverse consequences for all stakeholders involved. At the same time, industry and government reports indicate a continued severe shortage of skilled cybersecurity talent across both public and private sectors.
The University of Missouri–St. Louis offers dynamic, industry-driven cybersecurity curricula at the master's level. The Master of Science (MS) in Cybersecurity is an interdisciplinary program jointly provided by the departments of Information Systems and Technology (College of Business Administration) and Computer Science (College of Arts and Sciences). It is designed to equip students with a vital combination of business and technical knowledge, and it produces professionals who can protect information resources and manage people while making cybersecurity a priority in each technology initiative.
Format:
On-Campus, 100% Online
Take the next step
Request more information below:
Loading...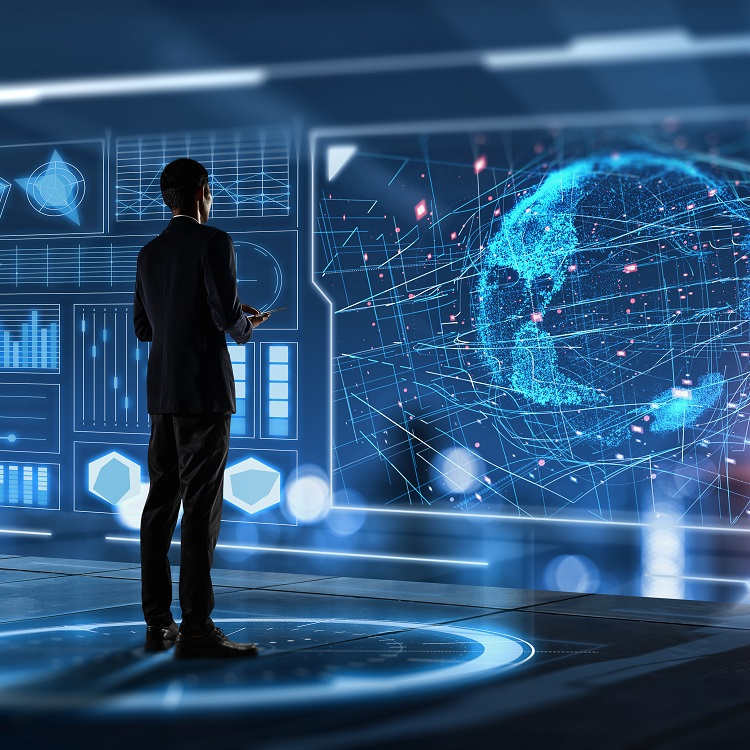 Overview
Master of Science in Cybersecurity
The Computer Science emphasis builds on the foundation of an undergraduate cybersecurity or computer science degree and expects students to have prior background in foundational computer science areas or complete some foundational courses upon entry. This emphasis is designed to be focused on technical aspects of cybersecurity and provides greater depth than that afforded at an undergraduate level.
This program was designed with the busy working adult in mind and can be completed in 12 to 18 months. Online coursework provides students the flexibility to complete the program's 10 courses as their schedule permits.
Outcomes and Career Outlook
Students will learn to address modern security risks that every organization—from finance to healthcare to government and education—faces every day.
100 percent of graduates of the in-person and online cybersecurity master's program at UMSL are either pursing a higher degree or employed within six months of graduation. Our alumni now work as analysts for leading companies such as Charter, Emerson, Express Scripts (CIGNA) and Mastercard. The median annual salary with a cybersecurity master's is $102,600, according to the U.S. Bureau of Labor Statistics.
Employment growth by 2030
Career Opportunities
Cybersecurity Specialist
Cyber-crime Analyst
Incident Analyst
IT Auditor
Cybersecurity Analyst
Cybersecurity Consultant
Penetration and Vulnerability Tester
Cybersecurity Engineer
Cybersecurity Architect
Application Deadlines
For domestic applicants: Fall admission: July 1, Spring admission: December 1, Summer admission: May 1
For international applicants: Fall admission: May 1, Spring admission: October 1
Requirements
In addition to Graduate School admission requirements, the following admission requirements apply for the Computer Science Emphasis.
Undergraduate Degree/GPA: Applicants must have at least a bachelor's degree, preferably in cybersecurity, computer science, information systems, or a related area.

GPA Minimum of 3.25 on 4.0 scale. Students whose overall GPA is 2.75 to 3.24 may be admitted under some circumstances

Competence: Applicants with bachelor's degrees outside of specified areas must demonstrate significant proficiency by showing competence (proving related academic or professional experience, or taking a test) in the following areas. Courses in parenthesis are UMSL courses that can be used to fulfill the requirement.

Programming skills in C/C++ and Java with at least three college semesters or comparable experience
Proficiency with computer organization, architecture, or assembly level programming
Familiarity with Unix/Linux/OSX and with command-line scripting with tools
Students must also have satisfactorily completed mathematics courses equivalent to the following UMSL courses:

Survey Calculus or Calculus I (Math 1100 or Math 1800)
An elementary course in probability or statistics (Math 1320)
A course in discrete mathematics (Math 3000)
A student missing some of the above requirements may be admitted on restricted status if there is strong supportive evidence in other areas. The student will have to take the missing courses, or otherwise demonstrate proficiency. Special regulations of the Graduate School that apply to students on restricted status are described in the
UMSL Bulletin
.
Entrance examinations: The Graduate Record Examination (GRE) General Test is required only to apply for an assistantship.

English Proficiency: International students are required to document English proficiency by providing scores from an internationally accepted standardized examination before a decision is made on admission.
Download Program Requirements
Student Organizations - Make new friends and learn new skills by joining one of our many recognized student organizations. 
Professional and Career Resources - Whether you're pursuing your cybersecurity degree online or in-person, you'll have access to professional career counselors who can assist you with everything from resume development and interview preparation to lining up an internship or connecting you with your next full-time career. Additionally, these benefits will remain available to you even after you've graduated. Cybersecurity master's program alumni get access to lifelong career management programming, services, events and resources to assist in all phases of career development.
You'll also be connected to the largest alumni network in the region, helping you professionally network with other graduates from UMSL's cybersecurity master's programs as well as leading professionals in every industry. We work closely with this network to ensure our coursework aligns with what businesses need, ensuring you are developing skills that will advance your career and open doors to the highest-paying jobs.
Cybersecurity master's program students will have many opportunities to showcase their research, including our annual Graduate Research Fair.