No matter the field, skilled communication is key.
Whether you have recently finished your undergraduate degree or you've been in the workforce for a while, a Master of Arts in Communication from the University of Missouri–St. Louis can take you far. The degree program prepares graduates for jobs in corporate communication, journalism, mass media, politics, plus a wide range of other fields. Students who are already employed can use the skills they acquire in the program to advance in their current careers. It can also prepare graduates for doctoral studies and a career in higher education.
Master of Arts in Communication
All students must complete a 15-credit-hour core which includes two required courses focusing on fundamental theories and basic research methods. Students must also select at least three of four "application" courses addressing communication processes within a particular context, including strategic communication in organizations, interpersonal communication, mass communication and health communication. Additional credit hours consist of graduate-level electives reflective of a student's interests or area of specialization. To meet degree requirements with 30-credit hours, students complete a thesis or internship. In lieu of one of these exit projects, a total of 36-credit hours is required.
Program type:
Graduate, MA
Take the next step
Request more information below:
Loading...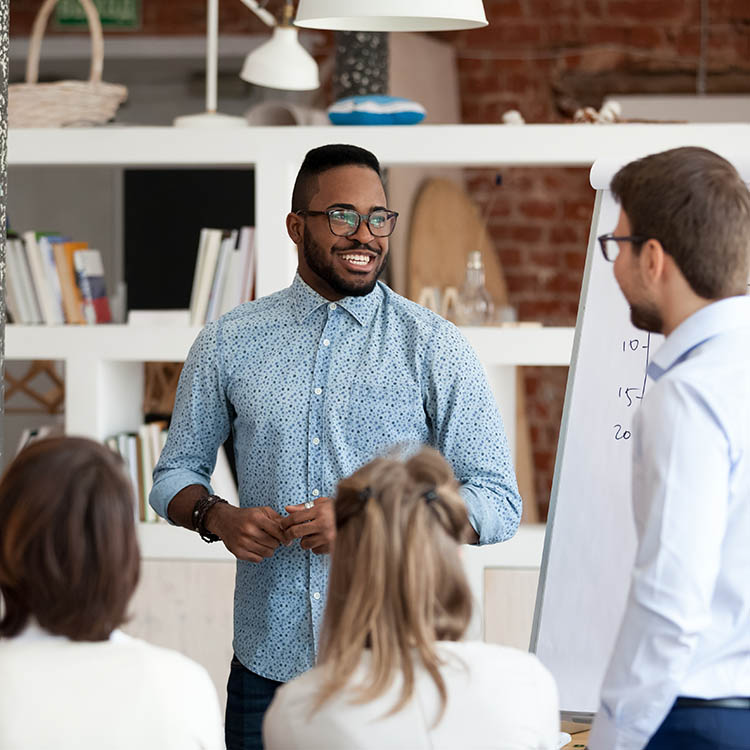 Overview
Why get a master's degree in Communications at UMSL?
The MA in Communication is a flexible degree program with a social-behavioral science approach that is applicable to any industry, and is versatile enough to open the door to many different job opportunities. What's more, UMSL has a diverse faculty and student body, meaning that the nuances of communication can be more greatly explored on our campus. These benefits and more make our MA in Communication perfect for students who want to be able to apply the knowledge and skills they acquire in a rich diversity of ways.
Outcomes and Career Outlook
MA in Communication graduates are known for their professionalism on the job and their strong sense of civic responsibility. That's because they have spent their time at UMSL engaging in creative and critical thinking, learning to analyze evidence, appreciating patterns of complexity and reflecting on important issues that impact our daily lives. Our students gain skill sets that prepare them for a changing workplace that requires flexible, dynamic and well-educated employees.
The median annual salary for advertising, promotions and marketing managers is $113,380, according to wage and employment data from the U.S. Bureau of Labor Statistics.
Employment growth by 2031
Career Opportunities
Advertising/Marketing Account Manager
Corporate Communication Manager
Human Resources Manager
Learning and Development Analyst
Marketing Communications Manager
Media Communications Manager
Media or Event Planner
Political Campaign Manager
Public Affairs Manager
Public Relations Manager
Journalist
Social Media Manager
Speechwriter
Technical Writer
Web Producer
Applicants must have a baccalaureate in communication or a related discipline by the end of the semester in which they apply.
The minimum cumulative GPA required for regular admission to the graduate program in communication is 3.25 on a 4-point scale. Applicants with undergraduate GPAs that do not meet the admission criterion may be eligible to be admitted with probationary status if they submit additional materials that speak to their ability to succeed in the program, such as current letters of recommendation or recent GRE scores. Contact the Graduate Program Director for more information.
International students who are non-native speakers of English must obtain a TOEFL iBT score of 100 to be considered for admission.
Download Program Requirements
Connect with likeminded business students and professionals though one of our student organizations.
Career Services - Students have access to professional career counselors who can assist in everything from resume development and interview preparation to lining up an internship or connecting you with your next fulltime career. UMSL alumni also enjoy high quality, lifelong career management programming, services, events and resources to assist in all phases of career development.
Research - There are many opportunities for graduate students to showcase their research including our annual Graduate Research Fair, which is open to students from all graduate programs. Doctoral and thesis master's students can also compete in the Three Minute Thesis challenge to be evaluated by a panel of judges for a chance to win cash prizes.