Share your passion. Inspire the next generation.
High school biology teachers are passionate about their subject matter. They teach the scientific principles and concepts needed to understand the living world and impart an understanding and appreciation of living things to their students. They teach, guide, assist, lead, work collaboratively and demonstrate.
Program type:
Major, BSEd
Take the next step
Request more information below:
Loading...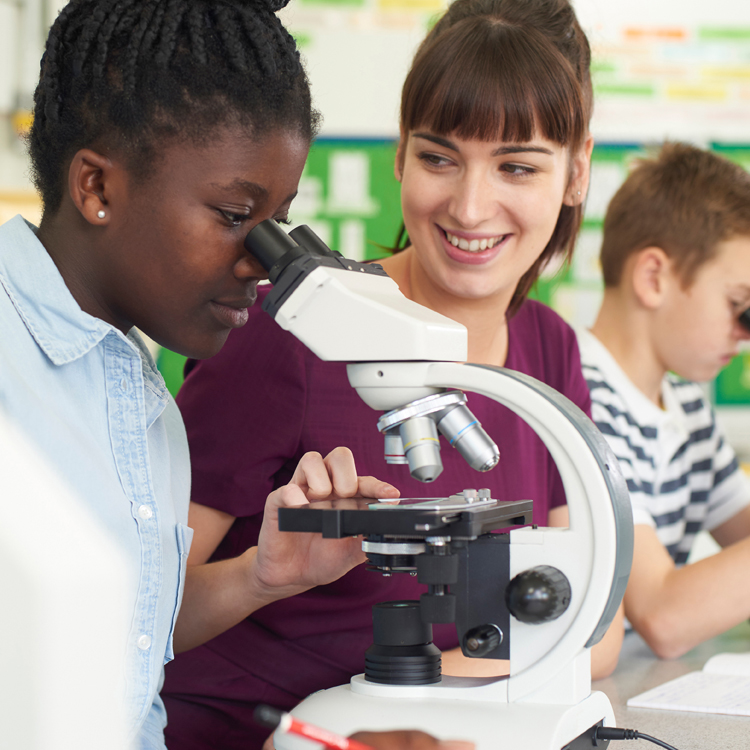 Overview
Bachelor of Science in Secondary Education
Biology Emphasis
The BS in Secondary Education, with an emphasis in Biology, prepares students to teach in secondary school settings, grades 9-12. This program requires the selection and completion of required coursework in biology and includes field and practicum experiences in high school settings, culminating in Missouri teacher certification.
This program coordinates with the Department of Biology where you'll be exposed to research and teaching laboratories, field studies, greenhouses and a wide variety of modern research instrumentation. Much of the discipline-specific coursework parallels the BA or BS degree in Biology; however, the Missouri Department of Elementary and Secondary Education (DESE) requires specific coursework for teacher certification.
Outcomes and Career Outlook
Upon completion of the program, graduates will be able to improve and enhance student learning; integrate technology to create meaningful student learning; create authentic and deep learning experiences; use learning science principles to design, implement and evaluate curriculum; foster effective working relationships; design and establish a safe, inclusive and respectful learning environment; and use equitable frameworks and inclusive practices to create a variety of instructional and assessment opportunities adapted to diverse learners to encourage all students' critical thinking, problem solving and performance skills.
Employment of secondary education teachers is projected to grow up to 4% to 2029, with a national median annual salary of $61,820 according to wage and employment data from bls.gov.
Employment growth by 2029
Career Opportunities
Classroom Biology Teacher, High School

Director of Educational Programs at a Science Center

Director of Educational Programs at a Zoo
Plan of study
All majors must meet the general education requirements of the university in addition to completing degree-specific curriculum requirements.
Review Full Degree Requirements
Non-Missouri Residents: Prospective students are responsible for reviewing the NC-SARA state authorizations page to see if this program is offered in their state throughout their program and to review the licensure or certification requirements for the state in which they reside.
Student organizations
Make new friends and learn new skills by joining one of our Recognized Student Organizations. Here are several opportunities you may be interested in as a secondary education major:
EduCATE: Collegiate Association of Teachers and Educators
OSI Leadership Education Programs
Kappa Delta Pi - Mu Iota Chapter
Students of the University of Missouri
Internship opportunities
The College of Education hosts many centers and initiatives that enhance student experiences in our programs and work with more than 36 different public, private and charter schools throughout the region. We also sponsor eight charter schools.
Honors College
The UMSL Honors College is a certificate program that can be paired with any major without adding extra classes or extending time to graduate. Classes in the Honors College are seminar-style, meaning that they are based in reading, writing, discussion, and critical thinking. This unique class format fosters an intellectual climate centered around democracy, diversity, civility and academic excellence.
Undergraduate research
We encourage and support students as they engage in exciting activities in and outside of the classroom that enrich their academic and professional understanding of their chosen area of study. All majors are encouraged to participate in Undergraduate Research and Scholarship to produce discipline-specific intellectual or creative innovations to their field.