Design and build solutions.
Mechanical engineering is one of the broadest engineering fields. Mechanical engineers design and oversee the manufacture of many products ranging from medical devices to new batteries. They research, design, develop, build and test mechanical and thermal sensors and devices including tools, engines and machines. They also design power-producing machines such as electric generators, internal combustion engines, steam and gas turbines as well as power-using machines such as refrigeration and air-conditioning systems.
The Bachelor of Science in Mechanical Engineering is earned through the University of Missouri ̶ St. Louis/Washington University Joint Undergraduate Engineering Program and is accredited by the Engineering Accreditation Commission of ABET.
Program type:
Major, BSME
Format:
On-Campus, 100% Evenings
Take the next step
Request more information below:
Loading...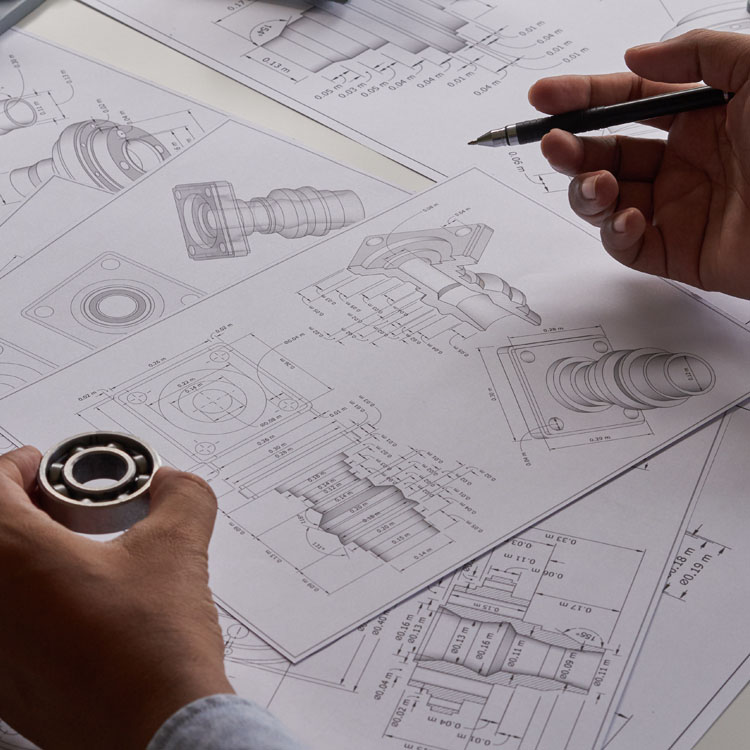 Overview
Bachelor of Science in -
Mechanical Engineering
The St. Louis Joint Undergraduate Engineering Program combines strengths of two universities to provide a flexible engineering program for the St. Louis Community.
First two years at UMSL for pre-engineering and general education courses.
Transition to the Wash U campus to complete upper-level engineering courses.
Professors are industry professionals with graduate degrees and tenured WUSTL faculty.
Students may attend part time or full time, which allows them

to take advantage of internships and co-op positions

.
The Engineering Program matches quality with affordability. The cost for engineering courses is the UMSL tuition plus a fee.
Outcomes and Career Outlook
Upon completion of the program, graduates will have the ability to identify, formulate, and solve complex engineering problems by applying principles of engineering, science, and mathematics; apply engineering design to produce solutions that meet specified needs with consideration of public health, safety, and welfare, as well as global, cultural, social, environmental, and economic factors; communicate effectively with a range of audiences; recognize ethical and professional responsibilities in engineering situations and make informed judgments, which must consider the impact of engineering solutions in global, economic, environmental, and societal contexts; function effectively on a team whose members together provide leadership, create a collaborative and inclusive environment, establish goals, plan tasks, and meet objectives; develop and conduct appropriate experimentation, analyze and interpret data, and use engineering judgment to draw conclusions and acquire and apply new knowledge as needed, using appropriate learning strategies.
Employment of mechanical engineers is projected to grow up to 6% to 2029, with a median annual salary of $69,300, according to wage and employment data from the U.S. Bureau of Labor Statistics and Salary.com.
Employment growth by 2029
Career Opportunities
Alternative Energy
Automotive Engineering
Biomechanics
Environmental Control
Robotics Developments and Applications
Plan of study
A program of 132 semester hours is required for the Bachelor of Science in Mechanical Engineering.
Majors must complete the University General Education and Graduation requirements, the Pre-Engineering Requirements, the Core Engineering Requirements, and Major Requirements.

Majors must first complete JE MATH 3170, Engineering Mathematics, with a minimum grade of C-.

Majors must also complete JE ENGR 2300, Introduction to Electrical Networks, with a minimum grade of C-.

A minimum grade of C- is necessary to meet the prerequisite requirement for any course.
General Education Requirements
The following courses fulfill general education and graduation requirements and are required of Civil Engineering majors:
PHIL 2259
Engineering Ethics
3

PHIL 3380

Philosophy of Science
3
HIST 1001
 OR HIST 1002
American Civilization 1865 to Present (MOTR HIST 102)
3
Three Additional Science Courses 1
9

Total Hours

18

1 One Social Science course must satisfy the Cultural Diversity Requirement. Humanities and social sciences electives must meet both the University of Missouri—St. Louis General Education Requirements and the Humanities and Social Sciences Requirements of the Joint Undergraduate Engineering Program. Check with your advisor for details.
Pre-Engineering Requirements
Students seeking to major in engineering are first designated as 'Undeclared with an interest in Engineering majors' until they have completed Math 1800 Analytical Geometry & Calculus I. Upon successful completion of Math 1800 with a grade of C or better, students will be allowed to declare pre-engineering as their major. Math 1800 must be completed successfully within two attempts.
MATH 1800
Analytic Geometry and Calculus I
5
MATH 1900
Analytic Geometry and Calculus II
5
MATH 2000
Analytic Geometry and Calculus III
5
MATH 2020
Introduction to Differential Equations
3
CHEM 1111
Introductory Chemistry I (MOTR CHEM 150L)
5
PHYSICS 2111
Physics: Mechanics and Heat
4
PHYSICS 2111L
Mechanics and Heat Laboratory
1
PHYSICS 2112
Physics: Electricity, Magnetism, and Optics
4
PHYSICS 2112L
Electricity, Magnetism, and Optics Laboratory
1
ENGR 2310
Statics
3
ENGR 2320
Dynamics
3
ENGL 1100
First-Year Writing (MOTR ENGL 200)
3

Total Hours

42
Engineering Core Requirements
CMP SCI 1250
Introduction to Computing
3
J E COMM 2000
Engineering Studio I
1
J E MATH 3170
Engineering Mathematics
4
ENGL 3130
Technical Writing
3

Total Hours

11
 Mechanical Engineering Major Requirements
J C ENGR 4950
Fundamentals of Civil Engineering Review
1
J CMP SC 1002
Introduction to Computing Tools: Matlab Skills
1
J E ENGR 2300
Introduction to Electrical Networks
3
J E ENGR 2340
Electrical Laboratory for Mechanical Engineers
1
J E MATH 3260
Probability and Statistics for Engineering
3
J M ENGR 1413
Introduction to Engineering Design: CAD
2
J M ENGR 1414
Introduction to Engineering Design: Project
2
J M ENGR 2110
Machine Shop, Fabrication, and Prototyping
2
J M ENGR 2410
Mechanics of Deformable Bodies
3
J M ENGR 3110
Mechanical Design and Machine Elements
3
J M ENGR 3200
Thermodynamics
3
J M ENGR 3250
Material Science for J M ENGR
4
J M ENGR 3700
Fluid Mechanics
3
J M ENGR 3710
Principles of Heat Transfer
3
J M ENGR 3722
Heat Transfer Laboratory
1
J M ENGR 4120
Design of Thermal Systems
3
J M ENGR 4170
Dynamic Response of Physical Systems
2
J M ENGR 4180
Dynamic Response Laboratory
1
J M ENGR 4110
Mechanical Engineering Design Project
3
J M ENGR 4310/J E ENGR 4410
Control Systems I
3
J M ENGR 4990
Mechanical Engineering Senior Seminar
1
Mechanical Engineering Electives
12

Total Hours

61
All majors must meet the general education requirements of the university in addition to completing degree-specific curriculum requirements.
Review Full Degree Requirements
Review Sample Four-Year Plan
Student organizations
From leadership, to cultural, to just plain fun, Recognized Student Organizations at UMSL make it easy to get involved. Students who join RSOs make new friends, learn new skills, and perform better in classes. Plus, with over 120 student organizations on campus, there's something for everyone! You might like:
Internship opportunities
St. Louis employers regularly engage with the Joint Engineering Program and use internships and co-ops as a pathway for talent. The majority of Joint Program students are able to jump-start their careers by working part time as interns while attending classes.
Honors College
The UMSL Honors College is a certificate program that can be paired with any major without adding extra classes or extending time to graduate. Classes in the Honors College are seminar-style, meaning that they are based in reading, writing, discussion, and critical thinking. This unique class format fosters an intellectual climate centered around democracy, diversity, civility and academic excellence.
Undergraduate research
We encourage and support students as they engage in exciting activities in and outside of the classroom that enrich their academic and professional understanding of their chosen area of study. All majors are encouraged to participate in Undergraduate Research and Scholarship to produce discipline-specific intellectual or creative innovations to their field.