Kiley Bednar, MSW, EdD
Co-Director
kileybednar@umsl.edu
(she, her, hers)
As one of CIAC's Co-Directors, Kiley leads and oversees a growing portfolio of strategies to build the strength of our region's many community partnerships and coalitions, including ThreadSTL. A St. Louis native, Kiley comes with more than 20 years of experience in youth development, education, and social service administration. Most recently, she served 10 years with the Forum for Youth Investment, providing training and technical assistance to state and local leaders working to get young people ready for life. Through the Forum's David P. Weikart Center for Youth Program Quality, she supported out-of-school time partnerships throughout the U.S. in building systems to measure and improve the quality of their youth programs. Prior to this, she oversaw the Forum for Youth Investment's training programs – including the Ready by 21 webinar series and the Ready by 21 Institutes – as well as coordinated the national Children's Cabinet Network for statewide coordinating bodies. As a technical assistance provider at the Forum, she led community engagement efforts, data communications, and strategic planning for cities and states focused on better aligning their efforts around improved child and youth outcomes. Kiley received a Master of Arts at the University of Chicago's School of Social Service Administration and is a National Board Certified Health and Wellness Coach.
Paul Sorenson, MSW
Co-Director
sorensonp@umsl.edu
(he, him, his)

As one of CIAC's Co-Directors, Paul leads the collaborative St. Louis Regional Data Alliance (RDA) to support local governments, nonprofits, funders, and universities in using data for community benefit. The RDA is actively involved in building public health data infrastructure to address COVID-19 and beyond, and works closely with United Way 2-1-1 and its partners on establishing the St. Louis Community Information Exchange to share referrals across health and social service providers. Paul previously founded and ran GoodMap, an online tool for nonprofits to organize information about the services they provided to their communities, and served as the Director of Strategic Planning at Grace Hill Settlement House. Paul graduated from the Brown School of Social Work at Washington University in St. Louis in 2012 and is slowly pursuing a Ph.D. in Political Science from UMSL. He was named one of the St. Louis Business Journal's 30 Under 30 in 2014 and was a FOCUS St. Louis Impact Fellow as part of its 2016 inaugural cohort focused on racial equity.
Adriano Udani, PhD
CIAC Research Advisor
udania@umsl.edu
(he, him, his)
Adriano Udani joined the CIAC team in 2020 as its Research Advisor, partnering with the center to deepen its integration within the university and guide CIAC's focus on community-based applied research. Adriano is an Associate Professor of Political Science and Director of the Public Policy Administration Program at the University of Missouri, St. Louis. He received his Masters of Public Affairs from the Maxwell School of Citizenship and Public Affairs at Syracuse University, and his PhD in political science at the University of Minnesota. Adriano specializes in the politics of U.S. immigration policymaking and enforcement. His research is published in Administrative Praxis & Theory; The American Review of Public Administration; American Politics Research; Social Sciences Quarterly; Politics, Groups, & Identities; Policy Studies Journal; State Politics & Policy Quarterly; and Public Integrity. Adriano was recently selected as an inaugural cohort member of the American Political Science Association's Institute for Civically Engaged Research. His current work utilizes community-based and participatory methods with immigrant service providers, attorneys, and a group of Mexican and Central American asylum seekers to abolish detention of all forms. This work has led to broadly researching and theorizing on the co-production of knowledge from academics and collaborators outside of academia. Adriano has taught undergraduate and graduate courses on the politics of hate, difference, and social justice; public policy, inequality, and the U.S. democracy; survey design; applied statistics; and, policy-centered approaches to the study of inequality.
Sara Mohamed, MPH
Engagement and Equity Lead
saramohamed@umsl.edu
(she, her, hers)
At the Community Innovation & Action Center (CIAC) and 
the St. Louis Regional Data Alliance (RDA)

, Sara focuses on developing and implementing strategies focused on racial equity, community engagement, participatory decision making, qualitative data infrastructure, and collaborative evaluation. 





Sara Mohamed completed her MPH in behavioral science and health education at St. Louis University. Since then, she has worked at Washington University in St. Louis and St. Louis County Department of Public Health growing her knowledge and experience in systems dynamics and coordination, evaluation, and assessing the impact of policy on community. She is passionate about diversity, equity and inclusion and always strives to center community voice in her work.
Cynthia Palazzolo
Survey Director and Data Strategist
cjpalazzolo@umsl.edu
(she, her, hers)
At the Community Innovation & Action Center, Cynthia leads survey development and implementation in projects focused on home repair and early childhood education — as well as provides overarching data strategy and oversight for CIAC's fiscal mapping work.
Cynthia has considerable experience with citizen surveys, focus groups, and strategic planning as a consultant to governments, special districts, and nonprofit organizations and, for eight years, was a co-founding partner to Jones-Palazzolo as a survey researcher and data strategist. She is an advanced doctoral candidate in political science at the University of Missouri-St. Louis and will receive her Ph.D. in 2022. She has been a visiting professor and an adjunct faculty member for fourteen years.
Lacey Robinson
Community Data and Research Associate
lacey.m.corbett@mail.umsl.edu
(she, her, hers)
At the Community Innovation & Action Center (CIAC) and the St. Louis Regional Data Alliance (RDA), Lacey focuses on supporting statewide fiscal mapping efforts, qualitative data collection and infrastructure, and a variety of emerging efforts across CIAC.
Lacey is passionate about using evaluation, assessment, and data to build the capacity of communities and organizations, with a focus on equity. Lacey has spent time as a Data & Research Fellow at Forward Through Ferguson where she contributed to a major report on the state of education reform in the St. Louis region. In addition to her role at CIAC, Lacey is also a Master of Public Policy Administration student at UMSL.
Founding Director
Paul Evensen, PhD
Founding Director
Paul passed away in June 2021. You can read more about his incredible life and work here.

Paul Evensen was the Founder and Executive Director of Social Innovation STL. After a successful three year start-up and incubation period, Paul led the merger of the Public Policy Research Center at UMSL with Social Innovation STL to form the new Community Innovation and Action Center.

Previously, Paul served as Senior Vice President of Community Planning and Evaluation at the Forum for Youth Investment, Senior Vice President for Strategic Initiatives at Wyman, was the President and Co-Founder of Community Systems Group, Inc., served as the designated Subject Matter Expert for the National Guard Bureau's J3/ Domestic Operations Joint Directorate Civil Operations Program, and is the co-founder of several nonprofit organizations located in South Carolina and Kansas. Paul completed his doctorate at the World Health Organization's Collaborating Centre for Community Health and Development at the University of Kansas and has worked with hundreds of coalitions across the country addressing a range of outcomes including teen pregnancy, poverty, HIV prevention, literacy, hunger, school readiness, and substance abuse. 
AFFILIATED STAFF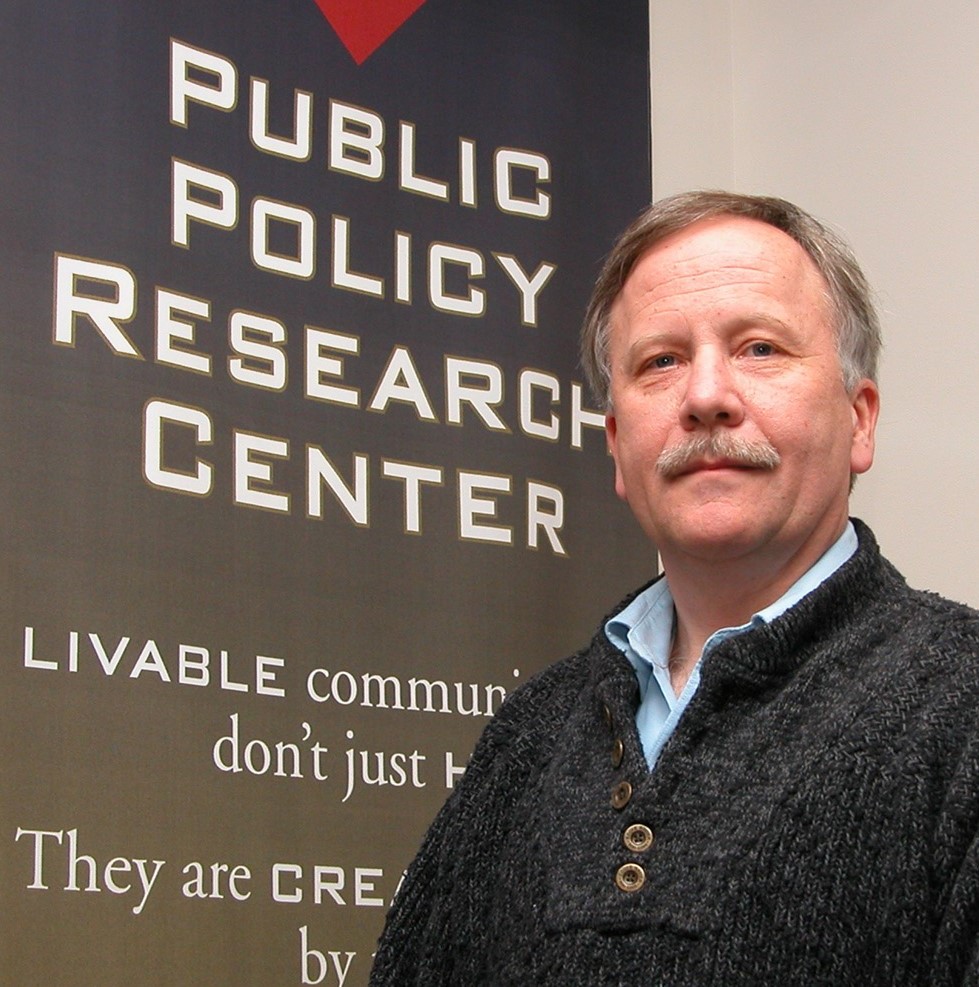 Mark Tranel, PhD
Former Director, PPRC
mtranel@umsl.edu

Mark Tranel has been with the University of Missouri-St. Louis Public Policy Research Center (PPRC) for over 25 years, serving as its Director 2002 to 2018 and Director Emeritus of CIAC from 2018 to 2020. He has been the principal investigator or project manager on over 70 applied research projects. The Public Policy Research Center served as an independent applied research center of the University of Missouri-St. Louis. The PPRC conducted applied research, evaluation, and special research projects for civic, nonprofit, and public organizations, primarily in metropolitan St. Louis.
Prior to joining the PPRC, Mark was the Director of Real Estate Development for the Economic Council of St. Louis County. He established the small business incubator program in St. Louis County and managed the redevelopment of several industrial sites. He was also Manager of Neighborhood Preservation at the Normandy Municipal Council, responsible for coordinating community development programs administering a home improvement program, and a circuit city administrator program. He was the first Director of Parks and Recreation in the City of Bellefontaine Neighbors. Mark currently serves as the Collector in the City of Bellefontaine Neighbors, is a member of the Riverview Gardens School District Special Administrative Board and is a member of the Executive Board of North County, Inc.
Claire Rippel, MSW
Education Director - Community Development
University of Missouri Extension
wolffca@missouri.edu
Claire Rippel is the Education Director - Community Development at University of Missouri Extension. In this role, she develops community partnership initiatives that link university resources with the needs and priorities of communities by working on a variety of topics including capacity building, leadership development, and community engagement. Claire joined University of Missouri Extension faculty in 2016 and has extensive experience working in urban communities. Prior to joining Extension, Claire worked as the Director for Community Development at Grace Hill Settlement House. Claire currently serves on the board of Old North St. Louis Restoration Group and Perennial STL and is the co-founder of the Park Picnic Project.
Karl Guenther, MSW
Associate Vice Chancellor
guentherk@umsl.edu
Karl Guenther is an Associate Vice Chancellor at the University of Missouri St. Louis (UMSL) and leads the Anchor Institution Initiative, coordinating strategies that leverage the institution's economic and human capital for the benefit of neighboring communities. Karl was the founding staff for the Community Builders Network of Metro St. Louis (CBN). Karl and the University remains a partner in the Community Builders Network. Through Karl's work with CBN, he helped co-found and is an ex-officio board member of Invest STL, a fund at the Saint Louis Community Foundation dedicated to accelerating equitable neighborhood development in the St. Louis region. Karl holds a Masters Degree from the Brown School of Social Work at Washington University in St. Louis and a Masters Degree in Economics from the University of Missouri – St. Louis. The Missouri Workforce Housing Association honored Karl in 2016 with their Emerging Leader Award. Karl was also recognized as one of the St. Louis Business Journal's 2013 class of 30 Under 30. In 2011/2012, Karl was fortunate to be a member of the 36th Leadership St. Louis cohort.
Todd Swanstrom, Ph.D.
Des Lee Professor
Community Collaboration
and Public Policy Administration
swanstromt@umsl.edu
Todd Swanstrom has a joint appointment in Political Science and Public Policy Administration. Todd has an MA from Washington University (1971) and a Ph.D. from Princeton (1981). His co-authored Place Matters: Metropolitics for the Twenty-First Century, 3rd ed., (U. Press of Kansas, 2014) won the Michael Harrington Award from the New Politics Section of the American Political Science Association. Todd's current research focuses on neighborhood change in older industrial cities. He is facilitating a collaboration between urban scholars in St. Louis and Dortmund, Germany, on how "gentrification" is perceived differently by different actors.
Todd has used the resources of his endowed professorship to support the Community Builders Network of Metro St. Louis, a coalition of CDCs, banks, foundations, and governments working to build better neighborhoods in the St. Louis region. Todd is Chair of UMSL's Anchor Institution Committee, which is guiding the work of the university with surrounding communities. Todd tries to relax by playing golf but it only makes him more stressed out. He strongly recommends against taking up the game.
WORK WITH CIAC!

We frequently have openings for graduate research assistants, practicum students, and staff positions. Interested in learning more? Please reach out to Kiley Bednar at kileybednar@umsl.edu.