Why it is important to invest in your community's diverse entrepreneurs

Creating a diverse and inclusive business community starts by providing educational support along with the proper resources, says Akeem Shannon, Flipstik Founder and CEO in this video. "I think if we want to really see more equity happening in minority communities that typically don't see investment, like their counterparts in white communities in the tech space, then it's fundamental to actually invest dollars into these types of businesses."
Shannon discusses UMSL's DEI Accelerator program for entrepreneurs in the St. Louis community. Shannon shares:
The benefits his company gained with the help of the DEI Accelerator program.
Why it is important to help minority entrepreneurs navigate the business community.
For more information on the UMSL DEI Accelerator program, go to umsl.edu/accelerate/dei.html.
The University of Missouri–St. Louis is the largest public research university in eastern Missouri, and it takes pride in creating greater access to higher education and opportunity for its nearly 16,000 diverse students. UMSL confers more than 3,000 degrees annually with a wide range of baccalaureate, master's and doctoral programs.
---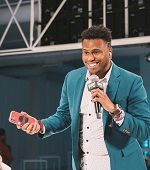 Akeem Shannon is Founder and CEO of Flipstix and received support from the Diversity, Equity and Inclusion Accelerator at the University of Missouri–St. Louis.