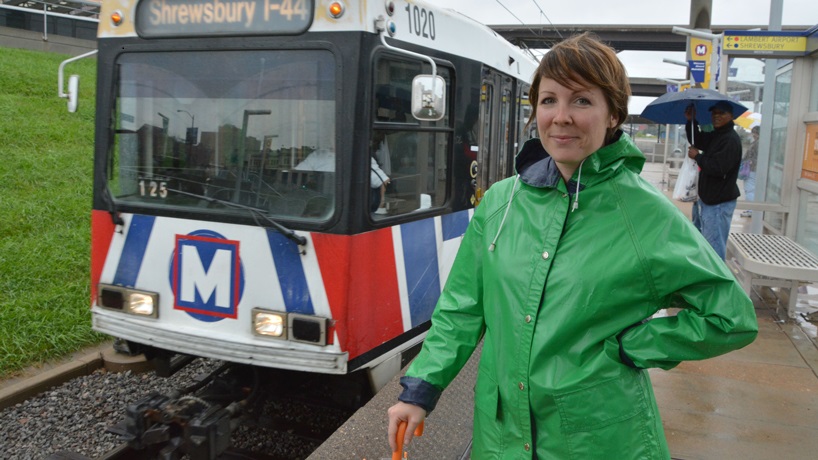 UMSL adjunct instructor of philosophy Lisa Cagle advocates for expanded and improved transit in the St. Louis region as the Program Director for Citizens for Modern Transit.
Four major interstate highways, I-44, I-55, I-64 and I-70, converge in St. Louis providing excellent access for automobiles and the trucking industry.
St. Louis Lambert International Airport, located about 15 miles northwest of downtown St. Louis, is the primary airport. It is served by major carriers including Southwest, Delta, American Airlines, Frontier, and United Airlines.  The airport has on-site U.S. Customs and Border Protection.  MidAmerica St. Louis Airport, co-located on the grounds of Scott Air Force Base, handles a small number scheduled passenger flights as well as charter and cargo aircraft.  Smaller airports, including Spirit of St. Louis Airport and St. Louis Downtown Airport are used mostly by charter, corporate and general aviation aircraft.
Amtrak provides daily passenger train service connecting St. Louis to 17 towns across Missouri and Illinois, plus over 400 destinations across the country. This makes it a convenient method of travel to get between UMSL and home, whether families are arriving on campus, students are heading home for Spring Break, or parents are coming for Family Weekend. The station includes various amenities for travelers, including ticket agents, long-term parking, bag storage, and checked baggage service. Amtrak is located at Gateway Station in downtown St. Louis, which is a 20-minute MetroLink ride from campus, and six trains serve the station daily.
Greyhound and Megabus provide connections to other cities.
Amtrak, Greyhound and Megabus share the Gateway Multimodal Transportation Center (or Gateway Station) which is located one block east of St. Louis Union Station and adjacent to Civic Center which has a station for the MetroLink commuter train.
Local public transportation is provided by the MetroLink commuter train and MetroBuses. There are two stations located on the UMSL campus: UMSL North and UMSL South.
Taxicabs, Lyft and Uber also operate in the area.