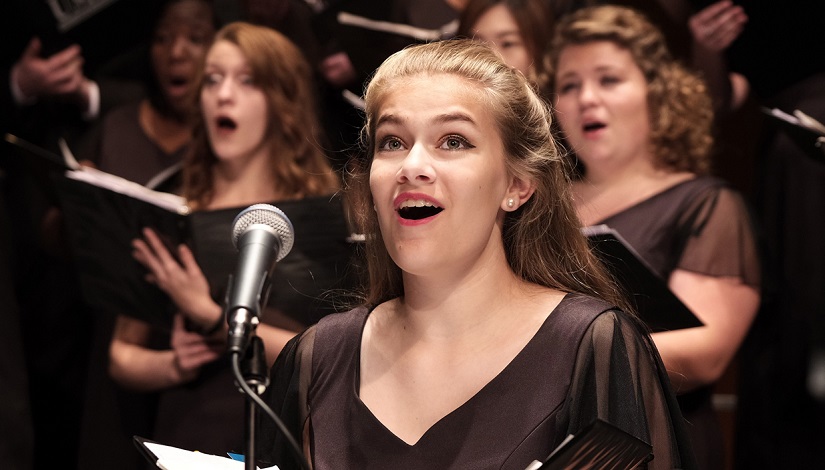 UMSL undergraduate Theresa Pancella sings "Only in Sleep" by Sara Teasdale during the University Singers' rehearsal for concert in Anheuser-Busch Hall at the Blanche M. Touhill Performing Arts Center.
St. Louis has an active music scene presenting major acts that are on national tours as well as regional and local bands and performers.
Classical, Opera and Dance
The St. Louis Symphony — Presents a concert season from September-early May at their home: Powell Hall (2,689 seats) in mid-town St. Louis.
Bach Society of St. Louis — The society is dedicated to performing the choral works of Bach and other classical and contemporary composers.
Arianna String Quartet — ASQ performs regularly at the Touhill Performing Arts Center at the University of Missouri-St. Louis, and in other venues in St. Louis, the U.S. and internationally.
Opera Theatre of Saint Louis — Opera Theatre presents a Summer opera festival (May-June) which includes four operas, sung in English, accompanied by the St. Louis Symphony.  The 2017 festival includes:  Madame Butterfly, The Grapes of Wrath, The Trial, and Titus. 
Union Avenue Opera — UAO presents a late Summer series (July-August) of operas sung in English.  The 2017 series includes:  Albert Herring, Carousel, and Hänsel und Gretel. 
Winter Opera Saint Louis — Winter Opera features classic operas in their original language with English subtitles.  The 2016-2017 season included:  The Merry Widow, La Cenerentola, and Carmen. 
Dance St. Louis — Presents world class dance companies featuring ballet, modern dance, ethnic, ballroom, jazz, tap, hip-hop, etc.  Also presents an annual "Spring to Dance" Festival.
Saint Louis Ballet Company — This professional ballet company is best known for its annual presentation of The Nutcracker.
Modern American Dance Company — This company has been touring with their original production, "Liquid Roots,"  which was inspired by the music that has traveled the length of the Mississippi River.
Big Muddy Dance Theatre — This dance company presents three full theatre productions each season and other community performances.
Contemporary Music
National touring acts are usually presented at one of the larger venues including:
The Fabulous Fox Theatre — While the Fox focuses on presenting classic and contemporary Broadway musicals, they also present music groups.  Some of the performers booked for 2017 include:  Julianne Hough, Tony Bennett, John Legend, Santana, Idina Menzel, Celtic Woman, Pentatonix and Sturgill Simpson.
Peabody Opera House — Performers to be presented in 2017 include:  Martina McBride, James Taylor, Billy Currington, John Prine, Barenaked Ladies, Norah Jones, Jason Isbell, Lyle Lovett, and Michael McDonald.
Scottrade Center — Red Hot Chili Peppers, Bon Jovi, Neil Diamond, Faith Hill and Tim McGraw, Daryl Hall and John Oates, and Eric Church were presented early in 2017. Other 2017 acts include:  New Kids on the Block, Bob Seger and the Silver Bullet Band, Katy Perry, and Lady Gaga.
Blanche M. Touhill Performing Arts Center — This center at the University of Missouri-St. Louis includes a 1,625 seat theater and a 360 seat theater.   The Touhill presents a variety of performers including ballet, comedy, classical music, family entertainment, jazz, modern dance, and world music and hosts the annual Greater St. Louis Jazz Festival, the Spring to Dance Festival, and the St. Louis Storytelling Festival. It is also the home of the Arianna String Quartet.
Hollywood Casino Amphitheatre — This outdoor venue has a capacity of 20,000.  The 2017 schedule includes:  Chicago-The Band; Doobie Brothers, Def Leppard, Florida Georgia Line, Boston-The Band, Joan Jett and the Blackhearts; Jimmy Buffett, Jason Aldean, Violent Femmes, Nickleback, Lady Antebellum, Zach Brown Band, and Brad Paisley.   
Loufest — This annual two-day festival, which attracts about 50,000 fans,  is held in late Summer in Forest Park. The September 2017 festival will feature about 30 national acts on 4 stages including Weezer, Cage the Elephant, Snoop Dogg, Run the Jewels, and Lizzo.
Busch Stadium — Occasionally a big concert is presented at the baseball stadium.  Paul McCartney was the featured act in 2016.  Metallica and Billy Joel are scheduled for Summer 2017.
Other venues presenting many national and regional performers include: 
Family Arena — The Beach Boys and The Temptations were scheduled in early 2017 and other acts for 2017 include:  Alan Jackson, Megadeth, Night Out Now featuring Flo Rida, Killer Queen, and The Southern Uprising Tour.
The Pageant — The Pageant hosts touring national acts in pop, indie rock, hip-hop, jazz, blues, and more.  The Pageant is one of the top ten clubs worldwide in terms of ticket sales.   
Delmar Hall — This 750 seat hall features groups similar to The Pageant. 
Jazz at the Bistro — Presents performances of a variety of jazz styles in a bistro setting.
Sheldon Concert Hall — The Sheldon presents a wide variety of performers in blues, folk, American roots music, jazz, pop, classical, etc.  Performers scheduled for 2017 include:  Sierra Hull, Keller Williams with Leo Kottke, Etienne Charles,  Gaelic Storm, George Benson, Sarah Jarosz, Dave Rawlings & Gillian Welch, Bela Fleck & Abigail Washburn, John Pizzarelli, Spanish Harlem Orchestra, Arlo Guthrie, and Ricky Scaggs & Kentucky Thunder.
J. Scheidegger Center for the Arts — This center on the campus of Lindenwood University presents a variety of performers.  The Spring 2017 schedule included Johnny Mathis.
Blueberry Hill Duck Room — Features mostly rock groups. [In his later years, this was the favorite venue of Chuck Berry, the rock and roll pioneer who died in March 2017.]
Broadway Oyster Bar — This New Orleans-style restaurant features live music:  rock, reggae, bluegrass, blues, funk, R & B, roots, etc.
Hot Country Nights at St. Louis Ballpark Village — Ballpark Village is first ever sports anchored, multi-phased mixed use development. In future phases Ballpark Village will offer luxury residential units and over 750,000 square feet of office space.
Gramophone — Home of the Mississippi Nights Club
Old Rock House — Presents 250 concerts each year including an eclectic mix of bluegrass, rock, folk, funk, hip-hop, indie rock, jazz, reggae, soul/R & B, Southern rock, etc.     
Wild Country — Live bands on Friday and Saturday nights and music via disk jockeys at other times.  Mostly presents American country music but some other popular and contemporary music is presented.